If he's muscular and gets rock hard in bondage, then he's likely to be featured on the Men on Edge site. Like these two guys. Check them out:
Officer Connor Maguire edged and fucked by two perverts:
After discovering a captive sex slave, Van and Sebastian frantically run around Trenton Ducati's house as they hear the police sirens closing in on them. They quickly hide under the bed when Officer Maguire busts down the door and takes the two pervs into custody. Before Officer Maguire can call for backup the two pervs gang up on him and tie him down to the chair. They tear away the officer's uniform and whip out his cock, teasing him with their tongues and the hitachi's on his cock head. The muscled officer is stripped naked and bent over the desk as the two pervs spread his cheeks and shove a dildo up his ass while Sebastian feeds him a cock down his throat. They then suspend Officer Maguire in the jail cell and suck on his toes while continuing to edge his cock. After a little tickle torment, Sebastian eats the officer's ass as Van finally milks a load out of his aching cock. They finish the officer off with post-orgasmic torment before leaving him hanging in the cell for the other officers to find
Free video previews of Connor Maguire at Men On Edge here.
To JOIN Men on Edge, click here.
And here is another scene at Men on Edge:
Muscled hunk Dirk Caber taken and edged against his will: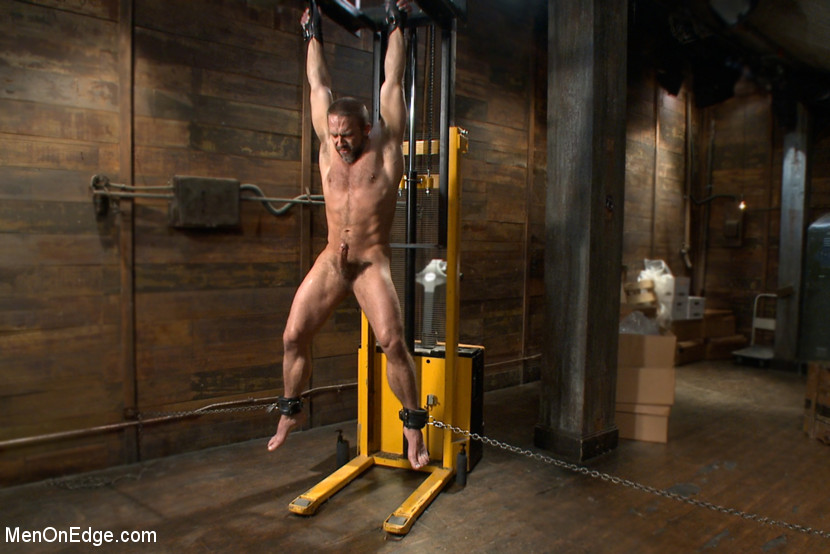 Van and John Jammen wheel in hot muscled stud Dirk Caber as he's bound with duct tape around his mouth. Suspended by his arms, Dirk's clothes are torn away as the two pervs start playing with his cock. Van shoves John's head down as he swallows Dirk's cock, his moans muffled by the duct tape stuck to his lips. With his hands bound at the thighs, Dirk's rock hard cock stands at attention as his two captors continue teasing him. Pre-cum drips out of Dirk's cock as the two pervs pinch nipple clamps onto the muscled stud and tease him with the vibrating hitachi's on his cockhead. On his knees, Dirk has the shockspot machine fuck his ass from behind as John Jammen gives him a face full of cum. They then roll the hairy hunk over on his back and continue to fuck him with the machine while they milk all the cum out of his cock and finish him off with some post-orgasmic torment.
Free video previews of Dirk Caber at Men On Edge available here.
To JOIN Men on Edge, click here.