Captive Zak Bishop struggles against the cuffs and rope that ties him up in a standing position. He's clad in black leather harness, dog collar and lace-up jockstrap. Dominic Pacifico enters to ask if he's ready to be a good slave and chews on his tender nipples, slaps his smooth pink body from chest to thighs. Dominic clamps on a pair of screw-tightened tit clamps and roughly yanks them off. While he stares hungrily at Zak's pale pink ass, Dominic unzips his jeans to let his dick pop out free. He jams his fingers into Zak's pretty hair-lined hole, spanks him with a leather gloved hand till the prisoner's butt is rosy pink.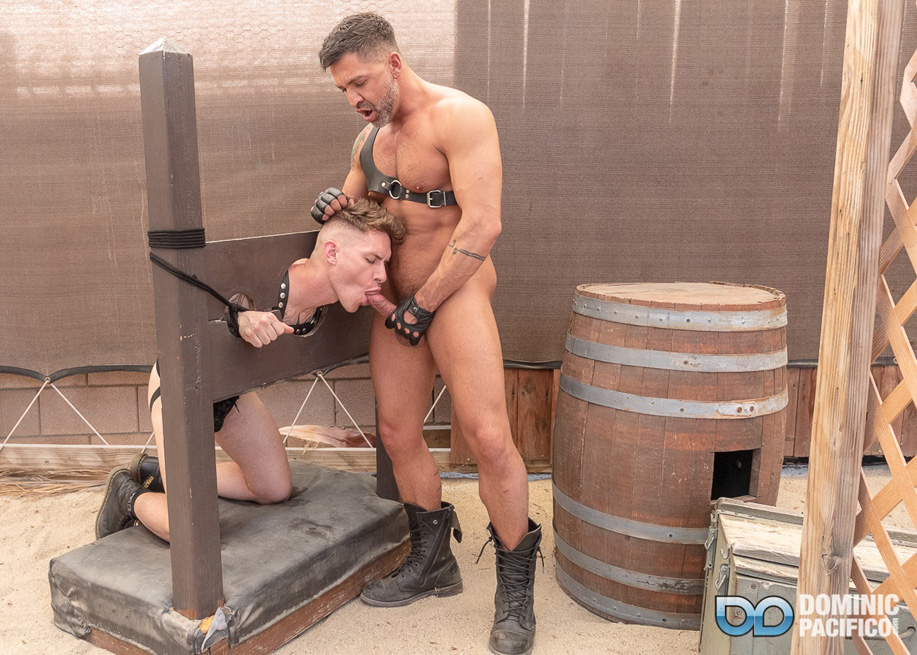 Dominic thwacks his captive with a stinging cat o'nine tails, kissing him between smacks to show who's boss. Zak sticks his ass out for Daddy Dominic on cue, but still gets the sharp crack of the whip. Pulled down and free from his standing position, Zak is locked hands and head into a pillory, where he sucks "Daddy's fat cock" for mercy. Nearly gagging, he tries valiantly to swallow the hard uncut meat. The cock-hungry captive drools a thick string of saliva, then licks Dominic's big heavy nuts.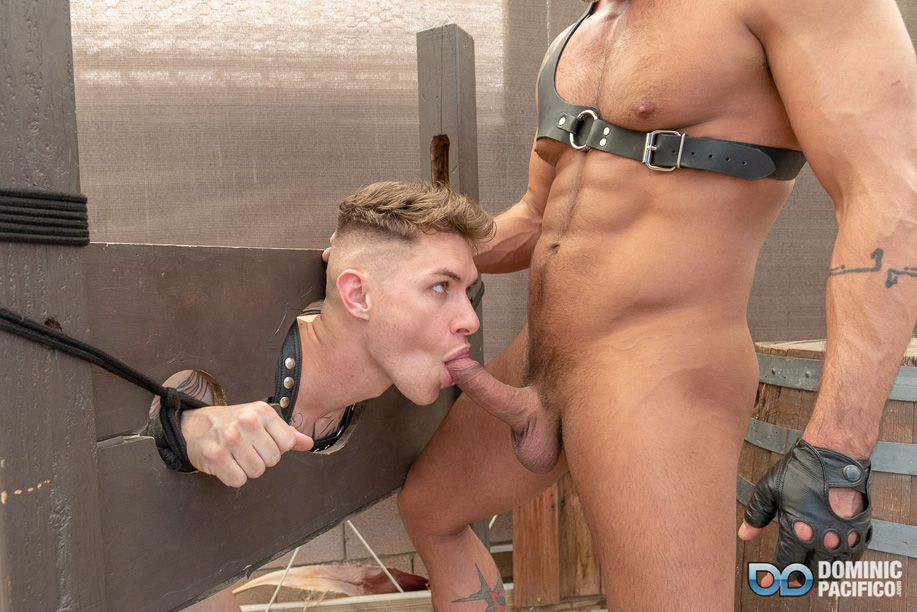 Immobilized in the pillory, Zak sighs with relief and gratitude as Dominic gnaws on his hungry hole and coats it with thick saliva. Daddy stands with knees bent just a little as he rams Zak's hole. Raw bareback cock slides in deep and Zak revels in each hard stroke. Eager to test his limits, Dominic gets out a giant toy and punches it into Zak's ass, demanding that he thank Daddy for the anal invasion. Hole stuffed and stretched to the max, Zak's entreaties finally get through to Dominic, who sets him free and plows into his loose slick ass.
Zak's body bounces and recoils from each hard smack of Daddy's cock and balls. He begs for more "just like that" and begins stroking to the edge. Zak can't hold back, splatters cum over the wooden box below. Dominic slams in roughly and pumps his seed into the quivering ass. Zak squeezes the load out of his throbbing open hole for Dominic to lick it up.
Here is a free video preview:
Title of this shoot: BAREBACK BARRACKS
See the whole thing at dominicpacifico.com