By Speedobound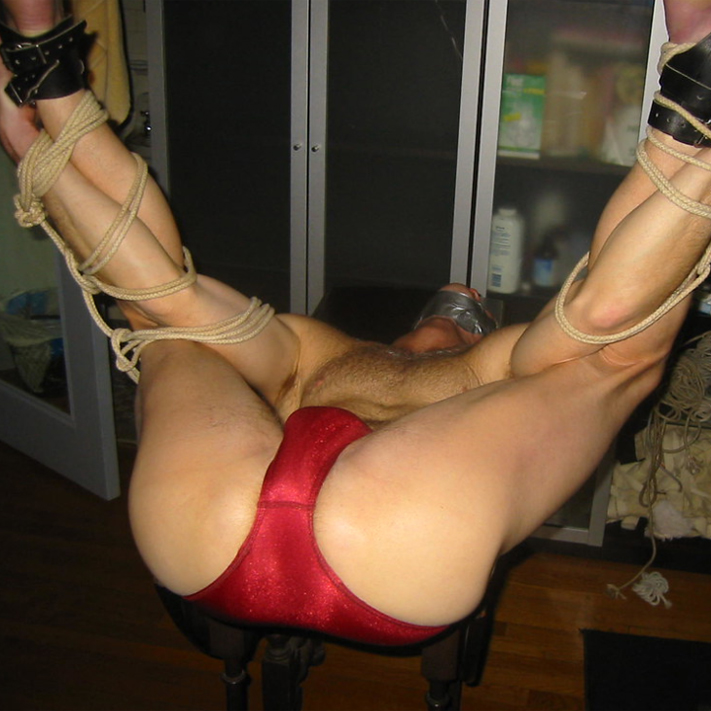 (This story is a fantasy written from the point of view of The Top.)
I was able to lure a cocky swim team captain into my dungeon by telling him I wanted to do a photo shoot, and by appealing to his narcissism I was able to convince him into allowing me to tie him up while he was wearing nothing but his Speedo. I said there is nothing sexier than a man wearing a Speedo who gets tied up by a leatherman. I told him the dungeon was my workroom and it would be a perfect backdrop for this kind of a photo shoot, and he bought it all!
After he arrived and changed into his Speedo, I led him into the playroom/dungeon. I handed him a pair of leather cuffs to put on his ankles and told him it would add to the mystique of the shoot. Then I told him to sit on the floor under a steel frame lifting station, to bend over and wrap his arms underneath his calves, reaching around and grabbing the front of his ankles. While he was crouched over, the position appeared fairly benign, and he permitted me to bind his wrists tightly to his ankles with some rope (thus sealing his fate).
He remarked, "hey dude, this position doesn't seem very sexy," but all I did was chuckle and then picked up a rag that I shoved into his mouth, then I quickly tied a cloth around his head and then consolidated the gag with some tape around the cloth, which effectively silenced him.
The swimmer's cockiness quickly disappeared, and yet he did not seem to realize how incredibly vulnerable he had become until I rolled him over onto his back. At this point it became obvious that he suddenly realized the danger he was in because he was truly helpless as an upended crab, with his vulnerable underside completely exposed. But to send the message home I tickled his bulge a bit through the speedo with the bare, sharp tips of my fingernails and watched as his eyes grew wide with fear as he recognized how utterly vulnerable he now was.
After indulging in that bit of teasing, I grabbed two chains with hooks that were hanging from both ends of the spreader bar and lifting station that was above the Speedo guy — and that he had so conveniently ignored in his rush to be photographed. The chains were the perfect length for me to reach his ankles, each of which I tugged up and out a bit so I could hook the chains to the rings on the cuffs. He tried to resist by writhing but with him bound it was easy for me to clip the chains to the hooks. All the while my swimmer stud was emitting muffled "no's," which of course I ignored.
His ankles were now tethered to the chains and the tension kept his legs even more forcibly parted. He was bound in a way that he could not escape, nor could he close his legs or do anything to protect his utterly exposed and vulnerable underside. Silenced and helpless, his peril was complete. This is when I stepped in front of him again, tickled his exposed inner thighs and butthole through the material as well as the bulging Speedo again just to drive home his peril, and informed him I was going to punish him severely for being so arrogant and cocky about how hot he looked in his Speedo and for being foolish enough to let me tie him up in this delicious position with only a Speedo for protection!
Dialog:
"Well Speedo boy, it looks like you have gotten yourself into a little bit of trouble, doesn't it? You seem to be quite helpless, actually you are absolutely helpless and in such a delightful position too – from my point of view. It wasn't very smart of you to let me tie you up like this was it? You must have an incredible ego to come to a stranger's home, a stranger who is wearing a leather uniform, strip down to nothing but a tight little speedo, follow me into a dungeon playroom, and cooperate with me as I put you into such a difficult-to-achieve position and to make it so easy for me to tie you up good and tight.
"I know your type, you are arrogant about your looks and you think that the world is at your feet. But the table is now turned, my narcissistic friend, and you are going to get your just dessert. I came up with this very special position just because it is so perfect for a man wearing a speedo, it really does open up access to some delightful parts of your body and the Speedo is the perfect target, the centerpiece of the action if you will, and the best part is it doesn't obstruct or impede my intended activities in the least. You see, when I tickle your balls, this area between your legs, your dick and your asshole through the material, it becomes obvious how useless this Speedo is as a form of protection. You can really feel how vulnerable you are when I tickle you through the thin material, can't you?
"But just imagine if I were to do more than merely tickle you. Just think, now that I have told you this is a dungeon, what else might occur. Let your imagination run wild a bit. It just so happens that I have quite a selection of tools that can inflict some intense sensory effects on your most accommodatingly prone underside. And your speedo is so tight it doesn't even begin to cover your thighs and legs, and so I have quite a target to work with.
"Just think, if I were to use this whip, and aim at that seam on the underside of your speedo! Of course I have an excellent aim so most of the time this whip will snap at the part of you that is underneath the material, but I also will most likely miss sometimes and strike those smooth muscular legs of yours and that tight little butt too!
"The lovely point of this position is that you can't close your legs to escape the stings of the leather, and I will have unimpeded access to such interesting and personal parts of your body. It sounds like you are saying 'no' and 'help me,' but I don't quite understand because of the gag, and certainly nobody else can hear you. I am going to assume that you are enjoying being the center of attention because that is your entire modus operendi, isn't it? To flaunt your looks so everyone will look at you? Well, you have succeeded beyond your wildest dreams of getting my undivided, seriously focused attention!
"Before I really get started, I think that since you are wearing a speedo, it might be appropriate if it is wet, you know, so it will cling to you even tighter. I'm going to run get a glass of water, to warm things up a bit! Hey – warm things up? Maybe I'll get some water that is warm. Or maybe even a tad bit hot. What did you tell me when we first met, that you were 'steaming hot' in a Speedo? I agree, and I am going to prove to you JUST how steaming hot you really are!"
Thanks to Speedobound for sharing this fantasy and dialog!