By Speedobound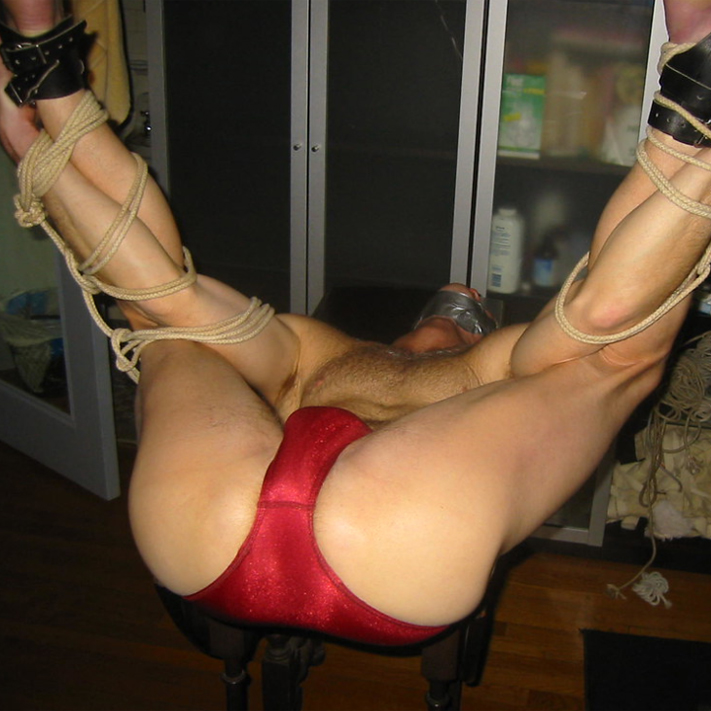 A Speedo-wearing sub interrupts closed gathering of leather Doms in a dungeon seeking "serious" bondage tops for "a little fun"
I arrived at the local BDSM clubhouse for a previously scheduled Bondage night. The doorman told me that the schedule had been changed and that a workshop was in progress, but it would be finished soon. He asked me what "my thing" was, and I told him I have a Speedo fetish and I love getting bound and gagged while wearing a tight Speedo. He said he figured I would be able to find someone to play with me when the workshop was over because he thought it was a bunch of tops/doms and they might enjoy having a little bit of bondage fun after their program was finished.
Let me explain. I have always had a mixed feeling about wearing a Speedo. On the one hand, it immediately makes me feel exposed and vulnerable, since it leaves very little to the imagination. Most men are not used to having their private parts seen, and few men, straight or gay, are comfortable wearing a Speedo.
On the other hand, it also shows off the physique of an athletic man to perfection and is extraordinarily sexy on the right men. Both of these factors combine to make the man wearing a Speedo something of a sexual object, just as women are objectified, and Speedos are considered non-masculine swimwear — except on swimmers and divers. The very nature of a Speedo's tightness and the insignificance of the material makes the wearer HIGHLY aware of how little of his body is covered. Needless to say, walking into a BDSM dungeon wearing nothing but a Speedo "enhances" one's feeling of sexual vulnerability. But then, if that your choice, to want to feel that way sexy AND vulnerable — it can cause quite an arousal!
I stripped down to my Speedo, which was accordingly (or perhaps excessively) tight, tight to the point that my package was bulging out in front, it pulled up into my ass crack, and my cheeks were only half covered. I know I look hot in a Speedo, I have the physique for wearing a one. I headed into the area the guy said the workshop was taking place, which also happened to be the club's main dungeon playroom.
When I entered the room I saw about 25 men, mostly dressed in leather, and there was a guy at the front on a raised platform (with some playroom equipment behind him) who was speaking. He saw me enter and, I guess because I was interrupting (but also because I was in nothing but a Speedo in a room full of leathermen) he stopped his speech mid-sentence and asked, with a bit of sarcasm, "can I help you, are you looking for the pool?" Everyone turned to look at me and I heard some snickering. I responded, "I thought it was Bondage night here at the club, but the doorman told me that instead, you had some kind of meeting going now. He also suggested I could probably find someone to play with me after your meeting was over. I didn't mean to interrupt at all. I was hoping to find out if there are any serious bondage players here who might want to play, of course after you are done?"
He grinned and said, "I am sometimes considered a 'serious bondage player' and I would be happy to accommodate you when we are done, and I feel sure that some of the others, a few of whom might also be 'serious bondage players,' would be willing to help out — that is if you don't mind being the center of attention for a group of tops?" He said, "Do you have a problem with that? It could be fun for you, if you enjoy showing off in that Speedo, which you apparently do."
"I have a Speedo fetish and I actually am quite an exhibitionist, so that would be hot to have several of you show me the ropes, so to speak, as long as I can keep wearing my Speedo." I grinned, and several of the men chuckled and I felt a bit more at ease, at least as "at ease" one can feel when you are standing in front of a crowd of leather-wearing men who look like a biker gang and you are wearing nothing but a skimpy bikini – that can be a bit unnerving, even for an exhibitionist. One of them hollered out "the Speedo is hot, and so are you, pretty boy! But you'd better think twice about what you ask for." I took that as an affirmation.
The speaker said, "We still have a few minutes of unfinished business to take care of, but one of you guys in the back get some rope and let's tie pretty Speedo Boy's hands behind his back so it won't be so easy for him to change his mind. Bring him up to the platform and let him sit up here until we are finished."
A couple of guys came over to me and said, "put your hands behind your back," and I complied. They bound my hands together, and then one of them said, "I'm going to carry you up there so you'll get the message that you will have no control over your situation, from this moment forward." He bent his shoulder down towards my waist and guided my torso over his shoulder, and then he lifted me up, rather like I was a sack of potatoes. In order to balance me as he raised me, he shoved one of his hands up between my legs, and of course he took advantage of the situation to finger me and fondle my underside and crack and balls through the speedo as he carried me to the front.
He sat me down a few feet from the speaker at the front of the room. I was facing the crowd, sitting with my butt on the platform, which was only about a couple of inches high, with my feet on the floor in front, so my knees were bent upwards. He said "keep those knees spread apart so the guys can see your bulge clearly" and he reached down and pushed my knees apart, and then he reached in and gave my crotch a quick squeeze, to indicate my relative powerlessness.
The speaker continued talking about club administrative matters and it was very surreal to be sitting there, with my legs spread apart, in nothing but a tight Speedo, knowing that all those guys in their menacing leather uniforms were looking at me, or more accurately, at the bulge between my legs. I began to wonder whether I had bitten off more than I could chew, but it also turned me on, that they were all admiring me, so that made it worth it. I knew I was in for quite a ride. I could feel my balls squeezing through the tightly pulled nylon material, and I looked down and saw there was a wet spot of pre-cum on the front of the speedo, which was indeed bulging there between my legs. It was OBSCENE how vulnerable and exposed I was, and how turned on I was about it!
The speaker finished his piece and said, "That's it, for the business of the night. Feel free to leave, but any of you who want to have a little fun with Speedo boy here are welcome to stay." From what I could tell, not a single one of them left, and the crowd seemed to step up closer to the front and gather around me. The power imbalance was fierce and intense.
The speaker said to me, "This group doesn't do anything half-assed, we are serious players here, Speedo Boy, so I am giving you one last opportunity to change your mind. Untie his hands in case he wants to leave. If you do not do so, you will follow my instructions from this moment on and cooperate with us wholly." My released hands were shaking and I was breathing heavily from anxiety, but I was also horny as hell, and the thought of being the only bottom, in nothing but a Speedo, surrounded by a room full of leather tops was really hot. I had played with several tops before and it was exciting. "I am ready for what you want. Tell me what to do."
The speaker said, "I think since he is wearing a Speedo, we should 'play to the strengths' of that form of outfit. I personally find wearing a Speedo too revealing for my own comfort level, because it shows off my junk, but we should take advantage of the circumstances here — since he apparently is willing to show off his junk AND get tied up in the bargain, we should position him accordingly and end with a little bit of suspension. I suggest that we start out with the basics. Phil, get several lengths of rope and let's get Speedo boy 'crabtied,' just like we discussed in the workshop."
I stood up. The speaker said, "No, scoot back from the edge there but sit back down on the floor, just like you were — right here, sitting with your knees up and drawn close to your torso. Someone get those leather ankle cuffs and put them on his ankles."
Once they had put ankle cuffs on me the speaker said, "I am going to have them tie you in very special position, for someone like you who likes bondage and likes to show off in your Speedo. Do you know what the crabtie position is?" I answered no.
"Bend over and put your hands down in between your legs, push them around behind your ankles on each side and then reach your hands as far around the front of your ankles as you can and grab the front. Put your wrists next to the ankle cuffs — you will discover what those are for, directly."
I did as I was instructed and I pushed my hands between my legs, and around my shins. This forced my legs and knees to part further because the upper part of my torso and my shoulders pushed them outwards. Phil and another guy both took some pieces of rope and quickly wrapped them tightly around my limbs, binding my ankles and wrists together on each side. The two men then took some more lengths of rope and bound my elbows and middle arms to my knees, so my limbs were effectively wrapped around and "comingled" together and my degree of helplessness was complete — or so at least I thought. I still didn't realize the extent of my peril — yet.
As the men were busy binding my limbs like this, I asked the Speaker what the workshop had been about?
"OH, the doorman didn't tell you what our meeting was FOR, eh? Hey, someone get a gag and quiet this guy down for good." (which they immediately did, they put a ball gag in my mouth and THEN wrapped some painters tape around my head so I was utterly silenced.) "Hehehe, in answer to your question, this was a workshop for serious tops only, ones who identify specifically as sadists, and the discussion was about methods of punishment and discipline that 'push the envelope towards the extreme' but are technically safe. We all believe in playing safe, but we like to punish our captives severely and see them struggle ferociously and cry out in pain for help and for mercy.
"Our workshop ended up being a discussion that was only in the abstract because I unfortunately could find no subs who would be willing to help us out and let us practice on them. They were apparently frightened away by the subject matter, and by who would be here. And then YOU conveniently arrived just in time, asking for some serious bondage players and in effect to help all these really horny sadists practice the various methods of punishments that we discussed."
I was horrified by what he just said — that this was a room full of self-identifying SADISTS, and I started struggling, tugging at my bindings, frantically trying to get free while shaking my head left and right, saying "no no no" — everything he said this group of men enjoyed. But I was gagged silent, and utterly helplessly bound. There was a murmur of amusement that rippled through the room, and the Speaker and they all ignored my protestations.
The Speaker said let's get Speedo Boy hooked up to the Spreader bar and winch system. Several of the men gathered around me and rolled me onto my back, so I was suddenly upturned like a turtle, or a crab, helpless on his back. The blood drained from my face. I suddenly realized that directly above me was a lengthy 4-foot long spreader bar hanging from a chain and a pulley mechanism bolted onto the ceiling.
In this crabtie position on my back, the extent of my peril became immediately and frighteningly apparent. My legs were spread apart (I had no chance of closing them) but even worse, my underside and the bulge of my Speedo was completely exposed, as were the insides of my thighs and even my asshole was easily – no INVITINGLY – reachable. As if to make the point clear, the speaker kneeled down and gently caressed my thighs and moved his fingers along the edge of my speedo, and he then gently tickled my balls and dick through the tight material, all this while keeping up a stream of verbal threats and insults about my naiveté and stupidity. But when his sharp nails gently probed the contours of my highly sensitive asshole through that material, well, the one-time pleasure of such tactile exploration become shockingly ominous and brought home to me the peril I was now in. The feeling of his fingernails through the tight material was electrifying, it was as if the stretched nylon AMPLIEFIED all tactile sensations to my balls, dick and asshole. I was SO exposed and defenseless in such a sexually provocative way that I thought I might faint, and my heavy breathing turned into a frightened pant.
The speaker said let's lower the spreader and get Speedo boy hook up to it. I was horrified to feel them pull my ankles further apart and lift them so they could clip the leather cuffs to hooks on both ends of the spreader bar. The degree of my exposure was extreme and, yes, sadistic. The speaker said, "Okay, let's turn that crank and get Speedo Boy here elevated so we can reach him easily."
I heard – and felt – as the chain above the bar tightened, and then stretched, and then the chain slowly was pulled upwards through the pulley and I, in turn, was slowly lifted into the air. I was obscenely positioned in this heinous, demeaning manner, and my most sensitive, sexual body parts were right in front of this room full of sadists to do with basically what they pleased. The speaker tickled me and fondled me again and then continued:
"We have a range of activities that were discussed tonight in the workshop, there was a lot to learn, but luckily the club is now closed to the public and we have possession of this room for up to three more hours. We are going to have time for everyone to practice the activities, even though I think there are about 25 of us. Speedo boy, some of the activities that were discussed were, of course flogging and whipping (it just so happens that I brought a particularly menacing single tail in my bag) and electro wand use. Some of the men talked about fire play. (I thought I was going to vomit when I heard that). Unfortunately, we will not be able to do fire play or branding (!!) as the club prohibits such activities. However, I just had a great idea – John, can you get me a glass of water from behind the bar and put it into the microwave, and heat up the water so it is good and hot?"
He turned back to me and caressed my exposed underside some more, and while I kept shaking my head. "No, please NO."
He said, "So, you got your wish. You are at the very center of attention, in your faggoty bikini, and in this humiliating position. How does it feel to be so exposed in such a demeaning manner and to realize you are the only one in such peril, in the middle of a bunch of fully dressed sadists who enjoy dispensing pain and seeing terror in the eyes of their captives? It has got to be a little frightening to be so defenseless in such a sexually provocative way, surely you know that the focus of all our little games are going to be right here, beneath this skimpy material. This suit doesn't leave much to the imagination does it? I can make out your dick here (he tickled it) and your asshole here (again the tickling) and we have all kinds of painful things that we are going to practice on you."
"You didn't realize what kind of night you were going to have when you waltzed in here in your faggoty bikini, did you?"
The men parted and the man John came towards the stage carrying a glass of water. The speaker looked at it and said, "John, that isn't hot enough, I don't see any steam, can you zap it again?"
He then kept up his verbal abuse until the man returned with the glass again.
This time it was wrapped in a paper towel. The glass was apparently so hot I could see steam rising from the water. He handed it to the speaker, who said, "Now the fun begins. After I 'warm things up' here (he chuckled) with this hot water, we can go straight to practicing our abilities with the single tail. Then after the Speedo is dry again, we can graduate to the electro wand. Speedo Boy, you are in for a long, interesting night in that Speedo of yours."
And when he poured the water it was so hot and stung so fiercely that I was thrown into fits of convulsion and yanking at my bindings, screaming underneath my gag, "no, please no, it's TOO HOT!" but my muffled pleas were indeed to no avail, and afterwards there was, for a brief second, a visible bit of steam actually wafting OFF the Speedo, from my balls. The Speaker said, "My GOODNESS that is a great visual, isn't it? Exactly the reaction I was hoping for," and he tickled me again. My genitals were now extremely sensitive from the hot deluge.
The Speaker said, "maybe we ought to arrange this so everyone can have a go at the hot water treatment (do we have more of those glasses?) and then let them have a few rounds with the single tail right afterwards. He then stepped aside but pointed at the seam in the bottom of my Speedo, between my legs, and said, "This is a perfect target for all of us to aim at, right at the center of things. It will help us keep score, as will the marks and welts on your beautiful smooth skin. Let me have a few whacks with the whip and then you guys ask John for your own glasses of hot water. Be sure to put the paper towel around them John, the glass is pretty damn hot!"
Before starting the Speaker cracked the whip with his wrist, to his side, so it made a frightening popping sound, and then he said, "step back boys, this thing is fierce if it accidentally hit one of you." Then I felt a series of fiery, stinging bites upon my exposed underside, upon my bare legs, and most painfully on my genitals through the Speedo.
I then knew I was indeed in for a terrifyingly long night of punishment and torture in this sexually provocative of positions, a position that was conjured up specifically for a man wearing a Speedo. The price for my narcissism about how hot I look in a Speedo had finally caught up with me. And they began lining up for their turn to make me writhe, struggle, and cry muffled cries for help.
Metal would like to thank Speedobound for this story!