By @yohan555 and @xlrugbysocks
@yohan555 and @xlrugbysocks are both fans of prolonged bondage, and are happy to switch. This summer they set aside time to give each of them a 5-day session of continuous bondage, which was live tweeted on twitter. They were keen to give a debrief to metalbondnyc.
First 5-day period: @xlrugbysocks topped by @yohan555
@xlrugbysocks as captive:
We decided I would have my 5 day session as captive first, to give me the chance to get re-acquainted with @yohan555's gear and play spaces, even if from the receiving end. We had done a successful 3 day session for each other last year, so we know each other well, our individual turn-ons and no-nos (layers of thick wool, and lots of soccer and seaboot socks being favs for me!) We neither like role-play, but @yohan555 had requested my theme for the session; I said I liked us just to be ourselves, for real, meaning I didn't have a 'story' – and was a bit surprised on my release to find I was outed as an imprisoned and tortured medic!
The time flew by for me; I was a bit sleep-deprived before my arrival, so I slept a lot in the various padded cells and prison cells in the first few days. For me, long bondage sessions are always a mental struggle between letting go/throwing myself into fighting the restriction, and staying calm/keeping some reserves for the trials ahead; on my 4th day, I did reach total capitulation wearing a rubber suit and sj inside the heavy leather suspension bag.
I was surprised to rapidly lose count of the days. The bondage (mostly sj and sleepsack-based, with cuffs, chains and shackles) was efficient and always totally secure. There was a continuously-shackled visit to the adjacent wet room/WC each morning, for shower, food, new nappy and new gear for the coming day's sessions; the showers were wonderfully restorative after hot sweaty bagged nights! @yohan555 always stayed for open conversation, which meant the 5 days was not an exercise in isolation – maybe next time!
I consciously tried to provide grunting enthusiastic feedback to my captor during sessions; @yohan555's mix of progressive tightening, hugging/caressing and use of vibrator made this easy! Particular highlights for me were the unexpected arrival of @RTFM_Str (who made me sniff his very ripe soccer socks – gasp!), and being locked into the wheeled box with my head out (surprised to find knee pain as the only problem after some hours). Others were the sexy hypnosis recordings via headphones ("I like being in chastity, I want to be in chastity for longer"), and achieving orgasm via frottage when cuffed behind in rubber, locked in the padded box.
@yohan555 as top:
It was such a pleasure to have @xlrugbysocks come over again to do what turned out to be a new record for both of us, 120 hours continuous as top and 120h as bottom, each. We had chatted intensely before to plan the session, which included a freshening up of knowledge of our specific kinks. As always, @xlrugbysocks brought the maximum of allowable luggage filled with his favourite kink items, including wool, army gear, biker gear and some other assorted bondage items. My place is well stocked, and since @xlrugbysocks is my size, I had asked him to pack only wearables, with bondage items to be supplied by me.
In preparation for the 5-day topping I had arranged for two switch friends in Stuttgart to aid both him and me during our topping periods. In my case, unbeknownst to @xlrugbysocks, RTFM_Str was to come on day 2 and help for around 24h with the topping and give the play a bit of a twist. Logistically, as a host, such plays do pose quite a challenge, which is why I do few of those during the year and with select and compatible longterm players only. I had taken a two week vacation from work, cleaned the entire space, prepped all the gear and cells, and had stocked up on food to last us through the 10 days. I had also prepared a detailed instruction sheet for @xlrugbysocks that would aid him later when he would top.
On arrival day, I picked up @xlrugbysocks from the airport, and we did a small session as a warm -up to reacquaint another and get into the mood for the prolonged incarceration. The morning of the next day, I then took @xlrugbysocks into custody, starting him off with his favourite fetish gear – wool. I like to give such plays some structure, and for my topping period I had decided to go with "gear days" as a theme. Each day would have a different gear focus, keeping the suspension for @xlrugbysocks up what the next day would bring. Moreover, he was to be a professional medic who had fallen into the hands of a crazy bondage addict, keeping him incarcerated for a very long time.
I own various cells, and we had agreed that in this play, one cell would be the "home" of the player where he would be kept frequently, with other action taking place in other locations throughout my bondage cellar. @xlrugbysocks and I had also agreed to communicate normally during the entire play. The sub can ask for fixes if a bondage becomes unbearable in which case the top would alter the bondage, the aim of which was to keep the play going without having to do a release. In a sense, we were both who we always were but I was in total control and in charge and @xlrugbysocks was mine to do with as I pleased.
So, on day one, I threw @xlrugbysocks into the black cell after dressing him in heavy wool gear, and started with some chaining action. Day one was wool, and I began by him dressing in it, and then chaining him in various positions in the cell, amongst them some very tough asymmetric ones that were quite stressful. This was altered with occasional easings of the bondage, but a chain was always maintained – as it was throughout the whole 5 days, not a single moment were the captive was unbound. Towards dinner, I did some sitting positions with springs pulling on @xlrugbysocks in different directions. He got very horny when I then put a mirror in front of him so he could see himself. After that, I fed him dinner and allowed for a brief shower in the bathroom, and transferred him into the small padded cell in prison gear, straitjacketed and a Max Cita hood on top. That was how he spent his first night.
On the morning after, I released him from the cell (after some morning edging), and dressed him In a divers suit, since that was to be the gear theme of the day. I was dressed in full rubber, with mask whenever I topped him, making me super super horny myself, and I almost came when I sat across from him in the bathroom, with keys to his locks swinging around my neck, while he stood locked in his diver suit, hands chained to his back, helpless to prevent what was coming next. That day would bring some very heavy chaining action, I had vowed to use a majority of my large padlocks on him at some time to do some bondage overkill. I also had him chained to a metal chair that I put in the cell at some point, and pulled his giant wooly sock over his head, which really got him going. It's his favourite humiliation thing to be made to look ridiculous, and I got super horny when I did that to him. Ah, the power to fully control somebody and do to them whatever you want (within the boundaries of safe play of course) is just addictive.
Finally towards evening, I stuck him into my isolation box, and locked that in the prison cell, letting him steam in there a bit. Unbeknownst to him, that was when @RTFM_Str had come to aid me in topping, and he proceeded to surprise @xlrugbysocks to top him. A "stinky sock" session ensued in which captive @xlrugbysocks was made to endure stinky feet in his face, helpless to do anything about it. But the day was not over yet and @RTFM_Str proceeded to do some heavy stress positioning with the captive, simultaneously edging the hell out of him. We then wrapped up the second day with a joint meal in the bathroom, after which I put him in a Max Cita mummybag for the night, with a chain attached to the wall of course for added security.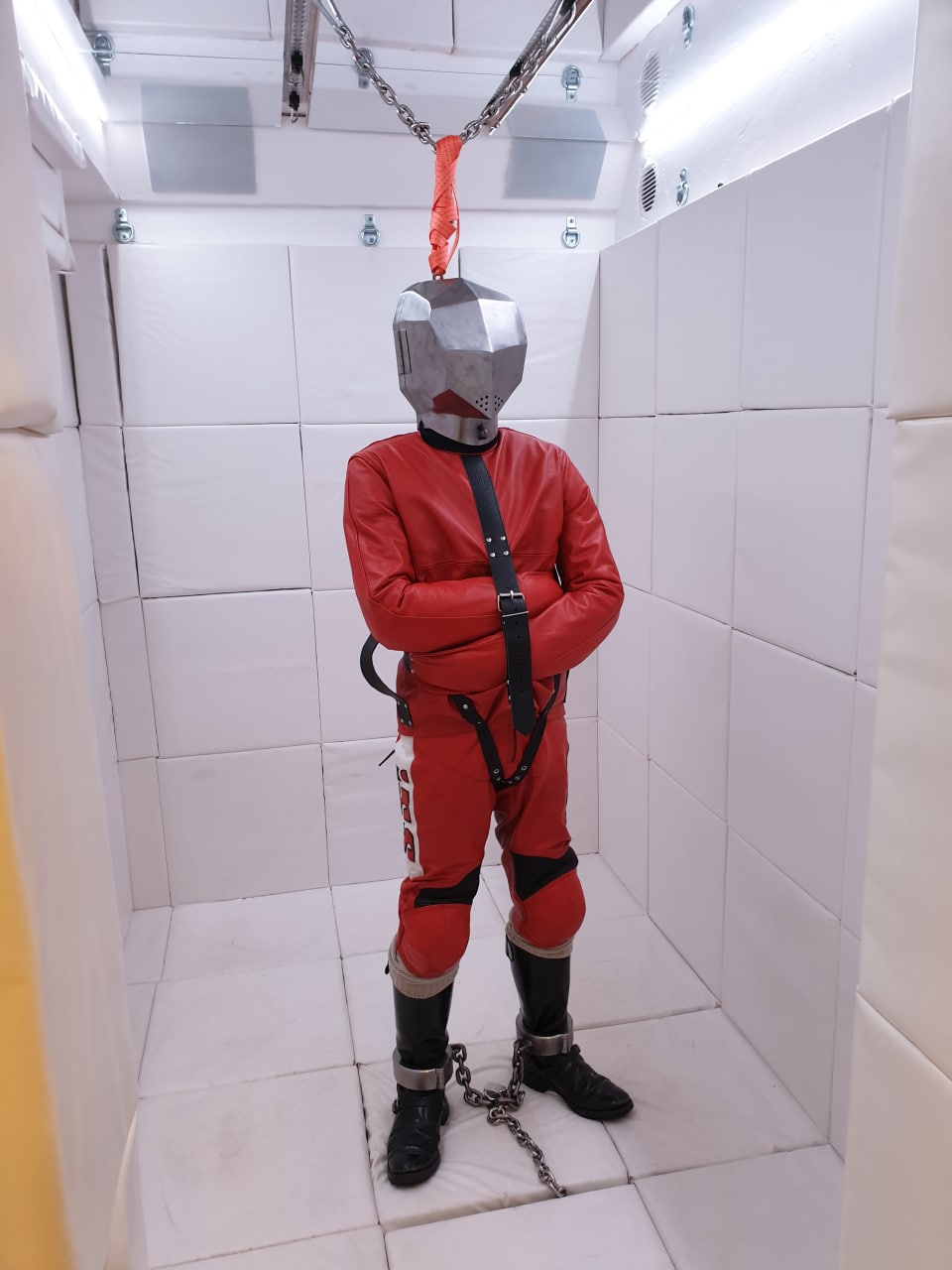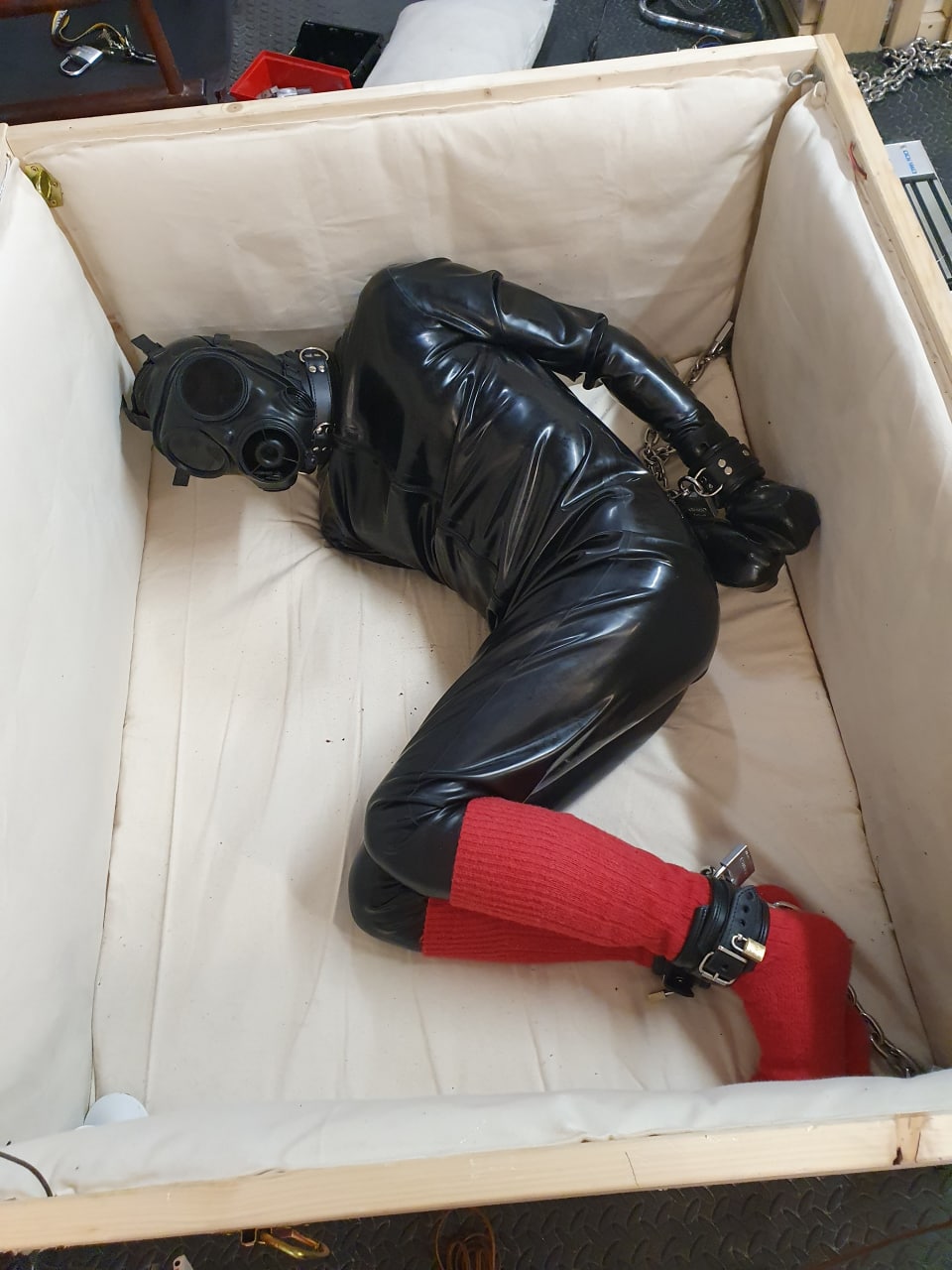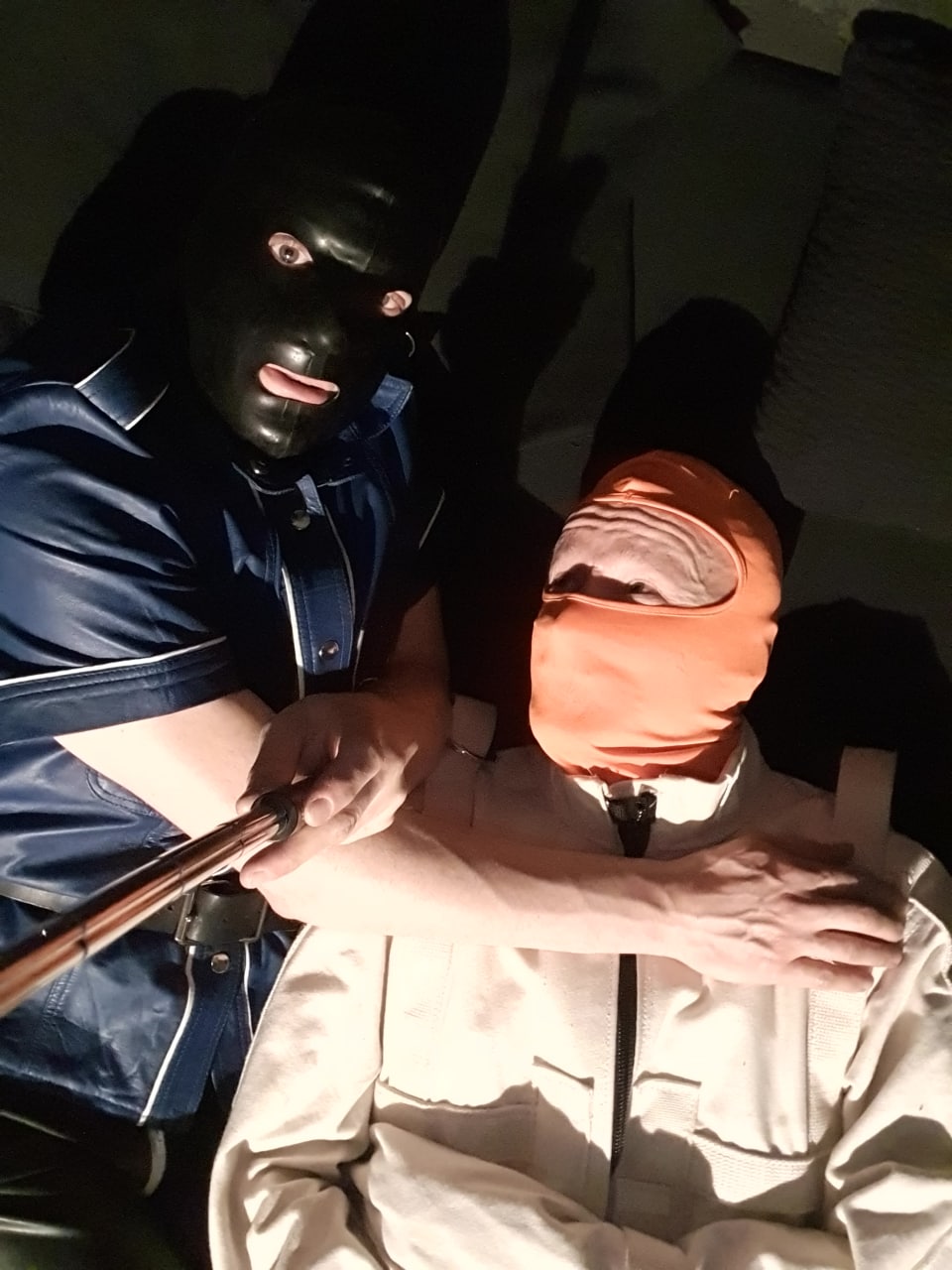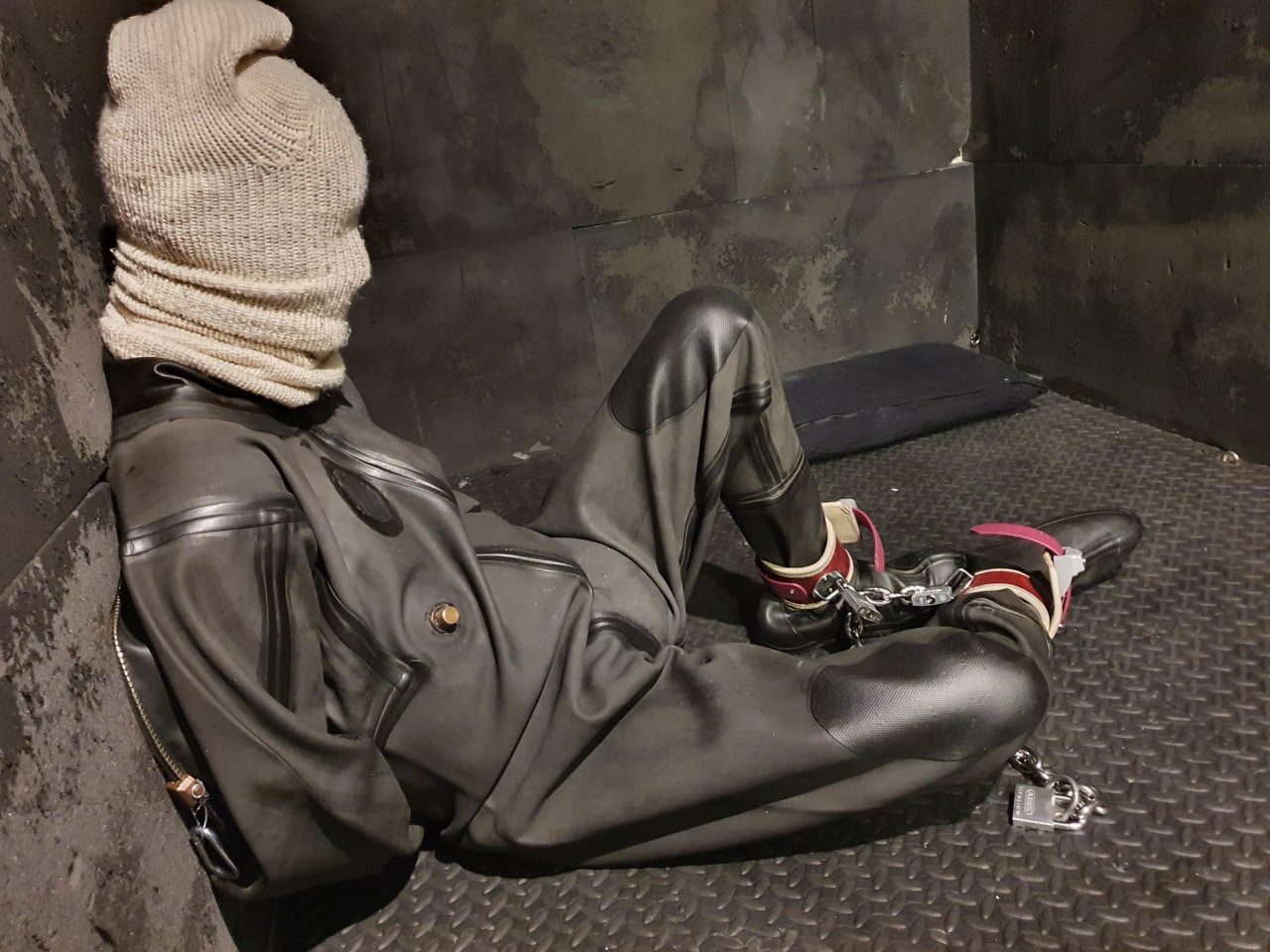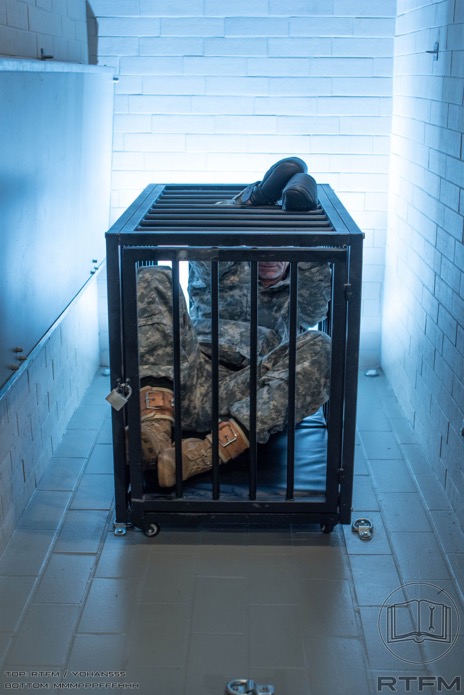 Next morning, us two tops were having a leisurely breakfast while @xlrugbysocks was moaning in the cell. I had tightened the straps for some added horniness, which is always a great thing to do in the morning. @xlrugbysocks breakfast and hygiene break then came, and I decided that this was to be soldier day. He was dressed in soldier gear and a leathers straitjacket. @RTFM_Str then put him in a stringent spreadeagle, a time that I used to clean up a bit in general and pre-cook some meals for the next day. Eventually, @xlrugbysocks got put into a cage, and was stored in the prison cell, but with the outer door open so he could see when I gave @RTFM_Str some well-deserved reward for his topping help by doing a Segufix session with him. When @RTFM_Str had left, I proceed to make the bondage in the cage quite severe, but towards dinner time then eased up and dressed him in light prison gear. I then put him in a Max Cita high security one-piece straitjacket for the night. We took a lovely picture of the two of us, that I treasure a lot – where @xlrugbysocks has this special look in his eyes, showing that the treatments were slowly getting to him. In longterm play, its really about this journey down into deep subspace, where your deep fantasies start to become a harsh, but oh so horny reality.
In the morning of the third day, I woke up @xlrugbysocks rudely, by coming in and tape gagging as well as wrapping his whole head, after he had had a somewhat more restless night in the black cell. I absolutely love those moments, where struggles occur, but I get my will in the end – making the captive realise they are at my mercy. Eventually though, got him breakfast and hygiene and then proceeded to dress him in a bikers combo, leather straitjacket and mask since this was to be "leather day". On that day, I played extensively with him, doing hogties, having him stand with a metal helmet fixed to his head, and having him sit in the bondage chair while being edged and poppered. Eventually I put him back in the isolation box that I had manoeuvred into the white cell, which really was total overkill, box in a padded cell and inmate inside straitjacketed. No way out. For the night and after dinner and some hygiene, he was put in a leather sleepbag to go with the days theme and was then left for the night.
Morning of the 4th day, I went again early into the cell, rudely awakened him. I threw the mattress and pillow out and stood him in the middle of the cell while still bagged and then chained him to the ceiling. A vigorous edging occurred, and I again got very horny by the prospect of such a helpless leather-encased inmate turned object. This day was to be rubber day, and I proceeded to dress him in a full rubber gimp suit after morning hygiene and English breakfast tea. As a first bondage event, I had prepped the cell with a heavy metal collar being suspended on chains, and over the next hours put him through some tough stress positions. It was so very very hot when I finally had him in a sitting position, a rubber gimp, staring in the mirror that I had put up in front of him, and then sat behind him also dressed fully in rubber gear, sensually touching his latex -covered body and head, but also pressing in on him. When I edged him then, I actually ended up coming as well. To elevate the stakes, and knowing that @xlrugbysocks is really a fan of full enclosure, I stuck him in my bigger padded box, threw all kinds of his favourite wool inside and locked him in. And to my amazement, after 4 days of bondage, and having cum already a couple of times, he vigorously started to work the box floor until… he actually came by himself. Wow! I was really happy because obviously he was in bondage bliss heaven.
But this was the last day and I wanted to go out with a bang. So after releasing him and having him briefly shower, I dressed him in some just awesome looking rubber plus straitjacket, threw him back in the white cell and then overwrapped him with my my heavy leather mailbag. Eventually I chained that to the wall, and that is when he actually briefly cracked, as he told me later. Those are very important moments in longterm bondage, the moment that you are living your fantasy, but it's overwhelming you. You want out, but then you don't want out. Its all those conflicting emotions, you pass through this magical point, and beyond it is then acceptance and giving in and things are quite wonderful. After such heavy action on that day, I then decided to wrap things up in a more leisurely way, having @xlrugbysocks sleep in some lighter chains in the lying cage. Eventually, after exactly 120h of bondage, I released him and we had a joint breakfast together.
Reflecting back on this, there were an amazing amount of individual bondage events that make this very, very memorable. My top side emerged very strongly in this, helped by me being rubberised and topping my friend in such a way. I got hard and horny dominating @xlrugbysocks often throughout the play and actually came once – for me that's very important, I do not top out of a "service" to somebody else. I top because I want to be in control and live out my dark side, and that one gets off seeing another man bound, struggling, moaning, edging him until he begs that I let him cum. And @xlrugbysocks makes not only a superb top but also a superb sub. Interestingly, I fell into a sort of routine in all of this, and topping became easier after day 3. I think I could have just gone on and on and keep him imprisoned, playing with him like that. Nevertheless, I released him after 120h and we had a days rest before we initiated our switch.
To follow: Second 5-day period: @yohan 555 topped by @xlrugbysocks
@xlrugbysocks is also mmmpppfffhhh on recon and fetlife
@yohan555 is also on fetlife, and is strjacket555 on recon
Metal would like to thank these guys for sharing this information and pictures!