By Mark from Serious Male Bondage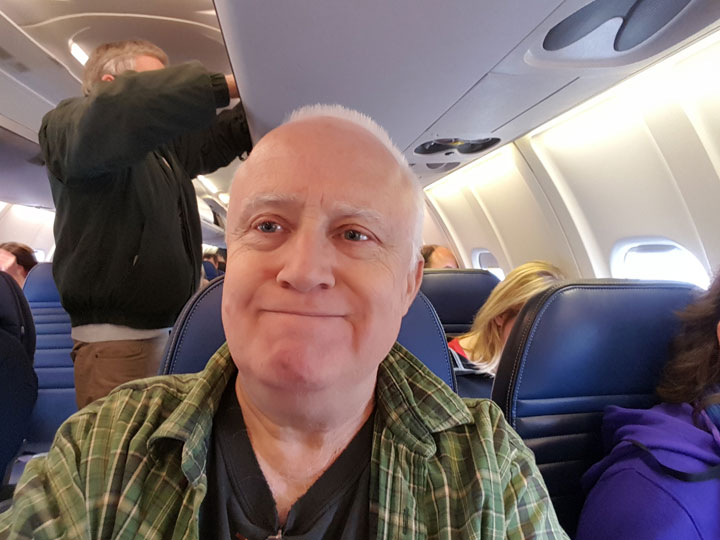 Hey guys, Mark here from Serious Male Bondage. I'm sitting on a plane waiting to take off on another bondage adventure. I'm going to visit my friend Bind at his jail in Hampton Iowa for a few weeks as a mini bondage vacation. (Check out the jail's website here. This visit is less about shooting videos and more about getting in some quality bondage time of my own. I need some bondage down-time and brought three suitcases filled with my own gear. The idea is to ask Bind to put me in my gear and leave me for a while to I can get some good alone time in my favorite gear. At home I often play with my gear doing self-bondage, and sometimes MummyEd comes over and locks me in for a while, but I like the setting of Bind's jail and basement as places to be tied up and left alone in a more "serious" environment.
Sometimes I will be chained up and Bind will leave me restrained all night. Bind is always in earshot, and there is more than one person in the building, so I feel pretty safe. On this visit I hope to do an all night spread eagle on the concrete floor of the basement, in my rubber suit. Since I'm visiting at the end of the year, the temperature outside is hovering around freezing, so I'll have to lie on something to insulate myself from the cold floor.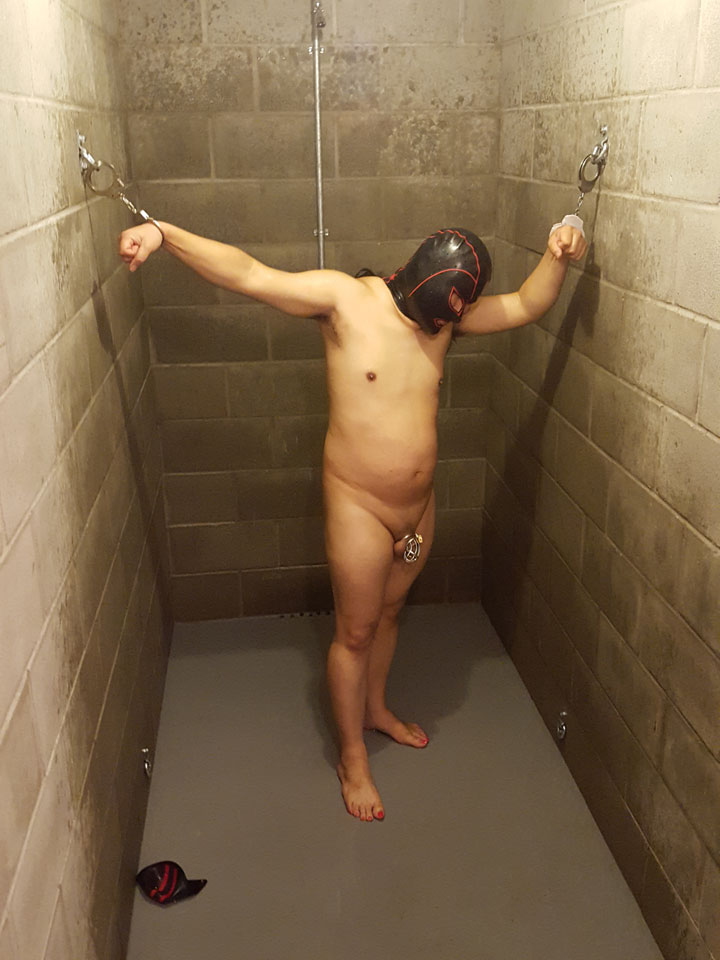 Before I go any further, I'd like to share this picture with you guys. I took this picture last month at the new EdgeDungeon.com. This poor guy was handcuffed to the walls and hosed down with a garden hose in the shower cell. The shower cell is the same size as the other jail cells, but has a shower head with hot and cold water. The great part about this cell is that there are attachment points in the wall and floor allowing a prisoner to be collared or shackled, sitting or standing. Then, with the use of a standard garden hose which is located at the far end of the cell, with it's own faucet, the prisoner can be hosed down and is completely unable to escape the stream of water coming from the nozzle of the hose. We all know how much fun it is to squirt water across the yard with your home garden hose, imagine being able to hose down your submissive in the same way! It's kind of like being at the do-it-your-self car wash.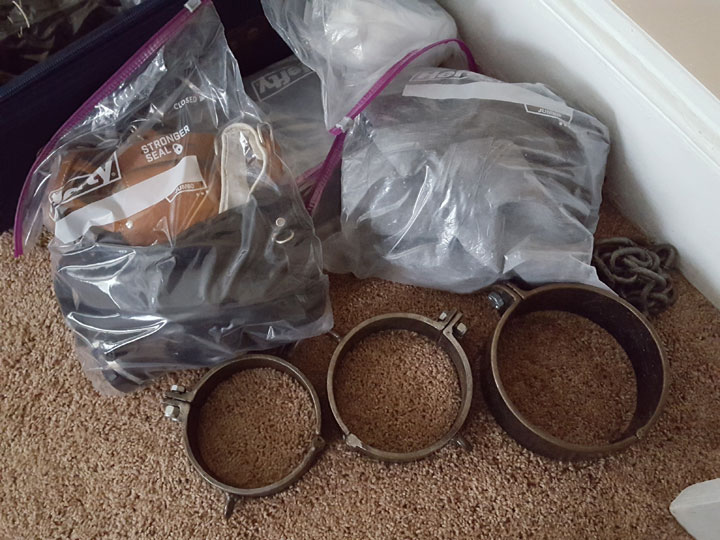 I arrived at Bind's place around midnight with three suitcases full of bondage gear. There was light snow falling as we dragged my suitcases into the house. The picture above shows three metal collars I brought with me that would allow me to have on different thicknesses of hoods and still fit a collar around my neck. The only problem with bringing all this gear is the extra baggage charges. You gotta be pretty hardcore to bring this much bondage gear on a vacation. BTW – I borrowed the collars from the handcuff collector Yossie Silverman.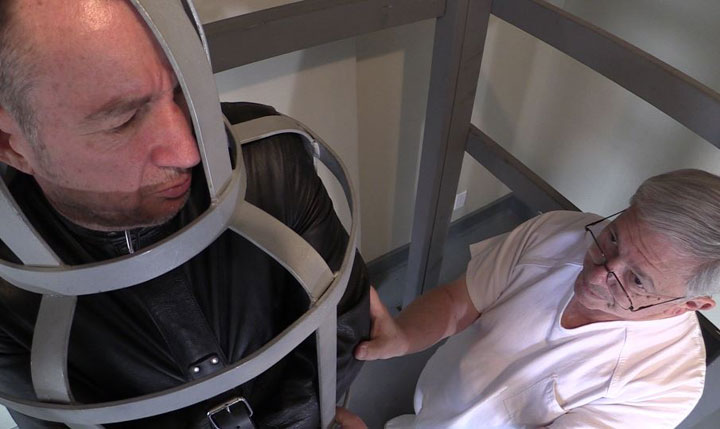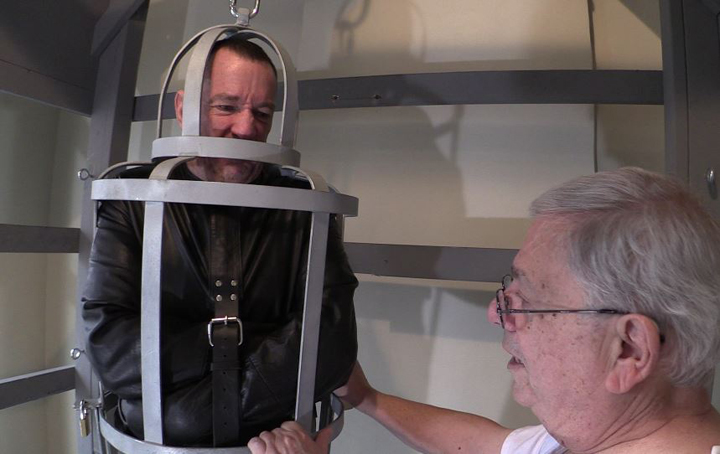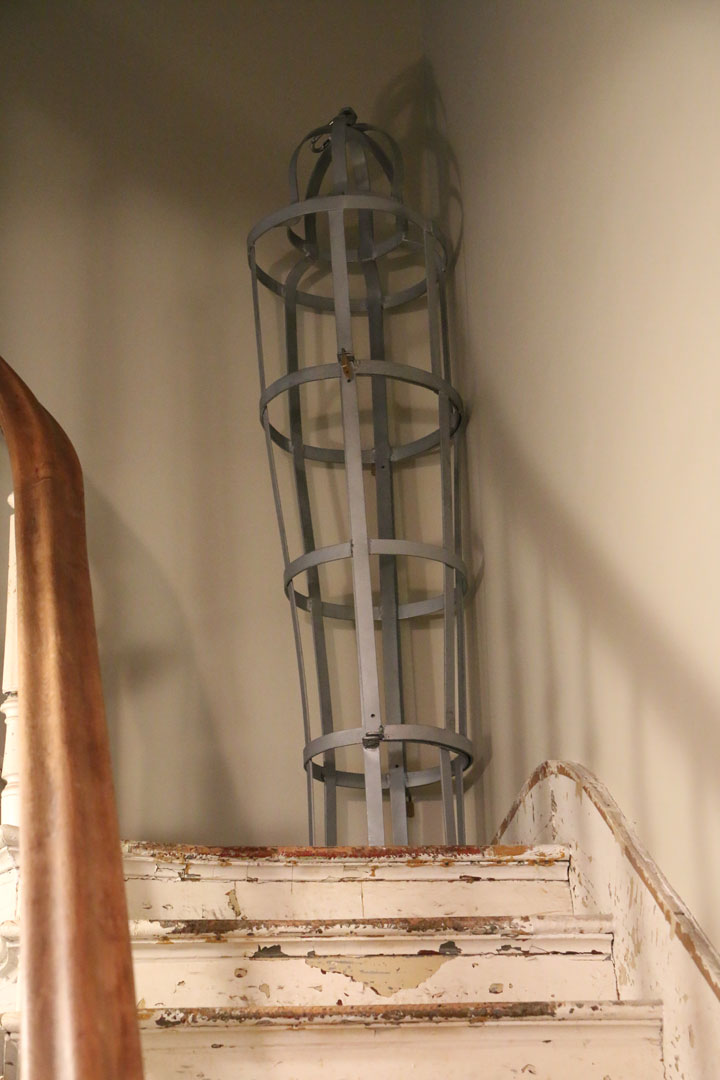 The next morning we got up and I helped Bind shoot a few segments for his bondage video series "Mind Trap." Bind has a cool Gibbet cage that his friend welded together for him. We put him in a leather straitjacket and then into the cage and hoisted it off the floor for the video.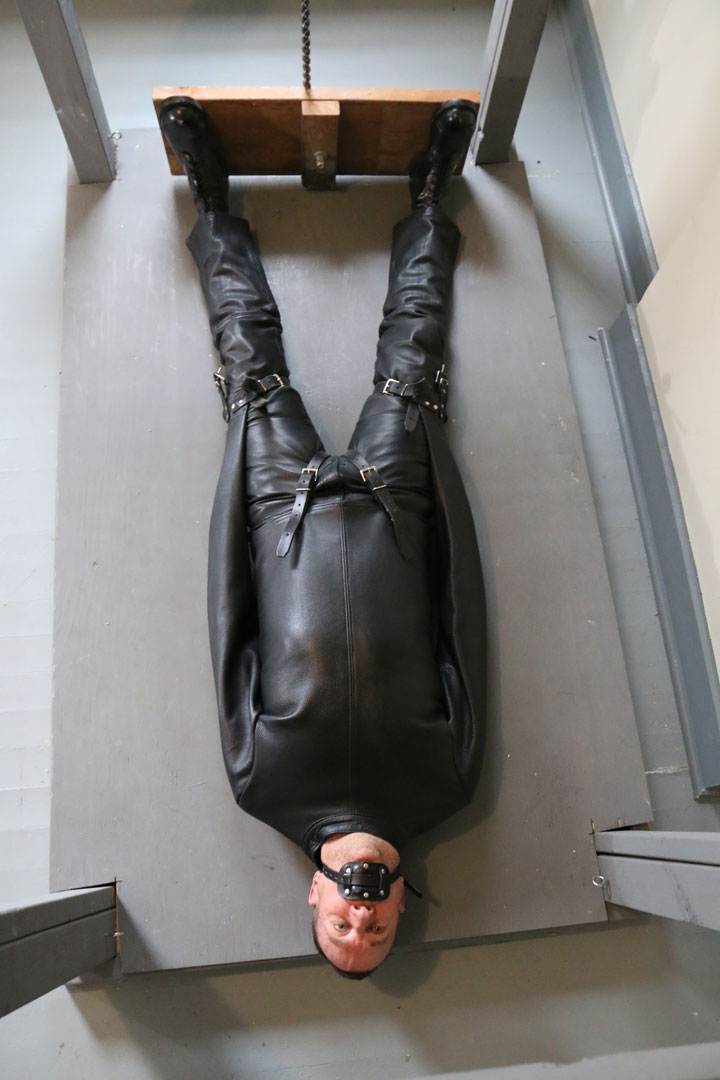 The second scene in the video was hoisting Bind upside-down in an arms-down leather straitjacket. I swear, Bind gets more bondage than 10 of us put together! Check out his "Mind Trap" video series on MenInChains.com.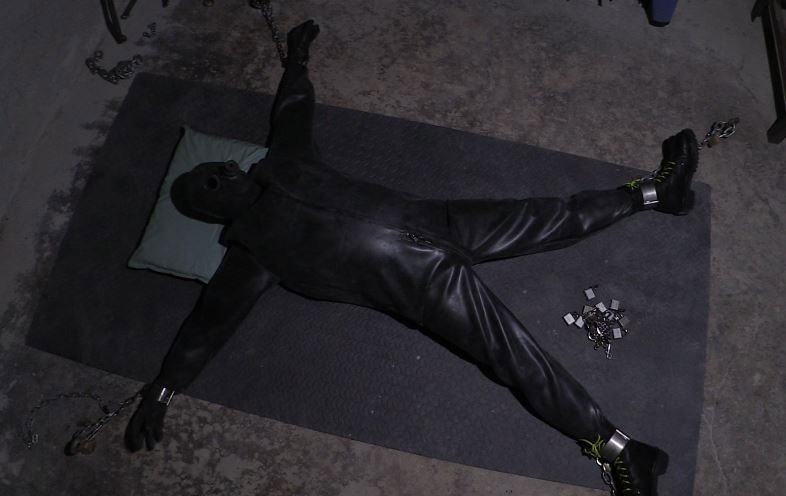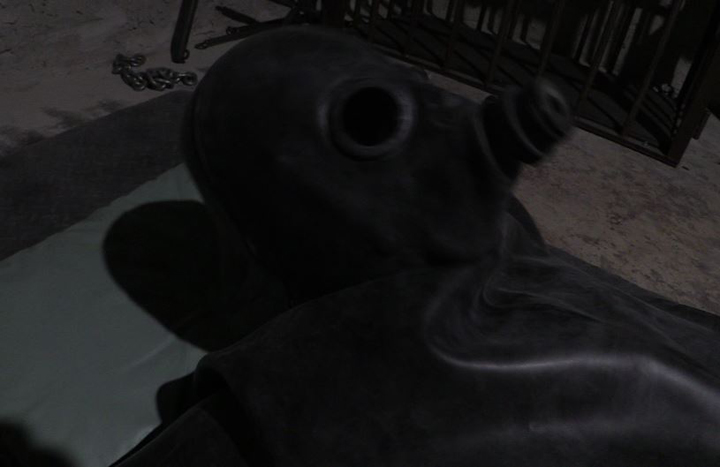 My first bondage scene since my arrival was to be shackled spread-eagle on the floor of the basement. As I said, it was freezing outside and although the basement wasn't that cold, it was chilly. So I laid on a foam mat and with the StudioGum heavy latex suit, leather boots and a Mr S latex surf-suit on underneath, I was mostly OK. I had ordered a "Texas Catheter" set from Amazon, and had the bag strapped to my right calf under the heavy rubber suit. It has a condom with medical adhesive that allows the condom to stick to your cock once it's rolled on, then a small hose connects the condom to the bag.
With this setup I didn't have to worry about stopping the scene because I had to go pee. This is the first time I had ever tried this, and it worked out really great. I wish I would have thought about this a long time ago. During my 2-plus hours on the floor I peed twice and my urine was captured flawlessly in the bag. Fantastic! I will try this scene again in the next few days and go much longer.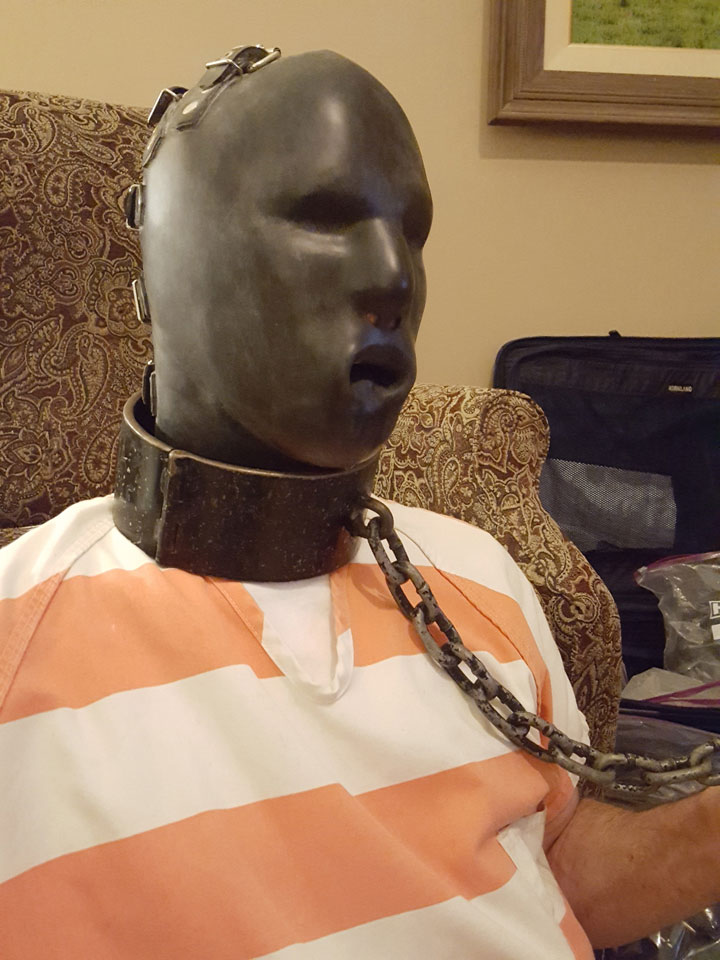 Finally, in the evening we gathered in Bind's living room to watch TV, and I ended up putting a StudioGum thick rubber hood on Bind, and the biggest metal collar over his neck. I had the hood buckled too tight so Bind didn't last very long. I want to try this hood while chained to the wall in the jail cell, which I will do tomorrow. Stay tuned!
To be continued …
Metal would like to thank Mark from Serious Male Bondage for this true story! See his site for the videos!

Title of this video series: Bondage Time for Mark