By Speedobound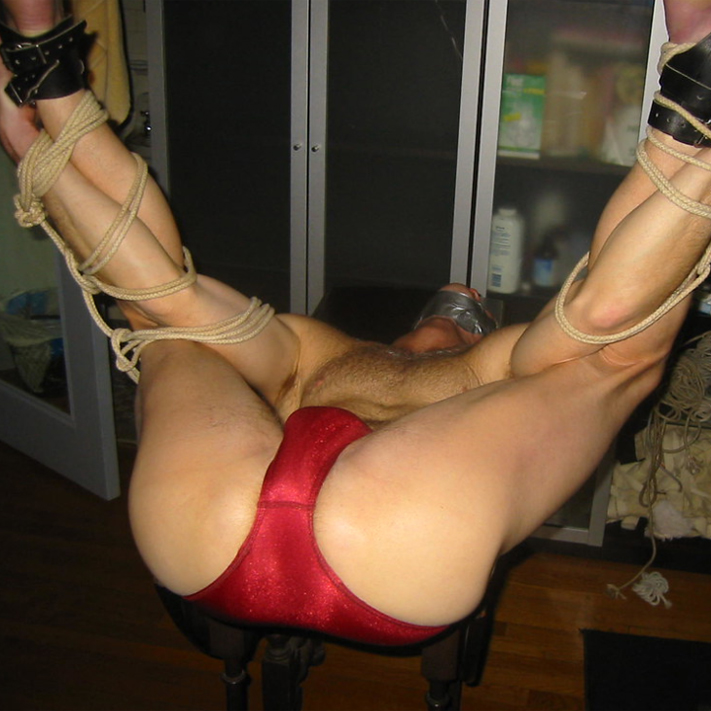 My fetish can be summed in one word: Speedos. But then bondage isn't far behind. I used to get a hard on simply by driving past sporting goods stores because that's where you would buy Speedos, when I was growing up. I think an athletic man with a hot physique wearing a tight Speedo is the perfect combination of nature and… well, synthetics, since I like 100% nylon Speedos!
I had my very first orgasm the initial time I ever tried on a Speedo. Luckily it was a friend's Speedo and I was able to clean up the gooey mess, surreptitiously. I had NO idea what just happened, but I knew it was HAWT. The idea of being tied up was in the back of my mind as well, but it wasn't until I got my pervy little hands on my own Speedo that I could "practice in," were the two fetishes able to meet. It's fascinating what a bit of imagination and a little pretend can come up with when you are a horny teenager and have some rope and a Speedo.
I have long since graduated to more advanced levels of exploring kink. Many years ago I finally got brave enough to let a stranger tie me up, while wearing a Speedo of course. If you read my profile you will see that I will not be tied up without my Speedos, it would immediately kill my erotic drive. However, when I am wearing a Speedo, my tolerance for… well for a LOT of things is amplified. I have visited my share of leather clubs, dungeons, and even small apartments with some makeshift bondage equipment, or simply rope. I have gotten a lot more adventurous as the years have passed, although I have always played safe and have never been truly harmed.
There is nothing I love better than being strung up in a sling, legs spread wide apart, with my vulnerable underside and bulging Speedo jutting out for the top's pleasure…that pleasure being to torment me with tickling fingers, floggers, single tail whips and other instruments of torture.
A tight Speedo seems to AMPLIFY the awareness that my most sensitive body parts are actually quite exposed, and I have to say, when teasing fingers are scrambling across that tight material, and then when the sting of a flogger or other whips are aimed thereabouts, I really do understand how completely vulnerable I actually am. But then usually I am gagged and tightly bound, so I can't do much about it. I love being helpless and vulnerable in my Speedo.
My biggest fantasy is to be a lone sub, wearing nothing but a Speedo, hung up in a sling in a dungeon space full of sadistic tops (even better if they are all wearing leather to emphasize the extreme power imbalance) who are just itching to engage in a group domination/torture scene.
I fantasize about changing into my Speedo in a separate room and having my hands tied behind my back and my ankles tied together. Then a big strong top will bend my torso over his shoulder and lift me up to carry me into the dungeon, like I am a bag of potatoes. He will also shove his hand up between my legs to "balance" me and will engage in some groping and fingering while carrying me into the dungeon.
Once in the space they will untie me and place me into the sling, and I will have ankle and wrist cuffs that will be clipped together above my head and onto the same set of chains (not ankles on the front chain and wrists on the back chain), which will cause my underside to jut out more prominently. They will also take some rope and tie my arms to my legs, which will further preclude me from any chance of closing my legs – in the heat of the action – in a vain attempt to protect myself. From that point on, well, use your imagination what will happen.
I will include one more element of my fantasy, to prove my intrepid nature (or my captors will probably prefer to call me a stupid fucking bikini-wearing faggot bitch). I fantasize about having stinging hot water poured onto my bulging Speedo in this position, water that is hot enough so a little bit of steam will be rising off the receptacle… and YES it hurts like HELL, but the visuals are GREAT for the tops, and afterwards my Speedo will cling even tighter to my balls, which will be even more sensitive for the punishments that are soon coming along. The pain and my inability to protect myself are proof of my utter helplessness. And the tops will enjoy seeing me writhe and struggle and emit muffled cries of "no no no!"
The one thing I ask is towards the end of being tormented, the captors will tickle my exposed underside relentlessly and the pleasure from that ending will finally allow me to explode with pleasure.
Whew. I'm wet with pre-cum simply writing about it.
Metal would like to thank Speedobound for this story!