By Atlanta Stud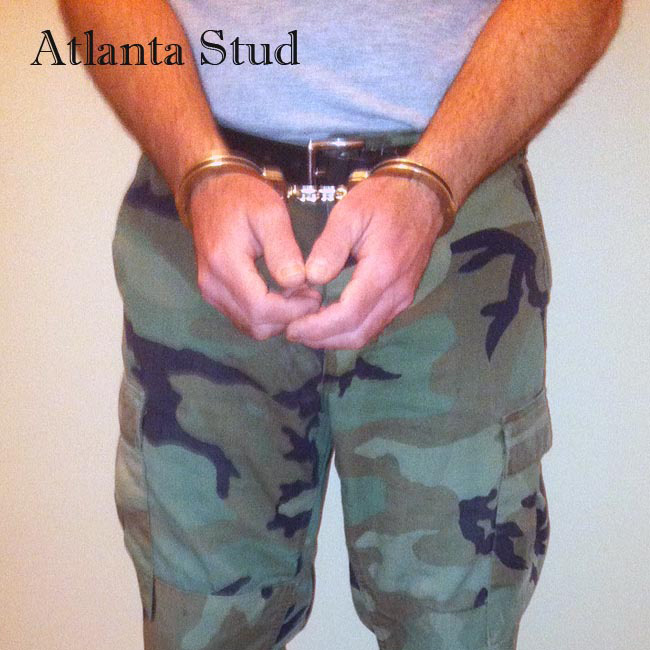 The day's work is almost done for the crew as Daniel does a run through of the work they completed on the new five bedroom house that's being built.  Dan's no stranger to overseeing a group of men, having spent time in the Marines as an MP.  His muscular 6′ frame, topped off by the high and tight that he's so fond of, reminds everyone on the crew where he came from. He'd wear his fatigue pants to work if the construction owner would allow, but he just has to settle with jeans and a snug company emblazoned black polo.
He adds his own touch by tucking the jeans into the tops of his desert tan boots before lacing them snug around the ankles.  At least this looks somewhat military he convinces himself.  Once a Marine, always a Marine, as the saying goes.
Dan's checking on the tile in the master bath when his apprentice Nick finds him to inform him the crew's pretty much packed up and heading out.  It was a Friday and since some crucial supplies needed for the next day got held back and wouldn't arrive until Monday morning, it was decided to give everyone the weekend off and start fresh again on Monday.  For the past month the company had put Nick up at one of those extended stay hotels while working on this project.
Nick was roughly the same age as Dan, late 20's, but shorter at 5′ 8″ and a solid 185 muscular frame, somewhat hairy Italian features, and a mug that looks like it still has a 5 o'clock shadow right after he's just shaved it.  Dan and Nick hit it off from the start, and a couple days a week would grab a drink, a bite to eat or even hang out at Dan's house and cook up some steaks on the grill and put down a few beers.
"We've got the whole weekend, Nick.  Why don't you swing by that shoebox they put you up in, grab some things for the weekend and crash at my place?  I've got the spare bedroom and you can stretch out on my back deck and not be confined in that tiny room of yours.  We can fire up the grill and hit the weights in the basement if you want."
"Damn, sounds great, Dan.  About an hour?"
"Be waiting on you.  I've got some burgers in the fridge.  Grab a case of beer on the way and we're set for chow."
Dan's home was about a half hour drive from the job site which gave him enough time to hit the shower and change into a fresh pair of jeans, his favorite olive Underarmour t-shirt and Nike sneaks.  Nick, prompt as usual, arrived one hour later sporting cargo shorts, NB sneaks with black no-show sox and form fitting black T; with a case of beer in hand along with an assortment of things, like chips, to go with the burgers just in case Dan was short on the extras.  It was still a little early to fire up the grill since work that day ended just past 4PM.  A couple beers later on an empty stomach they were hanging out in the basement / mini gym.  Dan, being the proud Marine that he was, talked about his experiences as an MP; and how he occasionally had to arrest his fellow Marines and also spend time as a guard at one of the prisons for a few months.  Little did Nick know at the time that Dan always had a fascination with cuffs, which made his career choice as an MP even better as far as he was concerned.  As an MP he'd be able to keep 'em on his person at all times.
"Still got all the equipment the Corps issued me to keep those grunts in line.  Only the best gear, Smith & Wesson.  Had to make sure they stay locked up and not cause any more trouble."
"Smith & Wesson what?"  Nick asked.
"Restraints.  You know, cuffs and shackles.  You never heard of Smith & Wesson?"
"Well yeah, guns. I've heard of those before.  They make cuffs, too?"
"Hell, yeah.  Over a hundred years now.  Hang on a sec, I'll grab 'em and you can see the quality for yourself."
Nick let out a small laugh as he was beginning to realize that Dan apparently took to showing off his gear like some guys get off on showing their sports trophies.
"Hey, back in a sec, Dan.  Gonna grab another round for us."
When Nick returned, Dan already had the 12″ long gray metal box out which contained the gear he was eager to show off.  First out was the model 100 chain cuffs, followed by a set of hinged cuffs and then the leg shackles.  A lot more metal gear was in the box, as well.  But that would have to wait, Dan thought to himself.
"Check out the quality, man.  You can hear it when you run the ratchet through and feel it when it's double locked and that ratchet stays firm with not the slightest amount of movement."  Dan demonstrated just that as he was telling all this to Nick and then handed them over so he could see for himself.
"Yeah, they do look tough at that.  Have to say I've not really thought about it.  Seems like cuffs would be cuffs to me.  Haven't even held a real pair of 'em before now."
"Wow!  No kidding?  So you've never been locked up before, either!  Man, most of my buds had cuffs when we were younger and played cops and robbers.  Of course they weren't as good as these, but they did the job if you know what I mean."
Nick looked over the hinged cuffs, feeling the sturdiness that the hinge mechanism provided versus the chain link cuffs.  Trying not to appear too eager, he was definitely fascinated with the leg cuffs.  Those aren't something you see every day he thought to himself as he ran the arms through the ratchets of what looked like cuffs on steroids with a long chain.
Dan could see Nick's curiosity and interest.  All in due time Nick said to himself.  All in due time.
"Why don't we get those burgers on the grill?"  Dan said as he grabbed the leg cuffs out of Nick's hands and put them back in the gray box.  Dan held onto the box and set it on the patio furniture end table when they went upstairs to fire up the grill.
After they were done eating and hanging out on the deck; the conversation eventually went back to more of Dan's MP experiences. Nick was becoming more intrigued, asking more detailed questions about Dan's time as an MP, the training, the tactical techniques to control a guy and the BRIG.
Dan stepped back inside to hit the head and grab another round.  When he returned to the deck, he saw that Nick was checking out the contents of the gray box again and was focused on the Smith & Wesson leg cuffs.
"Sorry, hope you don't mind me taking the liberty of looking at your gear when you were away."  Nick said to Dan.
"Not at all.  Look 'em over as much as you want."  Dan replied back as he watched Nick handle the leg cuffs.  "Key's in the box, try 'em on if you want to.  No neighbors around, so it's not like anyone's watching"
"Oh …. I …. it's not like I, uh … they just caught my attention.  Not like you see these every day, ya know."  Nick replied.
"No problem, stud. But really, it's no big deal and I can understand your curiosity.  So if you want to, go ahead is all I'm saying."  Dan said as he took a swig of beer.
Nick was really focused on the leg cuffs and ran a ratchet through until it was open. He sort of glanced down at his left leg as if to imagine what it would look like with the cuff locked around his hairy ankle.  A few minutes later he put the thicker part of the leg cuff up against the back side of his left ankle.  Dan thought that, at that very moment, Nick was going for it, but he didn't.  Then, as Dan turned his head to spit off the deck, he heard that incredible sound of a ratchet running through the locking mechanism. And as he turned his head back, saw that Nick had locked the leg cuff around his left ankle.
"They don't really do anything if they're not both locked on." Dan said.
With a slight chuckle, and a 'guess you're right' from Nick, he took the unused leg cuff and locked it around his right ankle.  He sat there for a minute with his legs stretched out in front looking at his locked up legs.  He then spread them out just enough until the chain ran out of slack.
"Here, those should be set on double lock so you don't accidentally hit the ratchet on something and injure your ankle."  Dan said as he bent down and set the double locking mechanism and pocketed the keys.  "Get up, walk around a bit and get the feel of how they limit the movement.  This gives us more control over the inmate when we need to transport 'em.  That's why I liked using the leg cuffs in addition to handcuffs."  Daniel said.
Nick walked around the deck a bit and sat back down. He and Dan got back to talking, and before he knew it, another half hour had passed.  Nick, though he consciously knew he still had the leg cuffs on, didn't say anything about them still being locked; since this would probably be the only time he'd experience 'em.  Plus he felt a little funny having to ask Dan for keys.  During that time, Dan took the liberty of stealing as many glances of the leg cuffs in action as he could.
"Hey, need to hit the head."  Nick said as he got up, looked down at his locked up ankles and chuckled, "Guess I'll need these off" as he lifted one leg up to indicate to Dan to unlock the leg cuffs.
Dan looked at the leg cuffs and then back up to Nick and said in a somewhat serious tone, "Be careful not to trip over the chains.  Oh, and bring another round back on the return will ya!"
Being the sport that he was, and considering he'd been locked up all that time while they were talking anyway, Nick carried on with the leg cuffs still secured.
More conversation took place as the night went on and it had gotten to the point that they'd better get to bed.
"Damn Nick! You've been locked up this whole time!  Guess I'd better let you loose.  Unless of course, you want to wear 'em to bed?"  Dan said with a laugh.
"That's ok. I'd probably sleep better with 'em off, Dan, but thanks for the offer."
Dan went over to where Nick was sitting and kneeled down, put one of the keys in the lock and looking up to Nick told him that if he liked these, he'd have to show him some of the other restraints.  Like the transport set they use when they wanted the prisoners even more secure while in transit.
"Damn, you've got even more than what is in the box?"  Nick asked.
"Hell yeah!  Started picking up more gear on my own while in the Corps.  Anytime I'd spot something even more secure than the last, well, it just seemed like I had to have it."  Dan laughed.  "Oh, guess I'd better get back to taking these pups off ya, huh!  We can get a workout in after breakfast and you can check out as much of the other gear as you want afterwards."
To be continued …