By nycstraitjacket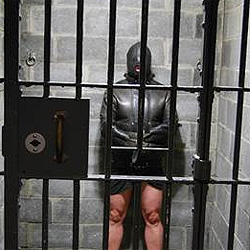 We were 10 weeks into social distancing and working from home, and my mind had started to wander. The solitude is mind numbing and the loss of play time left me kinky and yearning for something to do.
I'm normally a bondage bottom into leather and metal restraints with interests that have veered toward longer term scenes.  I have a collection of leather straitjackets and a sleepsack, but they're not easy or effective for self bondage. And that's where my mind was…yearning for that no-way-out head trip, the smell of leather and the feeling of inescapable confinement, which naturally led me to…the Mr S website.
I already have a pretty good collection of their gear – a number of hoods, some heavy irons and restraints. But there I was, horny as hell and staring at one of those things I had tried a number of times and always wanted: the double rigid irons. there were a number of customer reviews that mentioned you could use them for self bondage and there was a video  showing them in action. How I wished I was the captive in those irons as the leather hood was laced on. A few clicks later I was staring at the webpage for the delux tight hood.  I have a number of intense hoods, but none with the open mouth configuration and I saw that it comes with an option to add a zippered panel and lock. A few clicks later I was looking at the front buckle gag, lockable of course, thinking how great they would all go together.