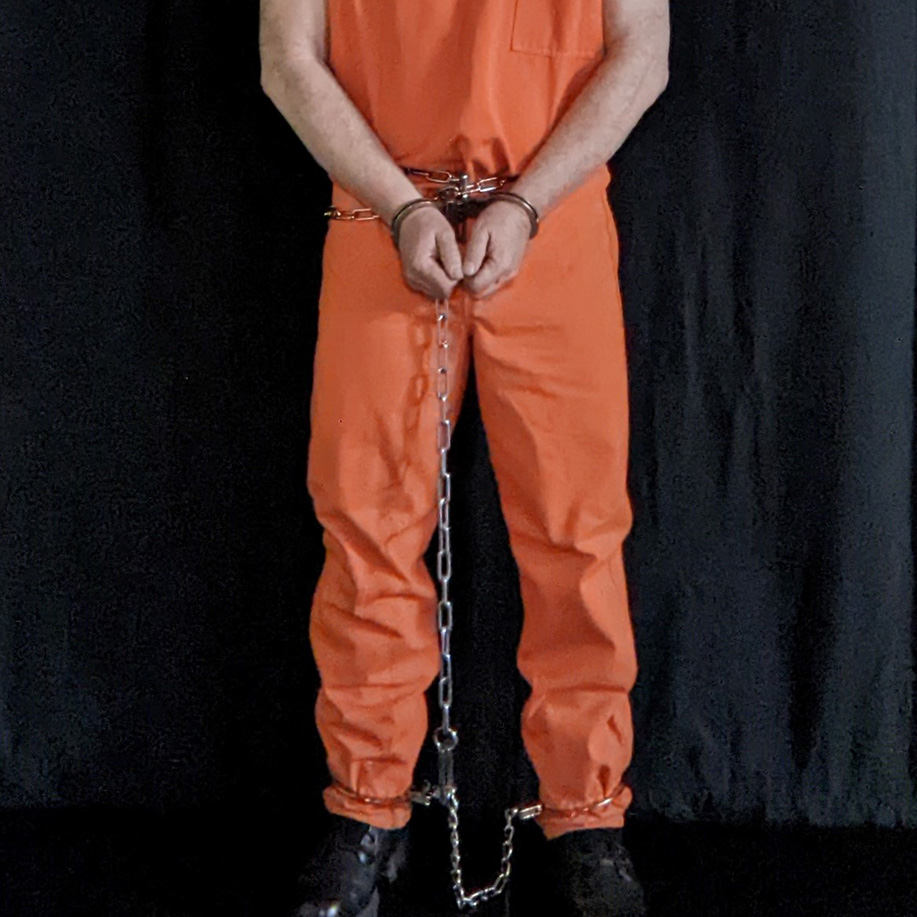 By socalbd
From the end of Part 22:
We had finished eating and were continuing to talk when he looked across at me and slightly grinned, saying, "It's a hot afternoon, don't you think? Take the tank top off. I want to see you shirtless with that collar more readily visible." I did as he asked and was slightly embarrassed and he knew it. We continued talking for a few more minutes with me thinking everyone was looking at me. I'm sure that wasn't true as there were other guys shirtless outside, also, but it felt like it. I was the only guy wearing a locked on collar, after all.
In the car I was cuffed again, shirtless and barefoot still. Dan drove us back to my place and once inside he had me kneel in front of him while he sat on the sofa.
"Let's talk about the weekend I want you to spend with me. But we can do that after a little more play, yes?"
Part 23
"Yes, Daniel," I responded. I enjoyed being on my knees in front of him. He looked so hot sitting on the sofa smiling down and across at me.
Daniel leaned forward and lightly kissed me on the lips. When he pulled back he took his fingers and started to lightly massage my nipples which immediately had me moaning, eyes closed, head starting to tilt back and a raging boner in my jeans leaking pre-cum. His fingers were so gentle and my nipples were so hard wired my breathing changed and I started to slowly pant.
"Easy boy," Daniel said to me as he continued to massage the tips of the nipples and he saw the changes that were happening to me.
"Open your eyes and look at me," he said. I complied and looked directly into his eyes. We were taking each other in locked in eye contact into each other's souls. I was trying to regulate my breathing as he never stopped with the massaging. Finally, he smiled at me and pulled his hands away.
"I want you to back up slightly, kneel down and worship my feet with your mouth. Understand, boy?"
"Yes, Daniel," I replied and immediately did as he asked.
I bent over and started to kiss the top of his right foot. Slowly I worked his big toe into my mouth and used my tongue to bathe it. Daniel started to moan. He leaned back into the sofa and threw his head back on the pillow while I continued to work his foot. I went toe to toe, in between using the tongue to pleasure him. His moaning became more intense and I moved to the left foot repeating the process. He took off his shirt and threw it to the side and started to use his fingers to massage his own nipples. His moaning only intensified.
I continued to work his feet with my mouth and tongue. For whatever reason I felt good knowing this was giving him pleasure. I wanted to please him as best I could.
He eventually came around as it were and leaned forward taking his hand and pulling my head up by placing his hand under my chin. When I was face to face with him he just stared into my eyes without saying anything.
He used his hand under my chin and his other hand to grab my bicep to indicate I should stand. He turned me around and marched me to the bedroom.
Daniel undid the jeans and slowly worked them off my body. He took the keys from his pocket and turned me around to remove the handcuffs and then shoved me on the bed on my back. It was so hot as no words were spoken between us. It was just action. He went to the bag and pulled out a set each of leather wrist and ankle cuffs. Once they were on he took lengths of rope from the bag and he spread-eagle tied me to the bed.
When he had finished he stripped off his jeans and crawled on the bed straddling my body and looking down at me. He had a look of lust in his eyes. He scooted forward and pointed his cock at my mouth which I greedily took and worshipped. This started a non-stop period of cock worship, nipple play and kissing. He also made sure our two cocks were rubbing against each other from time to time. Then he took my cock in his mouth and gave me one of the best blow jobs I ever had. I was writhing against the ropes pulling and struggling as my entire body felt the intense orgasm that erupted down his throat.
Daniel finished me off and then plopped himself down beside me with his arm over my chest and his head next to mine and I slowly came down from the orgasm. It felt good to have him next to me, skin to skin. We just continued to lie there without any words being said for a long time.
He finally stirred some and got up to straddle my body again looking down at me. He leaned in and sensually kissed me on the mouth. It was soft and tender and full of care. I felt safe with Daniel even when he was hurting me as part of a session. I had grown to trust him in a short period of time.
"We should talk about the weekend," he finally said to me.
"Yes, Daniel," I responded.
"Would you like to remain bound while we do that?" he asked.
I looked at him and said, "It's up to you Daniel. I will be whatever you want me to be, Daniel."
Daniel smiled and said, "Good. Let's get you up and properly submissive."
Daniel released the ropes and had me get off the bed and kneel on the floor with my wrists behind my back. He had left the leather cuffs on my wrists and ankles. I heard him go back to his bag and when he came back to me he used a padlock to connect the leather cuffs behind my back. He had also retrieved a thick leather collar from the bag which he placed around my neck.
"There," he said. "That's a good looking slave boy."
I smiled up at him. He sat on the edge of the bed still naked and had me come close to him so my head was between his legs looking up at him.
"You should know the type of play I tend to do at my place is different than what you've experienced in John's dungeon or even here. My house is actually a piece of property that is several acres in size and somewhat secluded up in the hills maybe about 30 to 45 minutes from here. In addition to the house there is a large barn as the property used to have horses and other animals on it with the previous owner. Behind the barn and away from prying eyes I've put together what you could call a small outdoor dungeon and prison setting. For your purposes think POW – prisoner of war."
He stopped talking for a moment and let that sink in.
"I think the type of experience I will offer you will be intense but you will enjoy in that strange way we who engage in this activity enjoy. Understand, discomfort, pain, humiliation and an element of fear will be used for the weekend. For this type of experience I insist on no safeword. It will be real. Sexually, what you have experienced so far will be the limits of what you can expect if it ever gets to sexual contact. I'm fine putting a prisoner through his paces without any sexual contact. That's as much as I'm going to tell you at the moment. Questions?
I thought for a moment and looked into his eyes. I knew Dan was someone I could trust and the thought of what he just explained had me hard.
"I will be a POW?" I asked.
"Yes."
"Naked?"
"You might be naked at times, but you will probably be in camo pants most of the time. Definitely you will be shirtless and since you like barefoot we will do that," Dan said.
"Three day weekend?" I asked.
He looked at me and said, "If that's what you can provide that will work. If a day or two longer that would be better."
I thought about it for a moment and then said, "We should plan, Daniel. I'm sure I can surrender for a few days depending on dates."
"Let's make this happen while the weather is still good then as you will be spending a lot of time outside suffering for me."
Dan smiled down at me as he said that and then pulled me in close with my mouth on his cock. I greedily took it and started to pleasure him until he finally shot down my throat.
When he finished and pulled out he pulled me up on my feet and then onto the bed with him.
"Good slave." We kissed as he held me tight.
Click for next part
Click for previous part
Click to start at Part 1
Metal would like to thank socalbd for this story!