POW passed along this picture, as well as some information. See below: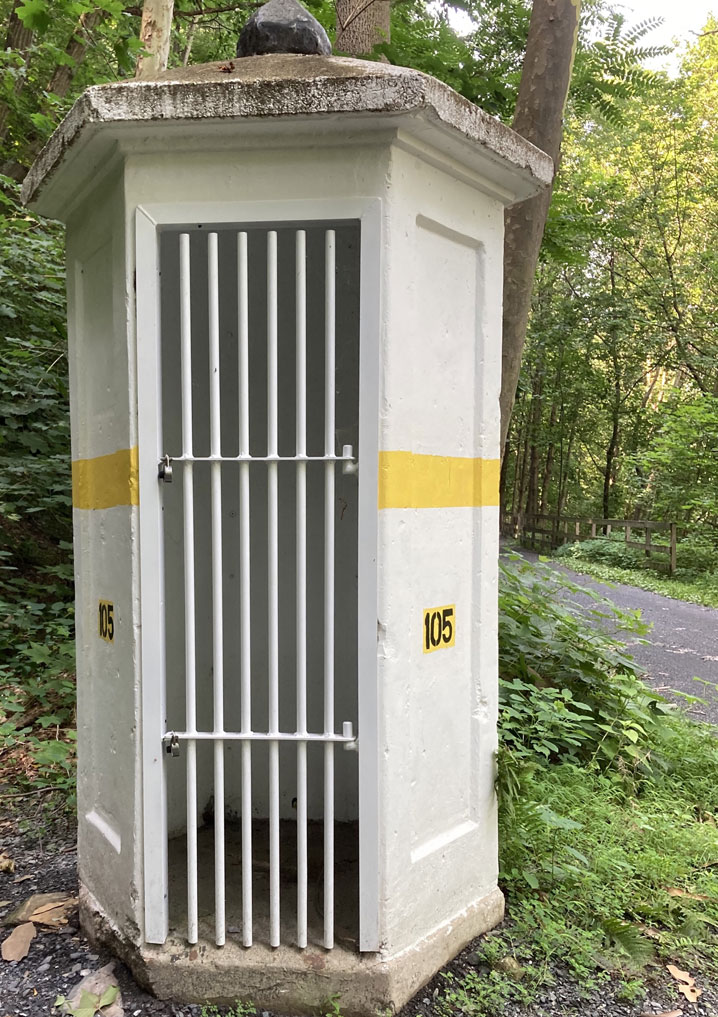 POW writes,
Hey, Metal, I thought you might enjoy this.
I was out for a bike ride on the Delaware and Lehigh (D&L) trail recently. Near milepost 87.5, a bit north of Allentown, PA, I came across this "phone booth."
The plaque next to it describes how from 1905 until the 1980s the phone booth was used by workers on the railroad that once ran where the D&L trail is today. It fell into disrepair after that, but was later restored as an Eagle scout project.
You can see that the entrance now has a barred door across it, secured with two combination padlocks. Presumably this is to keep people out, but any door that keeps someone out can also keep someone in!
The phone booth cell could hold one captive comfortably, maybe three or four less comfortably. The only drawback is that it's very close to the trail — you can see the gravel path running by on the right side. The inmate might need to be gagged to prevent him from calling out to passing joggers and hikers for help. Or locked in on a day with miserable weather when no one else will be out. He'll stay dry inside — mostly.
The name of the Eagle scout who did the restoration is given on the nearby plaque … I wonder if he'd be willing to share the combinations for the locks?
All the best,
– POW
Thanks, POW, for the picture and for the information!
NOTE: POW's author page on the Metaldond site is here
His own BDSM fiction page (which is 'view your own risk'!) is here