EDGING, BOOT WORSHIP, COCK CHASTITY, MUD and ASS SNIFFING are on the menu in "Chastity Torment," one of the offerings at the gay bondage porn site Brutal Tops. Check out what Maurice and Chris do to this cock-caged fag:
Without any underwear Master Maurice's generously sized cock and balls bounce around freely in his shorts. He teases naked Tattoo, allowing him to sniff around his cock and balls. Mo can pull them easily up his arsecrack and buries Tattoo's face in his arse, instructing him not to cum without permission.
In walks Master Chris, straight from the rain-soaked rugby ground, his muscles covered in fresh wet mud and sweat. Chris shows the positions he gets into during the match on all fours with his sweaty arse pointing in the air. Tattoo is allowed to lick and sniff around Master Chris's muddy arse.
Teased, edged and desperate to cum Tattoo watches as Mo brings out a stainless steel chastity collar and fits it onto his raging cock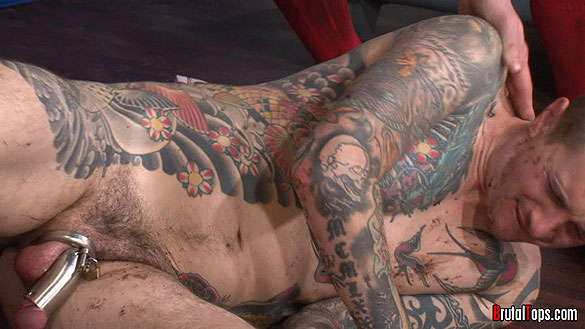 To see more, visit Brutal Tops