By ty dehner
Some would have you believe that Halloween is a time for evil spirits and mischief behavior. Well, for many it is one night for them to gear up and go out in public. But for my Master and me, Halloween occurs nearly every day. Master is a Man who is very creative, always keeps me guessing and challenging me in new ways. Our nearly eight months together have let us learn a great deal about each other, and continued growth is on the horizon.
I was anxious for Halloween, for Master had told me that we would be going out to celebrate the night at the leather bar in town. This would be my first Halloween with Master, and it felt good to have his influence in my life. He instructed me that he would select my costume for the night, something he knew I would thoroughly enjoy.
We normally didn't head to the bar until later in the evening, and I didn't think Halloween would be much different. But as I have learned, thinking sometimes gets me into trouble. Around four in the afternoon Master asked if I was ready to get into costume. "Yes Sir!" was the first and only thing out of my mouth.
He led me to the playroom. I stood in the middle. I was naked, as I normally am in the house, with only my boots and collar on. I was instructed to remove my boots, which I did so quickly and neatly set them aside.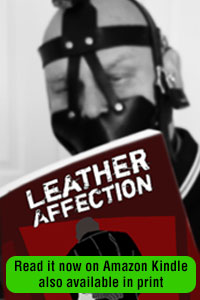 Master came to me with laces and securely tied my cock and balls, the cock was growing with just his touch. He then secured them with the electro cock and ball straps, followed by putting on a leather jock pouch where my cock is fished through a hole. After the cock and balls were prepared, in went the electro plug. This one is unique in that it fits totally inside, with only the wires trailing out my asshole. Next my head was slid into a full leather hood, with eyes, nose and mouth holes. Master laced it snuggly, then zipped it shut over the laces and locked the collar around my neck. I enjoyed the thought that this would be the first time I would wear the hood out of the house to the bar. Master then had me put on my leather riding pants. They are made of the heavier motorcycle leather, fitting snug against my bound cock and balls. Master clamps my tits, then my leather shirt follows with lace up black army boots that go on my feet. Tight leather baseball gloves are put on my hands and then my leather jacket.
Master makes sure the electro wires are pulled out of my pants; everything is zipped up. One more step is to put in a plug gag in my mouth and strap it around my hooded head. Nothing touches my skin and body but leather. Master works the end of my dick out from under the leather, which is easy as it is hard and dripping. After getting out he slides a rubber sheath over it. The tip of the sheath as a small tube feeds into my piss slit. As he finishes with my dick, he steps back and admires his work. Master looks so good in his snug jeans, cowboy boots, football jersey and black leather cop gloves. He smiles at me and winks.
He takes me upstairs to the living room when I see a spread of newspapers placed in the center of the room on the floor. I am required to sit down, and Master brings a pretty good-sized pumpkin to me and sets it before me. He instructs me that I am to empty and carve it, to use my artistic talent to create something different. I am to cut open the pumpkin from the bottom, not the top. I'm not sure what he means, but since I am gagged, I will try my best. Master leaves me with the sharp knives and spoons to start the carving.
As I work, I build up a little sweat, I think Master has turned the heat up a little. The pumpkin is very large, and it takes some time to get it cleaned out well. My design ends up with eyes that are good sized, but not too big, a nose and jagged crooked smile. I feel it is a classic design the befits Master's home. Just before I am completed, Master returns, noting how proud he is of my design and being so clean in my process. He gives me a strong hug and a kiss on the gag, which I wish I could return.
Standing me up, he blindfolds me with duct tape and puts my hands into leather fist mitts. My hands are secured behind my back. As he pulls them, I feel the tit clamps on my chest, rub against the shirt and jacket. He returns me to the seated position on the floor. Master secures my booted feet as they cross each other. Then he pushes them up towards my crotch so that I am sitting cross legged. He takes rope and works me like a new toy, my ankles are secured with rope, under me and up to my collar. Under my arm and around my shoulders, ropes are secured and tied off to my legs. Master works the other ropes until I am very secure and move very little.
Master then removes the plug gag, inserting one that has a tube in the center of it. Feeling around with my tongue, I can tell that I have one of Master's piss gags on, at some point I will be drinking my own piss. He connects the hose from the dick to the gag as it slightly pushes the gag into my throat. I feel the electro wire tug at my ass as I sense something closing in around me. I can't see, but feel a wall surround me as if I'm being put into a box. My head is lifted up slightly and I feel something closing around my neck, this keep my head from moving. I struggle a bit and realize I am confined further by being in a box of some sort. Then I smell fresh pumpkin through the nose holes of the leather hood. That is followed by the odor of a lit match and burning candles.
My mind is truly wandering now. Master putting me in this bondage before we head out is surprising, but very enjoyable. Then my thoughts are brought back to what is happening when I feel the first jolts of electro to my ass and balls. They aren't strong, but enough to test Master's bondage, which holds me very secure. I feel Master working at the tape on my eyes and in seconds I can see. Not being able to move my head around much, I can tell that I am inside the pumpkin I carved. Master has put me in a box, with a tablecloth on it, and I am the pumpkin on it! Several candles burn at the sides of the pumpkin, which has a couple little ones around it. Before me is the window to Master's front yard, but the blinds are closed. But they are quickly opened and I can see the front yard and street. It is dark.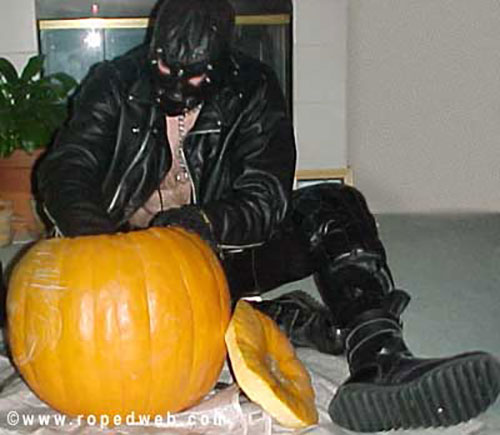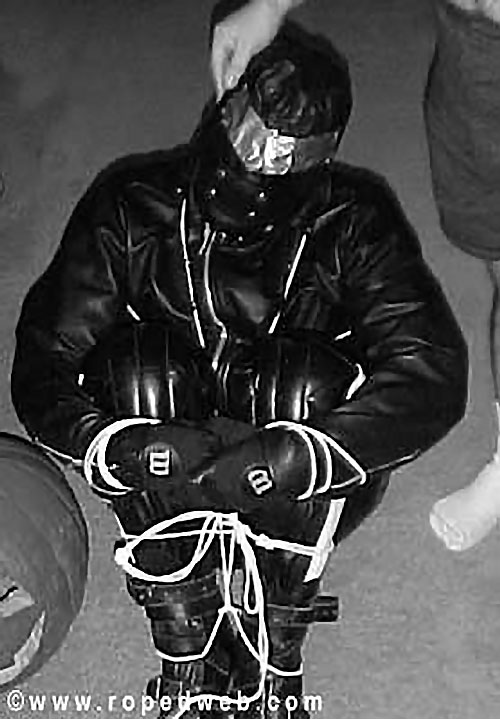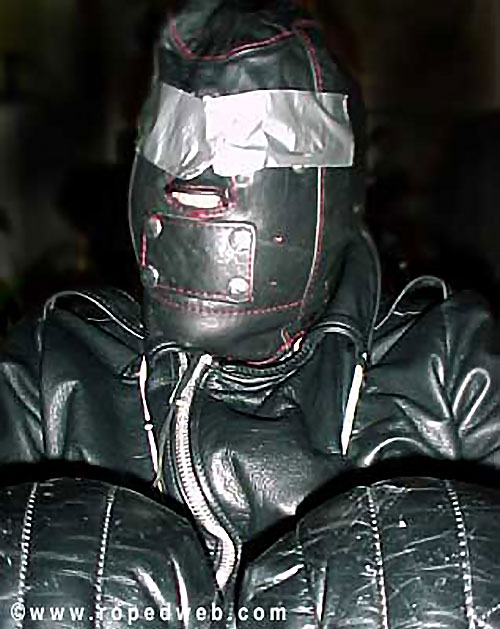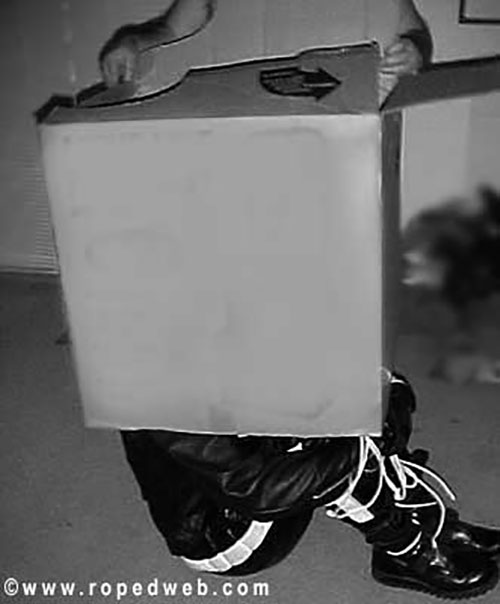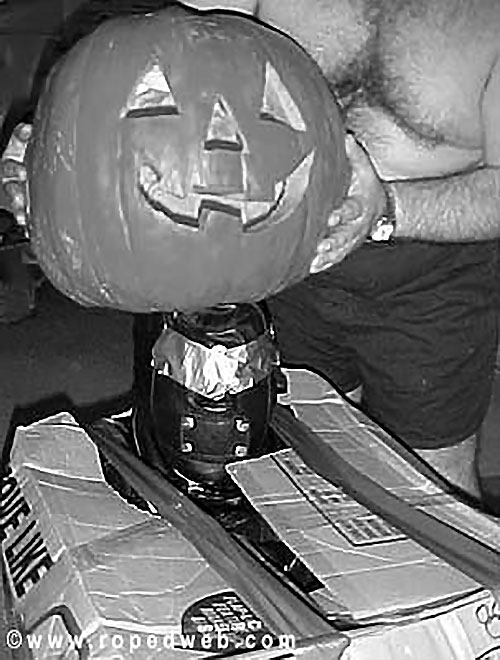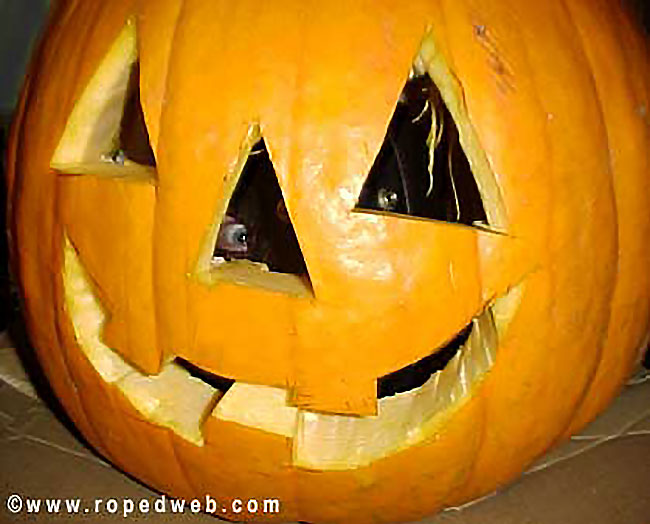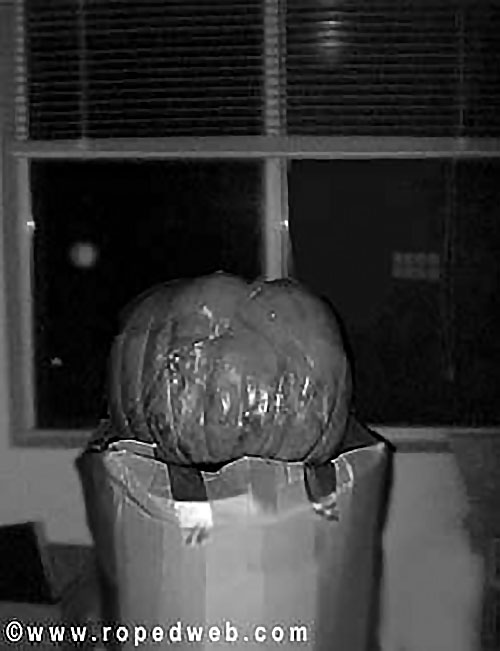 "Happy Halloween!" Master says to me, and the electro starts a regular pattern. My dick continues to be hard in the slick rubber sheath. I feel the first sharp hit of heat on my cock. Somehow, Master has the hot wax from the candles, dripping onto my dick head! The electro and hot wax, my own piss going to flow into my throat, inescapable bondage, covered in full leather, I am hard as a rock. Watching outside, I wonder if others can see my leather covered gagged head in this pumpkin. Then I see Master outside in front of the window, waving to me. He is wearing his CHP uniform, complete with the Dehner's that I polished with my tongue earlier today. He gets into the truck and drives off, leaving me. Fuck, this is how I am going to spend Halloween! Trick or Treat is right! My trick is trying to figure a way out, not. And I guess my treat is going to be my piss.
This is my Master's trick and my treat!
© Copyright 2020 ty dehner all rights reserved.