By CREUSS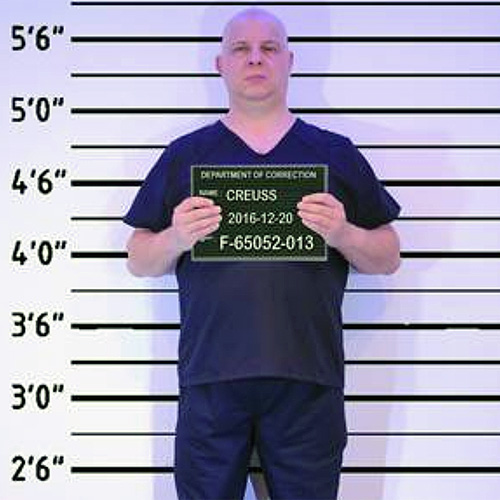 Once more, it is a true story …
As you will discover in the text, I was not "100% conscious" at all time, so I will tell you things how they happened really, not as I felt them on the spot. To make the text easier to read, I will also include at their place some facts I did not know, but I've been told later then…
I was young. I was well built, sporty and in good shape. Since the previous year, I had my hair cut high and tight, even if it was not exactly the US army regulations … anyway, I was looking like either a young soldier or a skinhead…
Summer was hot, and I passed my exams the month before. It was time to decide what to do for my future…
I always had a fascination for the army. My family was not accepting it, as they were rather antimilitarist. Anyway, I took the benefit of my summer break to tour around and get information about what I could do. After the army career centre I had all I need on the administration side. But I wanted to know more about the real life in the army…
I noticed some cafés around the main station were regularly used by soldiers. Among those, there was one that was really legion friendly. Part of the decoration had some kepis, or legion items. Even when no serviceman was in, you could feel the army atmosphere there…
After one or two visits, I became a regular customer there. I was drinking no alcohol but was there several times per week, in the late afternoon. I used to watch carefully soldiers who used to come and drink here. As I was quite shy, I never dare talking to them. One day, one of the legionnaires who were here noticed I was watching them. Probably my eyes said more than I would have wished. He turned his head to invite me to join them. But I did not move. He insisted, calling me then, and I did it.
"Come and share a beer with us," he said.
I politely refused, as I was not drinking alcohol. They all laugh and told me it was impossible to refuse a drink offered by a legionnaire. So I had my first alcohol…
It was then easier to start talking to them then…
I told them I was about to enlist, but was still hesitating, as I would not be able to make my way back after I'll sign, but, I was really thinking in going ahead. They told me about the army life … Training, discipline, fun with girls when having a leave, etc…
Actually they were cruder than the army career centre, but they showed me the other side of the coin. After one hour they went.
I went back to the café several times within the fortnight, and even talked twice or thrice to some legionnaires. They told me more about barracks life, and overseas operations. I could feel the smell of the far away missions.
One day, I saw two of the legionnaires I drank with two weeks before, arriving in the café…
They waved at me as soon as they saw me, and I came and cheers them. Two nice blokes. Handsome. One was a Scot, and the other probably from an eastern Europe country…
They asked me if I made up my mind, and was still wishing to enlist. I was positive, and said I was trying to negotiate with my family to let me go… I was allowing myself till late august, before joining the army. After that date, I will go, but if I was failing to pass the testes I would have no place to go back…
Hard decision…
They encouraged me, hoping they will meet me one day wearing my "kepi blanc"…
I told them I would do my best. They gave me some beers to drink, and told me they were to take the train toward Avignon. What a bit of luck! I was also going north further, toward Lyon, as I was to have go and visit for a student room in Lyon for the following year at university. So we decided we would travel together.
They decided to stop en route to the station to buy a big box of beer cans. We will be able to have something to do while on board….
We found a compartment in the train that was totally free, and we installed us….
I was feeling well. The alcohol helped…
We talked louder and louder as we were drinking.
Honestly, I had probably 3 or 4 cans, when they had 10 each. But for a non drinker, after the two beers I had before departure, I was "happy"…
My mates were quite behaving, when I was nor in a normal mood…. But I felt happy. The train stopped in Avignon, and they left me on board. I suspect I was drunk, or at least, I had lost all my controls…
When the train left Avignon, I went to the toilets… I presume I was talking to people, not really knowing what I was trying to tell them. I remember I was explaining some people about my future, but I probably was confused as I was not pleased they were unable to understand me…
Later, I've been told people believed I was threatening them, and thought was potentially dangerous. Anyway, my talk was rather confused, and they understood I was a drunk legionnaire, when I was trying to explain I wanted to become a legionnaire actually.
When the train stopped in Orange, I did not notice it stood longer than it should have been…
On the platform, the conductor was talking to the station staff, and was asking for the police to come and intercept me for being a nuisance on board. The staff called for help, and within minutes I saw two men getting on board. They were "la PM" (the Military Police, from the Legion. In Orange, there was a settlement of a legion regiment, and instructions to the railway staff was to call la PM when any trouble with a legionnaire.
I saw them arriving to me without any fear, as I did not know the train was stopping long enough for me to be collected. Without any warning, one took my arm, and bent it in my back when the other one was pushing my head down with his fingers cross behind my head. He lowered me toward the ground, and I get his knee right in my face. The firmer one was ending handcuffing me in my back. I was surprised, and frightened at the same time, not understanding what it was all about. I started to protest, but a good punch into my solar plexus stopped me, gasping for air. They grab my arms, and pulled me toward the exit. At the door, I tried to free me from their grip, but the only result was I was pushed forward, and I hit the platform with my thorax and head. I was dizzy.
The train left almost straight away, and they grab me again, holding me toward their jeep that was parked in front of the station.
I was almost passed out, so I can't have a clear memory of our trip. We made our way toward the barracks, and we get in straight away. They handled me again to the PM building. It was a rather small structure, and I won't describe it as I had very little opportunity to visit it actually…
I was led in, and we did end in a large room with no furniture in. They asked me for identification. I had none. My belongings were still in the train. I was also quite shocked, with the arrest. And of course, half a dozen beers did not help.
They ordered me to get naked, and put all my belongings in a cardboard box, and took them away. They washed me with cold water, and then handcuffed me again in my back and at my ankles. They pulled me toward a small cell, before dropping me in. They said they wanted me to get rid of all this alcohol from me before proceeding further.
They locked me and went. I was half unconscious.
I was now in total darkness, in a cell of 1 metre long, large and high (a cube actually), handcuffed in my back, with legs closed together. I was inside an army barracks, being a civilian. I was dunk (ok, I know 6 to 8 beers is not a lot, unless you never had any before!). My face and my torso were sore. I had no idea about what was to come next.
I had no idea how long I last there, unable to lay or stand up properly…the position became a nuisance quickly. I was in total darkness, not a light at all being able to slide under the door. No ventilation…
Hours after hours, the pain on my face and my thorax flew away, but other muscles were to get more painful. For hours I had no drinks, no food. The alcohol slowly disappeared, and I was more and more conscious, but unable to get where it was all about.
About two days after being, locked in, the door opened. The light was worse than a flash, and I was extracted from here. My cuffs were removed, and I was given an old battle dress. I took it and put it on. It was my first ever army dress. I was not proud of myself, but if I recovered from my hangover, I was not sure where I was, and what happened…
An officer interviewed me, and asked me some details. I explained what I could remember, and he told me the rest of the story I was ignoring. He wanted also to know who I was and what I was looking for, appreciating my wish to enlist shortly. Actually, my "arrest" was a mistake, and it should not have happened normally. He apologized for it, and said there will be no record on the incident, to avoid troubles the day I will join them. He also insisted on the strong discipline and the rigor of the life in the Legion, but it was good to know about it before getting there.
I was allowed a nice shower, and given a lunch at the Officer's mess. Then they gave me a lift to the station, and I made my way back home.
One month later I was signing my enlistment for the next five years. Six months later I was back in Orange, proudly wearing my "kepi blanc"!!!
There is an additive to this story…
When I left the army, I joined SNCF, the French Railways Company. About 9 years after being intercepted in this train, I was working at the very station. I have worked with the staff who phoned la PM… He did remember the incident, years before… but he was unable to recognise me….
THE END
To contact the author via his Recon profile, click here.
Or you can send him an email at creuss@laposte.net