By submittor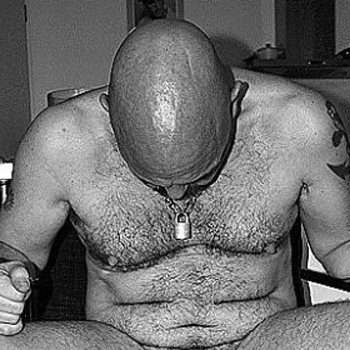 Drip…another lump of slime falls into my open mouth hole with an audible plop. i've no idea how long we've been tied like this. All i can do is stare up at the handsome beast above me. Tough looking, masculine, muscled, handsome. Drip…when i'd been dragged in i'd instantly got hard at the sight of him…naked…hogtied…gagged….sweating…struggling….drooling. He was dirty, a few bruises, looked like he'd been in a fight maybe. Wide leather straps secured him into the vicious hogtie, muscles straining. His grunts and groans the only thing breaking the silence. He looked angry, aggressive, scary….fuckin hot. A Beast.
Drip…Drip…But i didn't have long to admire his manliness. Rough hands dragged me and threw me on the dirt in front of him, a few swift, brutal kicks got me into position, lying directly under him. Inches from this fuckin God….beneath…lower than him in all ways.
Drip…Drip…Drip…its fuckin gushing now! filling me, drowning me. Next they'd wrapped lengths of leather hide round my body….tight! Everything bound tight together…painfully tight so i couldn't move an inch. My balls also wrapped in tight leather hide. My cock sticking up purple and horny…not allowed to cum in a month.
Drip…Drip…Drip…Then the laughing heads of our tormentors in my face, slapping it hard, then a back hander, SLAP, SLAP, SLAP until my head was ringing, seeing stars until i thought i was going to black out. My mouth was forced open and a wide spreader gag forced in. Cruel, big, tearing the sides of my mouth into an inhuman O.
Drip…Drip…Drip…Then some sort of contraption was placed round my head, securing me to him. A chain round my neck which locked me to him, conjoined, totally immobile until SPLAT a drop of drool hit me on the cheek…a few more adjustments until Drip…the next one fell straight into my mouth. Fuck! Loud shouts of 'Perfect', 'you've got it Bro'.
Drip…Drip…Drip…my tits were grabbed and twisted…hard! Oh fuck, that always gets my cock throbbing. FUUUCCKK, so fuckin horny. Then sharp pain as the familiar metal of nipple clamps were attached. The nasty ones, bare teeth, biting. Chains from them were pulled up, making me squeal through the gag like a pig. i could just about see them reach under him and attach the other ends to his tits. The roar terrifying, him thrashing, agony for us both as his pulling yanked us both. We were now connected by chain…and drool.
Drip…Drip…Drip…Drip…They all crowded round, laughing, cheering, prodding, like we were some sort of human sculpture….One shouted 'There you go Beast, we've got you a filthy fuckin drool bucket!! Don't want you making a mess. HAHAHA!'…one stomp on my balls and they were gone.
Drip…Drip…Drip…Drip…i stared up at him, no choice. i'm not even sure if he could see me from his hogtied position, maybe if he strained his eyes downward but it didn't matter, we were both helpless. He was wrapped up in his own personal battle…i was just his drool bucket.
Drip…Drip…Drip…Drip…i became hypnotised by it…the drool. Stared as each rope of spit formed, hung down from his lips slowly until the weight sent it crashing into my wide open mouth…the bucket. At first i could feel it hit the back of my throat but over time the bucket started to fill. Nasty!
Drip…Drip…Drip…Drip…Drip…it's fuckin hard to swallow when you're secured with a gag like that. all i could do was helplessly feel my mouth start to fill. the drips of his spit started to make an audible 'plop' when they fell in the mouth. Occasionally i felt a bit slowly run down my throat but eventually the bucket was full. Now the drool is overflowing, running down my face, into my eyes, up my nose. Shit!
Drip…Plop…Drip…Plop…Drip…Plop…the longer it goes on the more he drools. It's never ending, like a nasty faucet. i want to communicate with him but can only pathetically groan through the gag. Despite everything i am so horny, my cock is so hard its painful…the ties torture. i try to move my hips, want to wiggle my cock around, scratch the itch but all i do is somehow manage to pull our tits. He roars, shit i've made him angry….but what can he do! i find out as he somehow pulls back…i know he's getting off on torturing me, somehow i just know it. Maybe it's the way the drool suddenly picks up pace, huge globs of nasty spit pouring down on me…into me, his personal drool bucket.
Drip…Plop…Drip…Plop…Drip…Plop…Drip…Plop…Drip…Plop…Drip…Plop…and it just goes on. Time stops, here is no future or past. We are joined, one man secured, challenged, taking it, and me…a drool bucket, a collector of his waste.
Drip…Plop…Drip…Plop…Drip…Plop…Drip…Plop…Drip…Plop…Drip…Plop.. Even though some drool is dribbling down my throat into my belly, i'm covered…my face a slimy, stinking mess. Oh fuck, if i could only touch my cock. i can't bear this, staring up at Him, so superior, so mighty, so fuckin close…but so fuckin far. His smell overpowering, manly, rich, deep, musky…FUUUCK!
Drip…Plop…Drip…Plop…Drip…Plop…Drip…Plop…Drip…Plop…Drip…Plop..It has been hours now for sure. i don't feel human anymore. Don't even feel horny. i really am just a pathetic drool bucket, an object with a humiliating use…something to collect waste spit. Hang on, Whats that? They are returning, i hear the voices, the laughter. Thank God. Please let me out, please release my cock, please fuck Please let me cum. PLEEEAASE!
To be continued …
Note: This story is by submittor and is posted here with his permission. You can read this and many more stories on his Fetlife page, available here.