By submittor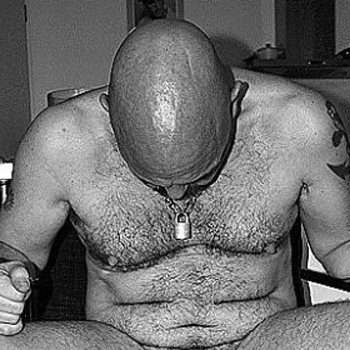 i'm just the drool bucket for the Beast.
Staring up at Him, mouth forced open, drool overflowing from my bucket of a mouth. He's growling now, animalistic grunting, straining, bearing it, enduring the suffering, seems to be thriving on the challenge, sweat from his brow flowing onto my face and the drool is never ending. The voices grow louder, our captors returning. i can't see them but hear them approach, three sets of footsteps. They start to stroke the Beast, he shudders at their touch.
'Hows it going big fella? Five hours, reckon you deserve a break'
i'm ignored, just his bucket after all, as they start to release him from the brutal hogtie, unclip his tits from the clamps connecting us. i can only imagining the pain as his limbs are released, the pain in his back finally relieved, stretching. They spit into his open mouth, slap him a couple times to make him focus. Still gagged, he grunts angrily, stares at them, defiant.
i notice for the first time that his cock is in chastity, must be agony. i can't help wonder how long it has been locked like that, how much has he endured. My own pathetic cock still stands proud and purple, not locked but tied, just as helpless, unreachable.