Bound Gods occasionally features live shows. Here are some images from a vintage live show: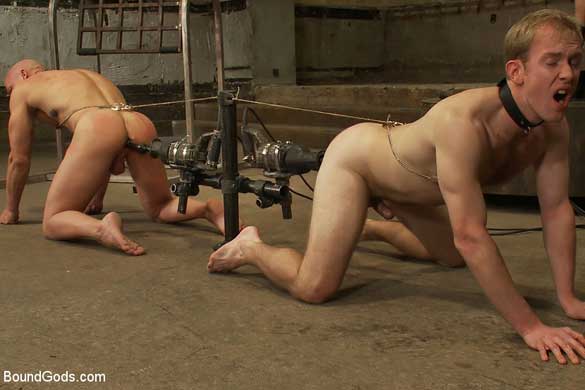 This session was streaming live over the internet, and members were calling the shots through chat. House doms Christian Wilde and Van Darkholme worked over the house slaves Chad Rock and Ned. Chad's worst fear is electricity, and that entertains the hell out of the doms and not to mention viewing members. Ned's role is the pampered slave while Chad gets the raw end of the deal … because he's a sinner. It says so on his back. Regardless, both men are beaten and fucked until they get a face full of cum from Christian Wilde.
Clips of this shoot at Bound Gods available here
Hint: Get access to ALL the content from Bound Gods, Bound In Public, Butt Machine Boys, Men On Edge, Naked Kombat and 30 Minutes of Torment by subscribing to the KinkMen megasite. You'll get all SIX of these gay BDSM sites for one price. Click here.