By ty dehner
I had returned from spending the morning down at the San Francisco waterfront exploring the tourist traps and watching the America's Cup boats test out the waters on the bay. Having walked most the morning, I decided to head back to my hotel room after a good lunch at the Boudin Sourdough Factory. Traffic wasn't that bad, and I was back in my room by 2pm.
Sitting on the bed, I powered up the laptop and logged into Recon and my other favorite site, Gearfetish.
I had put in my profiles that I was going to be in the bay area for Up Your Alley this weekend and if anyone wanted to meet up I would certainly enjoy it. I really had no expectations to meet anyone beforehand. I had decided to come down because I needed a break. Since I hadn't brought any gear, I knew that I would be going to the event dressed rather casually. As time passed, I reviewed my email, checked out a few profiles and surfed the news sites. Suddenly I got a message from someone on Recon.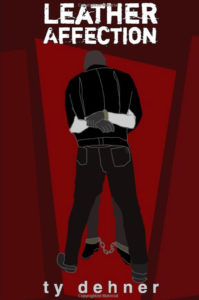 I returned his response, and we started a conversation. His pictures showed a man in his late forties with a shaved head and goatee. He had several pictures that represented his interests well, including one of him on a motorcycle in full race-type leathers and great looking in Wranglers and boots. He had similar interests as I and was going to Dore tomorrow also. We chatted back and forth on Yahoo for about an hour when he asked if I would be interested in meeting up for an early dinner. He was located about 15 minutes from where I was staying and suggested a place. I told him I would enjoy the company and perhaps he could give me some tips for attending Dore Alley tomorrow.
I hopped in the shower for a quick refresh, got dressed and in no time was at the restaurant he had suggested. He was already seated and introduced himself as Kevin. I sat down and admired that he was wearing leather pants, boots, denim shirt with his leather jacket and helmet sitting on the booth seat beside him. We ordered and picked up where we had left off online. He mentioned that his boy wasn't available this evening, but he was glad I was and he didn't really feel like sitting around the house alone. I told him I wasn't keen on being alone in the room and glad that he suggested dinner. As our meals arrived, we got to talking about our kink interests, and we meshed well on those. I thought that if I was local and he didn't have a boy, I might really be interested in playing with him. I mentioned I appreciated him wearing his leathers to dinner, and he asked many questions about what I would like in a Master/boy relationship. I felt comfortable with him, and I've always been open as to what I would like to have in a Master.
After the bill came and we split it, it was time to split up. Kevin mentioned that since it is early and if I would be comfortable with it we could go to his place and check out his gear and visit more. I thought that would be nice and there wasn't anything to get back to the hotel room for, so I agreed. I said I would follow him in my car, and as we walked I saw his motorcycle — a very nice Ducati flat black. He said that was nonsense and released a flat black full-face helmet from the side of his bike as he handed me the leather jacket and helmet that were sitting in the booth next to him, telling me he thought about mentioning it earlier but didn't want to seem pushy. I was surprised as I put on the leather jacket that it was snug but fit, as Kevin was not nearly as big as guy as I am. He said it belonged to his boy. He zipped it up to the top and reached in the pocket and pulled out a pair of matching gloves. The jacket was red and black, the gloves black. He suggested putting on the helmet first, and I did. It was also snug but fit with the tinted shield down. I pulled on the gloves, and he said I looked good from the waist up. I know that wearing cargo shorts and sneakers just isn't right for on a motorcycle. Kevin put on his jacket and helmet and climbed on the bike. I was a bit hesitant, as I've not been on a motorcycle as pillion, but I trusted Kevin, and I hope he knew how excited I was that he had suggested this. And like that we were off, out of the parking lot and down the roads on the San Jose area headed to Kevin's place.
Pulling into his garage, Kevin parked us next to his Explorer, and I dismounted followed by Kevin. I pulled off the gloves and the helmet and thanked him for the great ride. He was smiling after he pulled off his helmet. We went into his house and he had me sit down and got some cold drinks. We visited for a while, and then he asked if I would like to see his play space and gear.
"I certainly would."
He asked if I would bring the helmet and gloves, as I was still wearing the jacket. Kevin suggested me leaving it on and zipped up as we exited the garage. It was a strange request, but I didn't mind.
Entering his playroom on the second level of his house was jaw dropping. It was large and filled with many storage places for a boy as well as the many tools of Kevin's trade of a Master. I commended him on his space and collection. He was appreciative of it and talked how he loves to spend lots of time with his boy in this space. He dreams of times of keeping his boy up here for days on end, sometimes stored, other times well used. I realize that Kevin has total control of his boy and that he is a loving yet powerful Boss.
"So would you be interested in trying on some gear?"
"I really didn't expect to and didn't think we would be playing or anything."
"Don't worry, it is just some gear I think you might enjoy. No play, just gear and then that will be it."
I agreed, and he went to the closet and pulled out a Vanson full-leather racing suit. He had me remove my shorts, the jacket and shirt and I slid into the suit. Again it was snug, but he was able to get it zippered up. Next he brought out a pair of race boots and an awesome full-face Simpson helmet that isn't for motorcycle racing but car racing. He finished off with a pair of heavy race gloves. He came to me and hugged me, and I was OK with that. Kevin told me how awesome I looked and took me to a mirror. As a big guy, I didn't think I would ever get to be in gear like this, and Kevin told me that he loved big guys, and that his boy is a big guy.
He then started to show me around his play space and all the gear he uses. Kevin talked about how he has been in the house for 20 years and it has taken him years to build up all this and have the special boy in his life to use it on. It is funny, as he and I have many of the same thoughts. He mentioned while we were talking he had read some of my blog and liked the stuff I had posted.
I was really enjoying our time and talking, as well as spending time in gear, including the helmet still on me head. Kevin looked at his watch, and I was thinking he was about to say it was really late, but it was only 8pm.
Kevin paused for a moment, then asked, "Do you trust me?"
I wasn't expecting that, but I found that I did. "Sure, so far you have impressed me with your suggestions," I said.
"The thing is, the party I really want to go to is a rubber event. Now I know we're in leathers and biker gear now, but I have some good rubber gear, and if you trust me we'll suit you up and I'll change and we'll go to that. We can't ride the bike, but I think you'll be OK with that."
I didn't have to think long on this, "Yes that would be fine."
"OK, turn around."
I did, and he put handcuffs on me with my hands behind the back.
"I don't want you doing anything to take your mind off the gear right now. I am going to change into my rubber first. This way you can think about what might be next for you."
Now he was starting to get into my head, and I really liked a guy who did that.
Kevin left the room and closed the door. I then looked at myself, hands cuffed behind my leather-clad body in boots, gloved, and all that was looking back at me was my helmeted head. I was beginning to see the outline of my hard cock and really was wishing I could do something about it.
After a while Kevin returned, and he was awesome. He was wearing a rubber military-type uniform in black with breeches that had a white stripe down his side. Tall rubber boots covered his lower legs and a rubber jacket, shirt and tie were on his torso. He was not wearing gloves yet but had them on the belt that was around the waist of his military jacket. I dropped to my knees, and he very much was impressed. He quickly removed the helmet, and as difficult as it was cuffed, I went down on his boots and licked them.
"Very nice, boy, very nice."
He lifted my head off his boots and looked down upon me and smiled.
"Boy, I think we will have some fun tonight."
With that he went behind me and removed the cuffs. I stood up, and he told me to remove all the gear, including my underwear. I did so, as he went to one of closets and returned with some black rubber. As I put the last of my underwear on a counter, he held up a one-piece full latex suit. There was no feet or hands on it and no hood, it zipped up the back and around to the crotch. He helped me into it, something I have only been in once before and way too briefly. Next he put a rubber hood on me that had eye and nose and mouth holes. He tucked it into the neck of the suit. He walked back to the closet and returned with a heavier full-rubber suit that looked nearly like a scuba suit but was specially made, as he explained. As I put it on, I noticed the feet were attached and the leg areas were not loose like many suits of the type. The torso wasn't snug by any means, and before he put me in the arms he put long rubber gloves on me. I inserted those down the sleeves that had gloves on the ends of them, so now I was double gloved. A zipper went up the front of the suit.
Kevin stepped back and admired me and what I was wearing.
"How does it feel?"
"I could never have imaged it feeling like this. Cool right now, and confining."
"You look incredible. But I have a few more pieces, if you are OK with that?"
"Yes, Sir."
He reached over and kissed me, which I really enjoyed. He produced a heavy thicker rubber hood that as it went on I realized only had a firm mouth hole. The rubber got tighter on my head, and I was forced to breathe though my mouth. It was hard to hear him as he spoke again.
"Now, boy, you are looking fucking hot. I know you can't see, but you are a rubber object. And I hope you know how excited that is to me, to have this big rubber object before me. There is another piece to add, and I hope you will be OK with it. If you aren't, then grunt and we will stop."
I could faintly hear him step away. I only heard my breathing through the hole at my mouth. Then I felt him lift my arms, and I realized he was putting me in a rubber straightjacket. I paused for a moment to think about what I was doing. But Kevin had been totally up-front and he said we were going to a party. Plus his boy would be around later, so I felt things were fine and I really liked that he was pushing the boundaries. He pulled my arms around and secured them behind me, then some more belts between my legs and I am pretty sure I heard a few locks snap shut.
Now, he had me in in two layers of rubber, sightless, speechless and bound securely. I have become the rubber object that Kevin mentioned. Just then I felt the zipper at my crotch and ass open, and Kevin began putting something on my cock and balls. I wasn't sure, but I think it was a device for electro. He followed with a plug, securing it in my ass. The zips were closed.   I felt a tingle on my cock and balls.
"Yes, boy, that is some electro to keep things interesting."
With that he stepped away, and I stood in the room very quietly, holding my breathing at times to hear things. Shortly he came to me and attached a leash to the wide rubber collar he locked around my neck. I knew we must be headed to the garage and his Explorer. After getting to the garage, I heard the beeps of it being opened and unlocked. Expecting to get in the passenger seat, I heard him through the hood.
"Since you are a rubber object, you will travel where objects go, in the back. Up you go."
And he led me into the back and had me lay on my side. I am not sure, but I think I was facing into the vehicle. He then secured my feet and legs together with what I think was rope. I heard the back door slam shut, and in a minute or two we were out of his garage and on our way to the city of San Francisco. During the drive, I thought of him in his awesome rubber uniform and how those boots need more attention. Here I was, a rubber object being taken to a party at a place I know I've never been to before. No one will know who I am but him. It was scary and thrilling at the same time. At that point I received a slightly stronger shock to keep my mind on Kevin, the man who right now is controlling me completely.
After a while I felt the car come to a complete stop. I stopped my breathing, hoping to hear something, but I just heard Kevin's door open and shut. Expecting the back door to open and for him to let me out, it didn't happen. I stopped my breathing again, but still no sign of him. Just then a sharp and painful shock struck my cock and balls and, I screamed through the open gag. Over and over I was shocked and struggled in my bound state. I was in a straightjacket, full rubber, blinded and gagged with my feet bound, struggling in the back of an SUV parked who knows where. All this struggling was making me sweat in the rubber, and since it was summer out, the inside of the parked SUV was getting warmer and warmer also. I was also feeling the plug that had been shoved up my ass as the shocking just continued. I rolled on my back, hoping to stop it, but I knew that was helpless. Through all my struggling I didn't pay attention to much else, and suddenly something was blocking my only breathing through the mouth hole of the hood. The shocking got more intense, and now I couldn't breathe. I was yelling through the now-plugged gag, but it must have just sounded like mumbling. Just then it all stopped and my breathing returned. I heard laughing, and it was Kevin.
"Fuck boy, you put on a good show!"
He must have opened the back door when I was struggling, for I never heard it open. Kevin released my legs from the rope and tugged on my leash to pull me out of the Explorer. He pulled me close to him, and I could feel his rubbery body next to me.
"You look so fucking hot, boy. We have to walk a few blocks to the party location, but I am very proud to have you at the end of my leash."
He tugged, and we began walking. I had no clue as to where we were but could feel the pavement beneath the tall waders he had put me in. With no warning he led me to a spot, stopped and pushed me against a wall.
"Sorry, boy, but your Master has to piss something wicked."
With that I sort of felt something running down my leg and into my waders. I figured out he was pissing in my boot. After a bit he pissed in the other one. When he was done, we started walking again, and I was sloshing around in the piss that was puddle at the foot of my boots.
Since I didn't have any idea as to where this party was, I don't know if Kevin was walking me around a roundabout way or directly, but it took a long while. With the piss sloshing in my boots and sweat filling the rubber that encased me, I hoped that things were going to be cool in the building where the party was being held.
Once again he stopped me, and I felt him let go of the leash. Now this was going to get a little scary if he didn't grab it shortly, as I was totally helpless and I did know we were in the city, as I could hear the traffic. Then the leash was picked up again, and I was walking. But I was led only a short distance before we stopped and a hand was placed on my shoulder, pressing down. I took that to mean I should kneel, and I did. Then the gag hole felt like something was entering it, and soon my mouth was flooded with warm piss again. Hands grabbed my head and held it in place, and I swiftly took in all the piss and swallowed as fast as I could. Then it slowed to a trickle and soon ended. There was a slight tap on the side of my head and a tug up on my leash, and I was standing again and walking.
Another short walk and we stopped. Through the hoods I heard, "Thank you, Sir, you have a good urinal." Then I felt the leash change hands. Fuck! I had been pissed in by another man. Kevin whispered in my ear, "You did fucking great, piss boy. Now let's get you to the party!"
After a while I was led to a space and made to step over a short wall and put into a sitting position with my back against a wall. I could feel straps going over me, securing me down. My legs were bent and pushed toward me and also bound at the ankles and knees, then a larger strap secured them to my chest. Then what might have been large headphones went on my head and a strap over my forehead. My breathing became more labored, as I think a tube was attached to the gag that was keeping my mouth open. I could hear some banging and what sounded like a drill, but I'm not sure.
"Boy, I hope you are enjoying yourself. You are going to make a great deal of these men here very happy, as in a moment they will be able to piss for the first time. One of the highlights of this party is that there are no bathrooms, only toilet boys to take care of the needs of all who have come. You are one of them. You are in that box, bolted shut for the duration of the party. Beer is flowing pretty freely right now, so I know you are going to get a lot. You can piss on yourself. I actually hope you do."
There were some shocks to my cock and balls.
"Some dudes like it when the boy is screaming as they piss, so you might be providing even more entertainment. Oh and one last thing, be grateful you weren't assigned to the shit box. But I hear the toy who is being locked into it is being more hesitant in its duties, so you might end up doing double duty, so to say."
Kevin laughs, and the headphones go silent.
I struggle but realize shortly that it is no use, that I am very well restrained and of course encased in rubber, totally helpless and soon to be the urinal for I don't know how many men. Shortly a trickle of warm pissed started to flow in the hose and filling my mouth. I had to start drinking or I would fill up and possibly drown. Then more and more piss came. If it weren't for me breathing through my nose, I would be drowning in a flow of piss. At the same time I found my cock growing and started to get shocks that were intense, and I was screaming into the hose that filled my mouth. Things got really intense, as the flow of piss didn't seem to stop. It just kept coming and coming. At a few points between the shocks to my cock and balls and the flow of piss, I was screaming at the top of my lungs. I was fearful I was going to die in the box, encased and helpless in rubber. The headphones came on, and I could hear laughing.
Then I heard Kevin come on, and he told me that so far 20 guys had pissed in and a few had dumped their beers and drinks down the drain also. So that is why I was starting to get a buzz. The flow stopped for a bit, but the electro on my cock and balls was increased and I was sweating like crazy, as the box I was in was getting warmer and warmer. I was struggling even though I knew it was helpless, and without even knowing it I felt my own piss flowing from my cock and filling my rubber-encased ass.
I was sweating in the layers of rubber that covered my body in the cramped box that held me tightly as I continued to drink a steady flow of piss from men enjoying a Dore Alley party. I would try to move at times but found that I could hardly move in any direction. Kevin had made sure the restraints were tight, and my legs began to spaz as they have been held tightly against me for so long. Surely I have been in this box for hours. The only air I was getting was through the hose that was attached to my mouth and had the stream of piss flowing through it.
My headphones filled with the sound of my owner. "The other piss boys have chickened out. You are making me extremely proud, and my cock is so stiff that I can't wait to use your ass!"
He shocked me, and I yelled into the tube in my mouth.
"Glad to know you are still there, my toy. Now, since the others have backed out, we are opening the other drain into your box. You'll be glad to know that it isn't into you. It will drain into the box. So you will start to feel piss pouring into that box. Don't worry if it gets full, you'll not drown, as you can breathe through your mouth. If things get intense we might stop the pissing into you, but not for a while. Just be glad the shit boys are still doing their duty, rubber toy."
With that the sound went silent, and I could only hear my breathing in the hot box that I was locked into. It took a while, but eventually I could feel the warm liquid of piss building in the base of the box and building up against the rubber I was wearing. When I needed to, I would just let go with my own piss that was building in the base of my rubber, covering my ass. The plug kept it from filling my ass, but my squirming when I was fried did keep it moving. Piss was still flowing in me also. At times it wasn't runny and seemed more cream-like and salty. Then I figured out that guys were shooting their loads down the hose and it was being washed into me also. Now I didn't like that, as Kevin never said anything about that. But there was fuck little I could do about it, as I was not able to stop anything from happening to me. As if to remind me, the shocks would get stronger and longer. I was getting tired and helpless.
Over time the piss was building around me. I could feel it up around mid-body. I could only imagine what the inside of this box must smell like with all the piss. It wasn't getting cold as, it was so warm in this box and it was humid!
It was then I realized that I hadn't had any piss come down the hose for a while and the piss around me was draining. Could it be that I was finally going to be allowed to exit this box?! Oh man, Kevin will release me and allow me to be free, and I can meet his boy also. Have I been here so long that the party is over?
I was helped from the box after the hose was detached, and I was released from my bondage. I still was unable to see, as the hood stayed on and I was still in all the rubber, including the straightjacket. Someone helped me stand, and two men walked me a little ways and then laid me on a table. My own piss flowed through the rubber, filling the backside of the suit. The headphones were removed, and I was given ice-cold water to drink. It tasted so good, and I was able to wash away the taste of piss from my mouth.
Gently hands were toughing me and helping me stretch and relax. In my ear I heard Kevin's voice, "Boy, you did so fucking well. I don't know how much piss you drank, but I will let you know there are over 300 men here tonight. You were of service to them for five hours. It is getting late, but the party is far from over, and I want you to have some fun. Rest a bit, and we will enjoy the party together."
I awoke from a short nap as Kevin was helping me stand, and he led me out into the party. He had attached the leash to the collar, and I just moved along as I could as he tugged on the collar. I couldn't see or speak, but I could hear the music of the venue pounding and felt the bodies bumping into me. There were a few who clapped as Kevin and I passed by, others patted my ass or groped me.
"Boy, while you were napping we cleaned the piss off you, so you are nice and shiny and look like the perfect rubber object. But you should have some fun for a while. I'm going to remove the top hood so you can see. You are allowed to talk freely for a while. But when I put the hood back on you, you are back to being a toy for my enjoyment. But even though you are allowed to speak, remember what you are. "
As best as I could, I said, "Yes, Sir."
Kevin worked the hood off me, and for the first time in hours I could see again. It took a bit for my eyes to adjust, but then I was amazed at the site I did see. Hundreds of men in rubber, some in full coverage. Others with just a little rubber like a jock or harness. Above the party were a couple of full rubber toys suspended from chains, their cocks exposed and being tortured by those walking under them. Other toys were being used in various SM sessions, including flogging and spanking. Kevin started to walk me around, only the hood had been removed. I was still in the straightjacket and other hood, with the piss in my suit making each step a squishy plod.
He took me to the point where the new piss boy was enjoying the box that I spent all that time in and there were several rubber men using the new piss boy. Kevin then led me to a quiet corner and stood in front of me. He pulled me by the collar closer to his face and explored my mouth with his tongue and lips. I loved it, and my cock grew again in its rubber prison. I wanted to grab and hold him, but I was not able to. His rubbered hands explored my captive body as we made out the best that I could. All that time struggling and being helpless was now worth this moment, as everyone in the party knew who owned me at this minute.
"Boy, you made me so fucking proud tonight taking all that piss. You truly are a pig who needs that in your life, and you need a man to make you live that pig life forever. Those other boys would wimp out, and I'm sure their Masters will be tanning their asses when they get home later. I am so fucking hard tonight, and I've been hard for hours. I totally get into the idea of you in the box, alone, helpless and being a toilet for these men. Those few hours were nothing, for I know someday you will spend days like that, alone, waiting as a toy should. Yeah, I can feel your cock growing in your rubber, but you are not going to come for a while. One of the things I enjoy doing to my boy is keeping him horny, on the edge and waiting to explode. And when he does I don't stop with one time, I will milk him dry, over and over, letting him know further how much I own him and how helpless he is."
Kevin goes back to kissing me, taking his hands and twisting my tits. I moan as he shoves his tongue down my throat and twists harder, and there is nothing I can do but squirm and take it.
"I'm going to fuck you later tonight, and you are going to scream in pain. But I want you to scream, you'll be gagged of course. And I might fuck you more than once. Fuck, I can't wait to fuck you, bound, hooded and helpless, like the toilet fuck toy you are."
He grabs my face by the chin and spits a large wad of snot on my face, rubbing it into the hood with his gloved hand.
"Now I want you to sweat. We're going out on the dance floor, and I want to dance with you. Nope, you're not getting out of that straightjacket, but you will move."
He pulls on the chain on my collar, and we head out to the dance floor.
The music is loud, and I am surprised to see Kevin really getting into the music and the beat. I do the best I can, as he never lets go of the chain. We bump and grind, and I begin to sweat. At times the music gets faster in tempo and I have to keep up. After many songs, Kevin forces me to my knees and puts the full hood back on me. I am blinded and gagged once again, but he still wants to dance with his total rubber toy. This hood only makes me hotter and sweatier, as the sweat joins with the piss that is my suit.
With the hood on, Kevin gets the devilish idea to start shocking me to the beat, and my dance becomes one of a rubber puppet reacting to the various strength shocks that are inflicted upon my cock and balls. Not sure if guys think I am a helpless gimp or the best dancer on the floor, but Kevin doesn't let up and for the longest time he continues to use the shocks to dance with me.
For nearly an hour we dance, bump and grind to the heavy beat that fills the hall we are in. I've been blind for the later part of it, but a tug on my collar means we are leaving the dance floor.
Being unable to see, I realize we are leaving the party, as the music becomes more distant and the temperature is cooler as we must be heading back to the Boss's vehicle. He is silent as he leads me in what must be the quiet city streets of San Francisco. I realize that I've been blind coming and going and will never know where I was tonight.
Soon I am put into the back of his Explorer, the door closed and we are moving again.
Click for next part
© Copyright 2014 ty dehner all rights reserved.
Metal would like to welcome ty dehner to the Prison Library!