A real life experience by ty dehner
Through a chain of events, that were totally unexpected, i was asked if i would be interested in playing with a Top that is well known in the community, during his visit to the Seattle area. He was staying with a friend that had a dungeon. As communication continued, i found out that i had met his friend a couple of times and knew he was a great guy that i had enjoyed visiting. We had never played but had gotten along very well when we had met at a couple of local dungeon parties.
The Saturday arrived and i headed down to the Lars home. Larry was going to be late, because of a mix up in his flights. Lars and i had a great visit and talked about many things. He gave me a tour of his complex, a beautiful home, with indoor pool and a wonderful dungeon. The dungeon, which i would get to know intimately, was well laid out with many pieces of furniture that Lars had made himself.
When Larry arrived, we visited some as he rested a bit from the long drive from the airport. Then he wanted to get started. And who was i to disappoint him. We went to the dungeon and laid out the gear that was going to be used on me.
He started by putting my hands in fist mitts, and a rubber hood on my head with a large mouth hole. He attached the fist mitts to a stock, and it started to rise, pulling me up on my toes. He reminded me how helpless i had become and stroked my body here and there. Then there was a rip of my shirt, followed by another. i had never had my clothes ripped off me. He toyed with my tits, as i struggled a bit in the bondage. The hood was closing in and out as i breathed, sometimes forgetting to breath only through my mouth. He questioned why i was a sloppy boi. Then my black jeans were ripped, i was beginning to feel vulnerable, another rip up the other leg. He toyed with me a bit more, struggling still.
Then the jeans came off totally. There i was, in torn black t-shirt and white briefs. But the briefs didn't last long, as they were ripped, and my cock was soon exposed. i had gotten hard during this and my cock dangled before me. He toyed with it some, squeezing my balls, rubbing my ass. Then he ripped the briefs totally off me, followed by my shirt. i was now to naked, except for my socks and black army boots.
He talked to me a bit and asked if i was ready to really get into things. i replied quickly with my "Yes Sir." Not knowing what i was in for. He began by lubing up my ass. Then he inserted a plug of some sort into my ass. It went in too fast and caused too much pain, i pleaded to have it removed, which he did so quickly. For some reason, i began to feel a bit lightheaded, so i was removed from the stocks and allowed to sit down, after removing the hood. i rested a bit and was able to resume.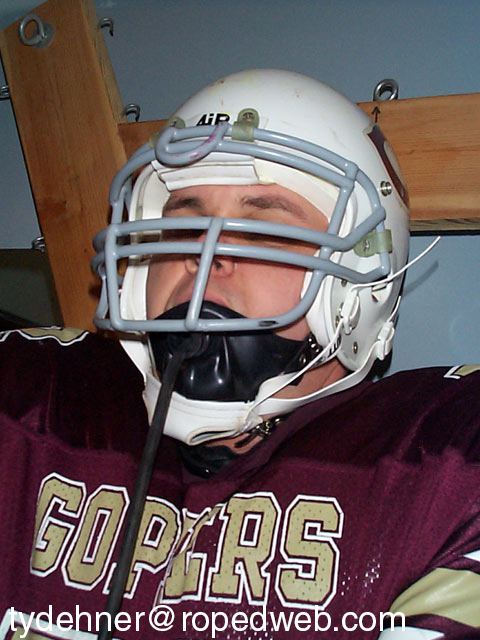 i suggested that i put the plug in myself, and Sir allowed me to do so. i worked it in, and when i stood felt a bit funny with a tail hanging from my ass. i knew that this plug was going to have a charge to it along the way. He then put me in a rubber straight jacket but did not secure the sleeves. Over that was put my football shoulder pads and jersey. Sir had wanted to do a scene with me in my new football gear that was sent to me at New Years by a special Master friend. After the pads and jersey, Sir went to work on strapping lots of electrical pads to my legs, ass and cock. Then my football pants, with pads, were put on. He wanted to use a rubber hood, but the helmet was too tight to do so, so he put an inflatable gag in my mouth and the helmet was put on and snapped. The final piece was to secure my arm across my chest with the straight jacket.
i was then led to the wooden cross, that was attached to the wall and secured. Before me in a mirror, i could see myself. i was beginning to sweat! i looked great in the gear, and rubber and now helpless, knowing that i was going to feel some electric current. And soon it began. On my legs, in my ass. Sometimes strongly, other times faintly. It kept me guessing. My hips would move forward as my ass was shocked, my legs bow out, when they felt the charge. Then my ass was shocked. The sensations were coming from everyplace. At times he would press against my chest and something felt stranger there. i would learn later that there was Velcro inside the straitjacket, right where my tits are. Now i was getting it in all places. Somehow the attachment on my cock had gotten lose, so i was not getting stimulation there.
The currents came and went on the various parts of my lower body. i was sweating, feeling it run down my face from under the helmet, from all this action that was happening. On occasions the power was turned up and i really jumped. This continued on, and at times i watched me in the mirror. i don't know how long this lasted but eventually, Sir turned things off and released me from the cross. My arms were let loose and dangled at my side. He worked at my crotch and got the electric reinstalled. The helmet was removed, and a rubber hood put on. This one only had a small hose that went into my mouth and was my only way to breathe. If i lost the hose, i was screwed.
They moved me around, sightless, then had me kneel. Then i was ordered to bend down and crawl, shortly i figured out why. i was being put into the cage. After i was in, it was a struggle (because of the pads) but i was able to turn around and lay down. The door was shut. My hands were latched to the top of the cage and i was now secured for who knows how long. i was really sweating now in the rubber jacket and hood. But that was going to increases, as the shocks began on my dick.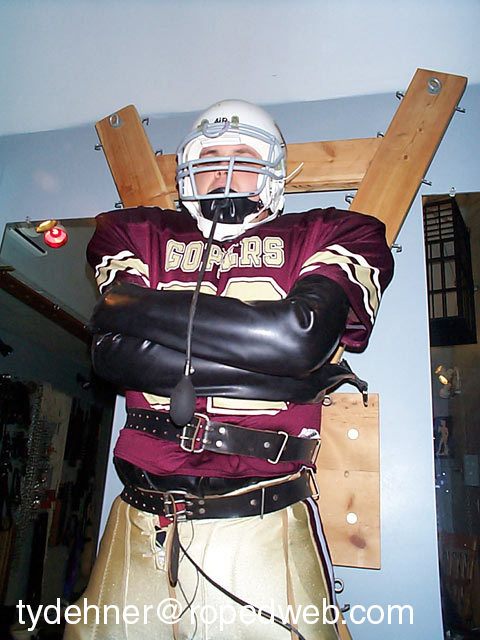 i now remembered how this was done to me just a week before when SirNContrl was in town visiting. i truly grew hard, then the electric in my ass started. This time stronger than before. And he let it run. My ass moving up and down, then the cock current. Things were getting intense and i was helpless, the rubber of the hood pressing against my face in and out as i breathed. i was getting very hard, feeling the confines i was in. My football gear, over a rubber straight jacket, my hands wanting to grab my cock. The hood and rubber wrapping my head, my cock and ass being shocked at different intervals, forcing me to move my hips in rhythm. i wanted to shoot, but that last little thing didn't happen. But i was so damn close. And it didn't let up, it just continued.
Then Sir said it was time to rest and the shocks stopped. Damn! i lowered my feet to outside the cage and caught my breath. Then Sir and Lars started tickling my feet. They found my Achilles heel, so to speak. i was in a cage, secured and helpless. i thought this was rest! But they tickled and i struggled. Then my socks were removed, and the pin wheel was brought out! Ugh, that infernal device! After they finished with my feet, the current was started again, stronger than before. i jumped and moaned into my hood. This was getting strong! My back arching with my ass into the air. Sweating even more, feeling the weight of the pads against my body. i was kept on the edge, wondering if they might try to cut off my air supply with a hood like this. But thankfully it never happened.
Soon, the current was stopped, my hands releases and i worked my way out of the cage. Everything was removed and i gave Sir a big strong hug for such a wonderful time! i gave Lars a hug also for being so generous with his dungeon. These were two really talented and very kind Men, and i was really glad to be knowing them and playing with them.
Sir said that things weren't done yet. Oh no, i thought. i had no idea how long i was in the uniform and feeling the current. He then put me in a full leather hood, that smelled great and i started to get hard again. The hood was securely strapped on, with the stiff leather wrapping my head. He took me to the cross and they worked and tightly secured me. As they were securing me, i thought i felt the cross move a bit. But didn't think much of it.
After i was secured, they rubbed my body, found the ticklish spots and worked those. My tits were toyed with a bit, and some sharp clamps applied briefly! I screamed into the hood during that. Then i felt it, the cross was moving, a bit to my left, then to my right. Oh shit, i thought, this thing spins. And as i thought it, i felt the weight of my body shift as i was being turned to the right. They stopped me and i was sideways on the cross. They toyed with me a bit and then movement started again. i felt strange as i was turned upside down, and my body shifted in the restraints. Then i was brought around and sent around in the revolution again. Things were slow, but the movement was truly a strange sensation, especially being hooded. i couldn't imagine experiencing that, and have the electro at that same time. That would've been an experience!!
They brought the cross to the upright position and i was released. Another hug for both followed. We cleaned up and headed out for dinner. We continued the great conversation that we had started earlier in the day. After returning home, we dressed Lars up in the football gear and had a great session taking pictures of him. Including him getting strung up and paddled on his football ass some with some intense looking tit clamps.
When he was done, we rested a bit and i figured that was it. But Sir had once more scene he wanted. So i was stripped and laid on the table, strapped down. i was put in a leather hood with blindfold and leather gag. They tickled my feet and i struggled. Then they rubbed my body with mitts that much have had rubber nubs on them. Then pin prick gloves, making my skin so sensitive. i struggled in the restraints as they moved around my body, finding the really sensitive spots. Then the really intense. What i later found out was the violent wand. It was like digging into my skin, scratching, but without damaging the skin. All over my body they worked and i struggled like crazy! This was intense! Touching my tits and dick was powerful! i was moving about like a mad man, even losing the pillow under my hooded head. The scent of the leather was strong from the hood, i couldn't move my body far cause of the restraints, and the gag kept my mouth filled, as they continued to use that electricity on my very sensitive skin. Then they stopped and started to just rub my body, with a bit of oil or lotion. i was now really relaxing after such intensity.
After the rub down, i was released. i thanked them both for a great time. But Sir said that i would be spending the night, one of the cages was fine. i said no, i don't think so. Shortly, i was in heavy handcuffs and leg cuffs, secured by a pad lock. Someone commented that i looked like a bondage buddha sitting on the table as i was. We had a good laugh at that. i really wondered whether i was going to spend the night like that and got a bit hard at the thought. They turned out the lights and with my moaning and pleading, closed the door. Shit, there wasn't much i was going to do. And with the restraints as they were, i couldn't really even lay down. i even though, i should just shoot my load and give up. But thankfully, they returned and released me.
i packed up things, thinking ahead and bringing a change of clothing since my other clothes were now rags. He hugged warmly before i headed out for the evening and home.
i really enjoyed meeting both these Men. They were kind, intense and very creative in what they did. While Lars and i didn't get to do much, i hope that perhaps someday i might get invited back for a visit. i am sure he could keep me busy for a while. And Sir, what a fine Man he is. i had heard some great things from him and am very privileged to be able to say that i played with him. He truly took me places i never thought i would go and i enjoyed it all. i hope he enjoyed himself and if he makes his way back to this area, i hope he will give me call. It had been a while since i was in such intense situations, and it is strange, but those times are really enjoyable to me, almost relaxing. i enjoy giving total control over, to be helpless and wondering what is going to happen next.
The end
© Copyright 2020 ty dehner