Rob Halford is the lead singer of Judas Priest. He's famous for riding a motorcycle on stage for the British heavy metal band's live shows, and for wearing full leather. In 1998, during an interview on MTV, he came out.
In a cleverly titled autobiography, "Confess," published in 2020, Mr. Halford tells his life story. It is at times triumphant, other times tragic. He describes growing up in Walsall, England. As a schoolboy he discovered his talent for singing. He eventually joined the band Judas Priest, known by fans as Priest, and he talks about the band's ups and downs over the decades. He talks about what it was like to record albums and go on tour. All the while, he was living with a secret. More precisely it was something that everyone in his orbit seemed to know but nobody talked about. He says not being open about his sexuality contributed to his feelings of loneliness and isolation and contributed to his own alcohol and drug abuse. He had several male companions over the years, one of whom died by suicide. In 1986 he got sober and has remained so ever since.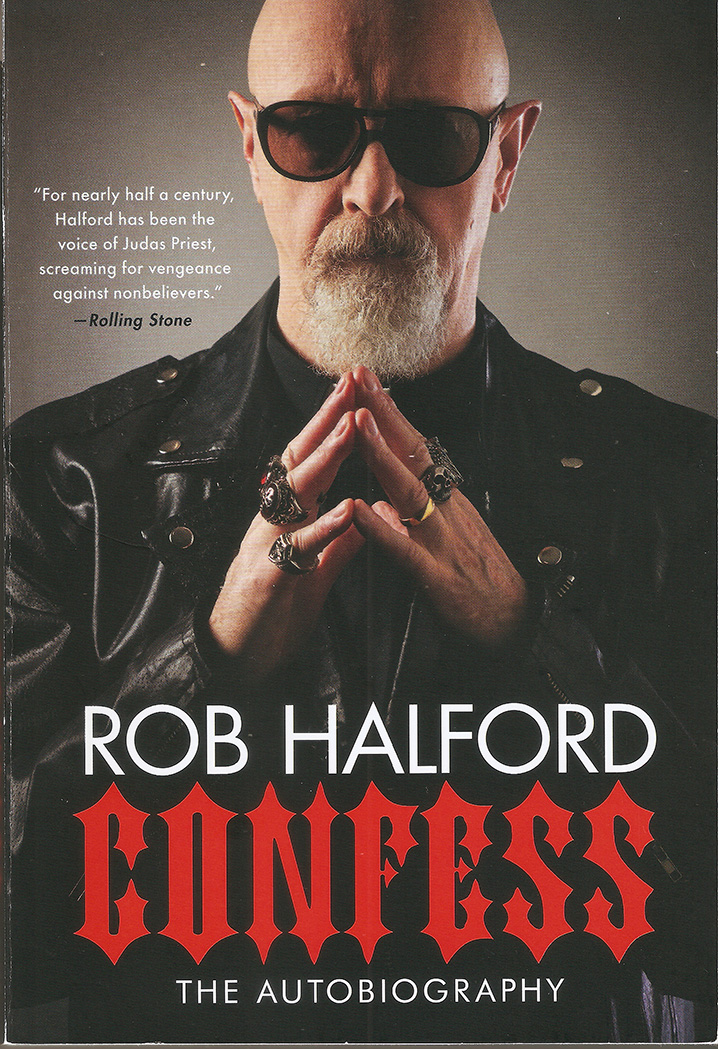 This was a wonderful book to read. I was greatly moved and was in tears on several occasions. A number of photographs are included. My two favorites are a 1977 band publicity shot in which the guys are wearing leather jackets and mirrored sunglasses; and a picture from the desert southwest of Mr. Halford with Thomas, the hunky ex-Marine he found happiness with.
Here are a few more notes about Mr. Halford, according to his excellent book:
He wrote most of the lyrics for Judas Priest's songs, many of which became huge hits, songs like "Living After Midnight," "Breaking the Law," "Electric Eye" and "Turbo Lover."
The band has recorded more than a dozen albums, some of the more popular of which include "British Steel" and "Screaming for Vengeance."
The movie "This is Spinal Tap" pokes fun at Judas Priest in many ways, including its revolving cast of drummers over the years.
He says when he revealed his sexual orientation during the MTV interview, a producer dropped her clipboard.
In the early 1990s Mr. Halford left Judas Priest and embarked on a number of solo projects. He has since reunited with the band.
He recorded two Christmas albums as solo projects.
He's a fan of Madonna and Lady Gaga and many other pop stars.
He once met the Queen of England, who asked him why metal music must be played so loud!
The most surprising thing to me, is that Mr. Halford says that he is more into vanilla sex than BDSM or kink! He explains the leather and chains are the look for the band. If you ask me, he sure looks comfortable in his leather, as evidenced by an interview he did in 1989 for a local television program in Arizona (see the video embedded below). If you ask me, he looks like he wears leather all the time. I think he's damn sexy.
Whether the "Metal God" is the kind of guy who would read the Metalbond site or not does not matter. This is an excellent book, and I am so glad I took the time to read it.