By SockgaggedJason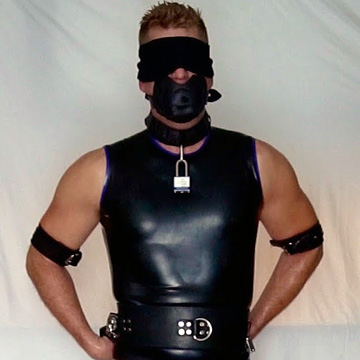 The summer after we graduated high school, my best friend Tyler came to live with me for a few weeks. He had been kicked out of his home after some fights with his dad.
We had always played bondage games with each other. I developed a crush on him and our games took on a sexual overtone for me. He joined the wrestling team, and his body was really shaping up. We started, however, to have different interests and new friends at this point.
Considering we had drifted apart the last couple of years, his staying at my house was a way for us to rekindle our friendship.
One night he came back to my home after working out at a local gym. He had jogged back in his rubber jump suit because he was dropping weight. Tyler still had dreams of making it on a college wrestling team somewhere next fall even though he hadn't actually enrolled yet.
Man, I can still remember when he peeled off that rubber jumpsuit. His gorgeous muscle toned body was beet red and drenched in sweat. He had on his wrestling team t-shirt and white Under Armour compression shorts underneath that were dripping wet and clung to his amazing body. Tyler's handsome face was flushed and his short blond hair shimmering in sweat. He had a distinctive sweet, body odor.
He yanked off his wet t-shirt and sat with me in just his compression shorts. The 4-way stretch nylon athletic underwear was dingy white from long sweaty sessions of wear and tear. He kept on his Asics wrestling shoes. He knew being shirtless in his dirty underwear was a turn on for me. At this point, Tyler figured, correctly, I was gay and also had a kinky streak.
I had some weed left over from a party and we got stoned. We played Call of Duty on XBOX in my bedroom.
I made a wager that the loser of the video game match gets tied up. He laughed it off and shoved me away. I ended up winning the game, though. When he wouldn't consent to being tied up, I kept bugging him about it.
This started an impromptu wrestling duel right on the carpet of my bedroom. I put up a good fight but naturally I was no match for his skills. Tyler, being a wrestler, easily pinned me down.
He sat on top of me, holding down my wrists, with his butt right on top of my chest, bringing his crotch just close enough to my face for me to smell how ripe he was. He leaned down and pretended to spit out of a long lugie in to my face. I recoiled. He laughed and slapped my face around a little.
I got a major boner, however, and he could easily feel my stiff dick springing up in my shorts. After all, he was only wearing those sheer, lycra spandex Under Armour compression shorts. He didn't' seem to mind, though. It wasn't the first time this happened with us. He usually ignored it. Being a little high off marijuana, though, we were a little friskier this time.
"What about this?" he smiled moving his left foot forward, next to my head.
His Asics wrestling shoe was right next to my face now and I could smell the faint aroma of his foot odor trapped inside.
Tyler's family didn't have money. Those Asics wrestling shoes were basically his prized possession that he wore for school, practice, meets, or just out and about. After at least two semesters of constant wear, they were pretty beat up. In fact the rubber sole was slightly breaking away from the rest of the sneaks.
"Go on," Tyler motioned, letting go of my right wrist. "Take it off."
"No, man. No," I muttered back, acting like I wasn't willing.
"Don't pretend!" he quickly responded slapping me around in the face some more. He knew I had a major foot fetish. "Do it puss! You ain't got shit to stop me!"
I removed his soft, suede leather wrestling shoe from his foot. Immediately I could smell the intense sweet, warm aroma. He was wearing his go-to pair of Puma tube socks. They never got washed. The normally white socks were so odor stained they were a mix of dull grey and brown.
I wanted to dig in to his smelly socked foot so bad. But I still played it cool. My erection grew more, saying otherwise, of course.
"Worship them. Come on," Tyler smirked down at me with his dimples and blue eyes. "I want you to worship my foot, dude."
I couldn't help it. When I made the decision to do as told, I went all in. I dove in with my mouth and tongue and began to worship his smelly socked foot. It was heaven. My hard cock raged.
Tyler relaxed his grip on my left wrist. He looked down at me, looking satisfied.
I got even bolder. With both hands free, I began to reach in and rub his legs. He had impressive thick muscular thighs with a hint of golden blond hair. My hands found themselves gliding underneath his sweaty white Under Armour compression shorts to massage those thighs.
His butt was planted right on top of my chest with his crotch close to my face. I could see him getting hard himself. I tilted up my head to move closer to his crotch, feeling its warmth and delighting in the pungent aroma. I was able to press my lips against his nut sack and, gliding my tongue along the stretchy fabric and started to lick at his salty ball sack area.
For a moment, Tyler sighed with pleasure but suddenly adjusted himself, slapping me in the face and saying with a cocky laugh, "Nope! Not gonna happen!"
He took a nearby belt from my dresser top, flipped me to my knees and tied my wrists behind my back. I didn't put up any resistance and knelt quietly while he bound my hands.
"Little bitch likes to be tied up. Doesn't he?" he mocked. "You're MY bitch! My bitch, right?"
I nodded with a smile. He laughed out loud, breaking his macho master character briefly and I giggled back. We were definitely feeling the effects of the weed we smoked.
"Just so you know, if you let me worship your body, you'll feel so good!" I found myself blurting out.
He laughed and thought about it for a moment, but I didn't wait for him to say anything. His body odor radiating around his sweaty physique turned me on too much that I couldn't restrain myself. I leaned in to him and directed my face in to his left armpit. He was surprised for a moment but then he lifted up his arm and flexed his bicep, fully exposing his hairy armpit for me. I dug in and started to ravage his smelly armpit, licking it up with my tongue, and taking deep sniffs through my nose as I did. I moved over to his right pit and did the same. His pits were so ripe and wonderful. Tyler enjoyed the attention too, tilting his head back and sighing with pleasure.
I glided my mouth over his pecs and right to his nipples. I started to suck on them fiercely, lightly biting the tips of his nipples with my teeth. This drove him crazy. He grabbed my face and squeezed my cheeks, saying, "Fuck! That feels funky!"
I bent down and moved to his crotch. I started to dig my nose in to the waistband of his Under Armour compression shorts, trying to move them down. He got the hint and helped me, pulling down his nylon Under Armour underwear halfway past his thighs. His beautiful erect dick popped out surrounded by a bushel of pubic hair with his big balls hanging between his legs.
I immediately went down on him, sucking his cock. Tyler started to moan further. He was loving the sensation of me sucking on his dick. As for myself, I was so turned on that I was pre-cumming in my shorts. For another minute or so, I continued to give him a blowjob.
But it was when I moved on to his nuts that really got him going. I slid down to his sweaty, musty hairy balls and started to lick away at the sticky, thick ball batter surrounding his tender fleshy sack. Wow, there was nothing better than the taste of his nut butter on my tongue. He had such a sweet, powerful scent down there. As I licked around the area, his pubes tickled my nose. Tyler was going ape shit crazy insane from the sensation.
Suddenly he exclaimed, "I think I wanna fuck you. Yea, I do! I really wanna fuck you bad!"
My heart raced when I heard this and I and looked up at him with a big smile on my face. He smiled back, but then he snapped back in to his domineering character and spit a big lugie in my face. Normally someone spitting in my face would be humiliating or gross, but with Tyler, in this moment, it was incredibly hot. "You're still my little bitch!" he chuckled.
Tyler wanted to tie me down more before he fucked me. Not only was I eager for it, I helped him with an idea. I suggested spread eagle over my bed. He got busy rummaging through my closet and found the box of ropes he knew I stored in there. He dumped them out and got started tying knots on the bedposts, dangling long lengths of rope from them. He propped me up halfway on to the side of my bed, with my chest down on the mattress in the middle. He untied the belt from my wrists behind my back and re-secured the wrists to the lengths of the ropes connected to the other side of the bedposts. He tightened them up which spread my arms out in front of me, lying face down over the side of my bed. Then he slid off my shorts and underwear, taking me butt naked. Next he tied my ankles to the opposite support posts at the bottom of the bed, spreading my legs apart. Last, he took one of my pillows and positioned it under my crotch, which forced my butt up in the air.
Tyler had me tied down spread eagle and it felt good to be so powerless and restrained by him. My dick was so stiff and erect that it rubbed against the pillow underneath.
"Please gag me!" I begged looking back at him, wanting to be even more helpless.
Tyler was one step ahead of me as he shoved both his dirty, stinky Puma socks in to my mouth. He kept the sock gag in place by tying his sweaty t-shirt around my face.
I squirmed and grunted, bound and gagged, with my ass up, over the side of my bed, waiting for him to fuck me.
I looked back and watched Tyler pull off his dingy, sweaty white compression shorts, now standing behind me fully nude and looking so hot. His dick was hard as steel. He had a crazed grin on his face, eager to top me.
Tyler spit on his dick and slowly moved towards my ass, poking the tip of his penis against my butthole. He worked up a long, slimy lugie in his mouth that he streamed from his lips landing on to his dick, giving it more lubrication.
Then my best friend started to insert his dick in to my asshole. It felt immediately uncomfortable and I tensed up my body. I wanted him to stop, but he didn't. He slowly, but confidently, started to guide his cock inside me.
I began to moan loudly. Tyler grabbed my neck from behind and said, "Quiet" with a whisper. My best friend continued to fuck me right there over my bed. I was starting to like the feeling.
As much as I loved this, the pain was so intense I began to make more noises that could alert my family. I couldn't help it. Even his socks and the t-shirt tied around my mouth couldn't silence me completely.
I did my best to quiet down, though, not wanting him to stop. I allowed him to fuck me silly. Tyler plowed me harder and harder.
I looked up at him and Tyler had an intense expression on his face, his eyes squinting, head tiled back, with his lips pursed, making moans of joy himself. His hands grasped the sides of my hips just above my buttocks, as he slapped his dick into my ass.
Being eighteen, filled with testosterone and sexual energy, it wasn't long before we were ready to cum.
At the moment we were both about to climax, he pulled his cock out. As he jerked himself off with his right hand, he reached down between my legs, under my nuts and grabbed my dick, pulling it away from the pillow and past the edge of my bed, pointed down. He then jerked me off with his left hand.
We both came at the same time. SQUIRT! SQUIRT!
It was unbelievable. I was seeing fireworks and experiencing joy, grunting through his dirty socks, pulling at the ropes that restrained me. I looked back at him and saw the pure joy on his face as he shot semen up in the air, then landing all over my back. As for me, he milked my dick of all the cum and it shot right down on to my carpet.
We panted heavily in the aftermath of sex. He fell over me, resting his sweaty chest over my cum-stained back! He pulled down his t-shirt so I could spit out the gag of his socks. We took long breaths, winding down our moaning. Tyler let out a laugh, which I followed with myself. We were exhausted.
Tyler disappeared to the bathroom and returned with a wet towel he used to wipe off my back as I laid spread out and tied down to my bed. He wiped himself down too.
As our labored breaths slowed down, we continued to laugh with joy. Tyler untied my body from my bed.
He picked me up and laid me down properly on my back, climbing in to bed with me. In all the excitement, I didn't realize I had bad rope burn around my wrists and ankles. He massaged them until they went away. We cuddled naked, our dicks still hard and pressed against each other. Tyler planted a kiss on my lips. I smiled with happiness and started to say something to him. He playfully, however, took his pair of socks, now coated in my saliva, and gagged my mouth again. "Shut up, bitch!" he quietly teased with a grin.
We feel asleep in each other's arms.
THE END
Thanks to SockgaggedJason for this story!