By SockgaggedJason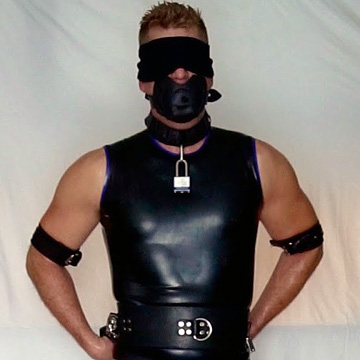 Note: This is a true story about one of my experiences and for adults only. It contains gay male bondage roleplay and sexual contact between men.
My buddy Dave recently bought a fixer-upper house in a bad neighborhood of Los Angeles. In his backyard, at the end of his carport, was a rickety old barn like garage. With my help, we converted it into a dungeon. Like me, Dave was primarily a dominant master (a "dom") but we enjoyed switching up roles when we played. Having his own dungeon was a big feather in his BDSM cap. He outfitted it with his existing bondage gear and toys, and all kinds of crazy, kinky stuff. The most significant additions to his dungeon that made it special, however, required special installation. Since I was handy with heavy-duty tools, I volunteered to be his slave labor for the task. One was a bondage bed. He found an old iron bed at a thrift store that we reinforced with more metal material and then anchored it to the concrete flooring.
Next, we installed his piece de resistance, which were two sets of metal scaffolding towers. Through a craigslist ad, he found a music company "dumping" these gargantuan beasts to anyone who could take them away from their storage. They were the kind used for rock concerts to frame a stage and hold up lighting. It took us an entire day but we were able to install them inside the garage and deadbolt them into the concrete flooring securely. Miraculously the aluminum towers fitted to the inch inside, just barely touching the roofing of the garage. We joked that it also made the shabby structure more secure and guaranteed the old roof wouldn't fall on our heads.