Foot worshipping, sock sniffing and orgasmic tickling goodness are all at your fingertips, because TicklishChubs.com has arrived!
Filled to the brim with hours and hours of chubs, cubs, twinks and muscles being tied down, poked, sniffed, sucked and touched in ways that elicit giggles, this huge community is sure to please lovers of all things tickled, especially chubs!
Always remember to live, sniff, and laugh it up!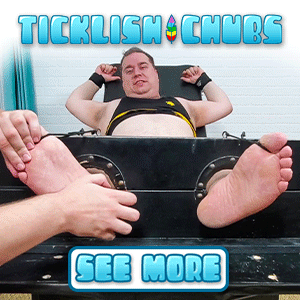 Here's a preview from one of the many offerings at Ticklish Chubs:
Chubby Matt Gets Tormented!
You know Matt likes to take control and really torture a subject with his tickling skills, but it's never too long before someone gets the upper hand and he finds himself restrained and at their mercy. J is the latest guy to make Matt giggle, strapped down by his wrists and ankles, his bare feet tormented, his cock and balls exposed. Watch J have a great time enjoying himself and getting revenge!
VIDEO at Ticklish Chubs
Scene Title: J & Matt