For those of you who enjoy really good bondage stories, don't forget to visit the long-running and very popular page run by Eckie of The Netherlands: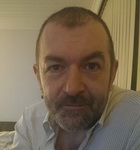 Eckie is one of my heroes. He's the kind of guy who can look at a picture or a short video clip of a captive in some sort of unusual predicament, and then write a lengthy story based on it. Eckie also posts stories from his many contributors. He has been at this for more than 25 years now!
Earlier this year Eckie experienced some technical difficulties and he took his page down for a while, but due to very high demand he has since resumed — at the revised location of https://eckie.com/simple/ — with a slightly different format. You have to sign up to access the content, but doing so is free — and well worth it!
I check Eckie's site just about every day. Some of the recent stories on his site that I have particularly enjoyed include:
"The Gag Lover" by Mmmpppfffhhh
"Hypnotised Biker" and "The Dummy From the Spa" by Dream Nephilim
"Hooded Forced March" and "Skinhead and Legionnaires" by Creuss
Plus there are also many, many excellent stories by Eckie himself, some of the more recent of which include:
"The Gibbet Cage"
"Hogtie Challenge at a Cost"
"Living in a Box"
… and many more!
Visit Eckie's site — you will be glad you did!