By Cutieboy90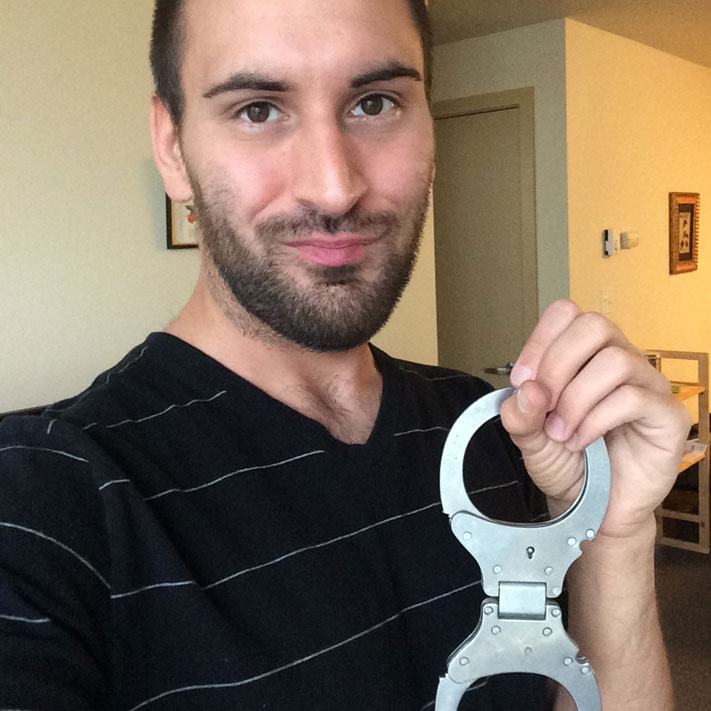 "U-ughhhh…" I groaned softly through my ballgag as I blinked my eyes open. My neck had a crick, and my jaw ached terribly.
"Hey bud," a deep voice spoke from above me.
"Huuuuhh…?" I looked up at the handsome face of my partner, Jake. He smiled warmly as he stroked my face.
"Yeah, you fell asleep there for a bit," he said. I tried to stretch, but quickly found I was still in bondage. My hands were handcuffed to a chain around my waist, and my legs were cuffed and drawn up to the belly chain as well, essentially pigtying me.
"You're so cute when you sleep," Jake hugged me closer and nuzzled the top of my head. "I've missed this." I nodded in agreement, nuzzling into his broad, muscular chest.
Jake was still wearing his uniform, boots and all. He liked wearing his uniform at least as much I liked seeing him wear it. Not only for the kink reasons, but personal too.
Jake was a Marine. He was so brave, so dedicated to the Corps. I respected that level of passion and commitment. He was a good man, and of course the kinky sexy stuff was an added bonus. Even if it could be painful at times…
My jaw was really killing me. Jake didn't mess around with anything, and the ballgag he'd strapped in my mouth was serious business. At 2.25 inches it stuffed my mouth and stretched my lips. I learned to take the huge red monster while he was away, and now I had a feeling I'd be spending most of my time gagged with it.
As I nuzzled at Jake's muscular chest, I suddenly became aware that it was wet.
"Huughhh!?" I yelped, realizing I had been drooling this whole time! All down my neck, all over my face, all over Jake's uniform! The whole side of my face, my chin, neck, the front of Jake's blouse… All soaked and slimy with my own damn gag-slobber.
"Urghhhkk!!"
"Hush baby," Jake chuckled, grabbing my chin. "It's ok. You're cute this way." I shot him an indignant glare and huffed at his confident smile. His cover cast a shadow over his face, enhancing his strong jawline and chiseled features. "And besides, this thing could use a wash…" He pulled his hand away from my chin, watching as languid ropes of drool stretched between his fingers and my face like a cat's cradle.
"Hmmm, yeah. Definitely a wash…" Jake wiped his hand on his thigh, right where his huge quads pushed out at the fabric of his pants. Even at rest and in the dim light, it was clear how fatigued his fatigues were from holding all that muscle in.
He gave my forehead a quick kiss, and rolled lazily onto his back. He flexed his pecs and arms for me. I grumbled and drooled. How could I be anything but mesmerized? My fingers brushed his belt buckle, instinctively trying to work it loose. The handcuff-belly chain combination was proving very restrictive, much more so than I had expected.
"UGHHH…!" I growled in frustration. Jake smirked and winked, resting back with his hands behind his head. His pecs and arms on full display, his uniform sleeves bulging fit to burst. I could see another muscle bulging fit to burst at his crotch…
With a huff, I rolled onto my back, soaking with my own sweat and spit. This pigtie was exhausting! Jake snuggled up after I caught my breath, idly running his fingertips over my body.
"I've missed this. So. Much," Jake whispered, nibbling my ear. "I can't even tell you how much…" He kissed his way along my jawline, his cover falling to the wayside. He kissed my stretched lower lip, and I tried desperately to kiss him back in spite of the enormous red ball strapped in my mouth.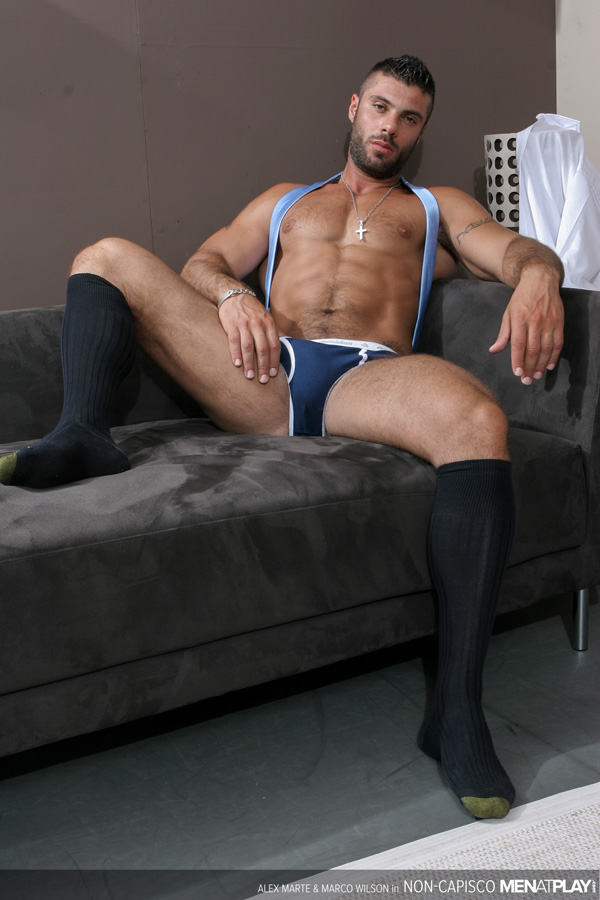 "Ah fuck it," Jake panted as he pulled his fat throbbing cock out of his pants. He unstrapped my gag and tossed it aside, immediately replacing it with his own mouth. My mouth felt like it was full of fireworks, swapping spit with Jake again quenching a thirst I'd almost gotten used to. My brain was overloaded with endorphins, my body almost frozen. Jake held me tightly, humping sensuously and moaning lustfully in a way I'd never heard him before.
Straining against the cuffs, my hands found Jake's cock. Curling into a fist around its thick girth, thumbing at the tip the way he liked. Jake plunged his tongue down my throat in response. He was close. I squeezed and pumped his cock harder. Jake suddenly arched his back, threw his head back, and came with a series of barks. No less than a dozen spurts of his thick jarhead spunk erupted from his cock, splattering up to my shoulders.
Jake's brow glistened with sweat, and his massive chest heaved as he caught his breath. His eyes crossed as I managed to coax out another teaspoon of cum.
"Ah, ah… Hah…" Jake leaned down and licked up each trail of his fresh seed, sharing each mouthful with me via deep Frenching. My cock was throbbing the whole time, rubbing against Jake's ass as he straddled me. I reached down with my cuffed hands to finish the job.
Jake swatted my hands away.
"Not tonight, buddy. Allow me…" And with that, Jake wrapped his soft lips around my cock, and deepthroated me.
"Ahhhh, FUCK…!" I moaned. His mouth and throat were softer and tighter than my lubed hand, and far better than the toys I'd been using. I could tell he'd been practicing a lot…
I caressed his cheek and temples as he sucked me off. He bobbed and slurped, pressing his chin against my balls. I wouldn't last much longer at this rate.
"I… I'm gonna… Cu-UUUUUGH!!" I shot suddenly, my load boiling over and shooting straight down Jake's eager gullet. He milked every last drop with his throat, before letting up.
Jake crawled up on all fours, and gave me a tender kiss. I could taste my cum on his lips.
"Thank you for your service, Staff Sergeant," I whispered.
Jake smiled, a slight blush crossing his cheeks. "Just taking care of who I love," he replied bashfully. "I missed you so fucking much."
"Shhhh, I know." I kissed his neck. "And we have all the time in the world now to be together."
"Yes sir, we do." He pulled up his pants, straightened his collar. He picked up his cover and placed it on his head. "Tonight can be a nice quiet night in." Jake replaced the ballgag in my mouth, emphasising the word 'quiet.' Then he settled in beside me with his arm around my shoulder, playing with my nipples. "And tomorrow, we're going to fuck all day long."
I rolled my eyes as I started to drool on myself again. But as my marine snuggled close and plunged his tongue in my ear, I was just happy he was home.
The End
Metal would like to thank Cutieboy90 for this story! To see more from Cutieboy90, check out his page on Pornhub.