In this video from 30 Minutes of Torment:
Tryp Bates is a hot leather freak who loves pain. Let's see if he can handle 30 straight minutes of extreme BDSM.
THE CHAIR – Van leads Tryp to the hard, wooden chair where he'll strap Tryp down and secure the stud with rope stretching his balls to the floor. Tryp can only grit his teeth as Van lines his pecs and balls with clover clamps. Van rains sharp stings from the crop all over Tryp's tender body before moving the clamps on his chest down to join the cluster already adorning his sack. Will the dozen clamps all over his balls and shaft make Tryp break?
THE PIT – Balancing precariously on two wooden pegs, Tryp takes an edging from Van. The pleasure quickly flashes away when Van beats and flogs the daylights out of Tryp. Tryp only begs for harder and harder hits, so Van pulls out the giant flogger and gives the slut what he deserves.
THE WATER STATION – Tryp hangs inverted over a tub of cold water as Van decorates his muscles with painful clothespins. Tryp takes dunk after dunk into the water, being brought up only for a cropping. Van lowers Tryp's whole body into the tub and waterboards him with a high-pressure hose. Now with only seconds remaining, Tryp has to blow his load while fitted with a zipper. The painslut manages to complete the challenge with an eruption of cum, so Van rewards Tryp by tearing off the zipper and blasting him with cold water.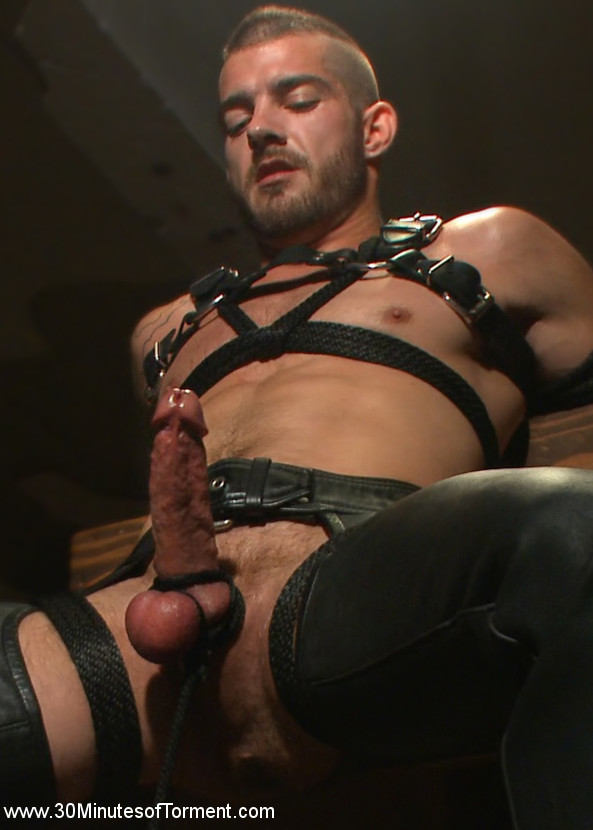 Watch this video here.
See many more videos from 30 Minutes of Torment — plus ALL the other content from 30 Minutes of Torment, Bound Gods, Bound In Public, Butt Machine Boys, Men On Edge and Naked Kombat — by subscribing to the KinkMen megasite. You'll get all SIX of these gay BDSM sites for one price. Click here.