This is a video from Men On Edge. As Sebastian and Branden Forrest leave the bar at last call, they come across Tyler Rush slumped over with a bottle in hand. The two decide to keep the night going, so they drag the party dude to their warehouse.
Tyler finally comes to, finding himself crucified from the ceiling and blindfolded. Sebastian and Branden taunt Tyler's poor decision making as they tease his cock and gag him with his underwear. Helpless to resist Branden's long tongue and Sebastian's hitachis, Tyler's dick quickly turns hard and drips precum. Tyler's muffled begging to be let go soon turns begging for an orgasm. Sebastian answers his pleas with more edging and a cropping, which only hardens Tyler's cock. Turns out they found a painslut in the alley. Tyler is brought to his knees and is made to suck Branden's dick before having his balls pulled by a cluster of weights.
The edging intensifies as Sebastian and Branden move their attention to Tyler's ass. Tyler takes an electric dildo and a prostate massager into his hungry hole. Tyler's balls explode a shower of hot cum as Sebastian pushes the massager deep into his prostate. The two finish with a vicious apple polishing and leave the captive behind for later.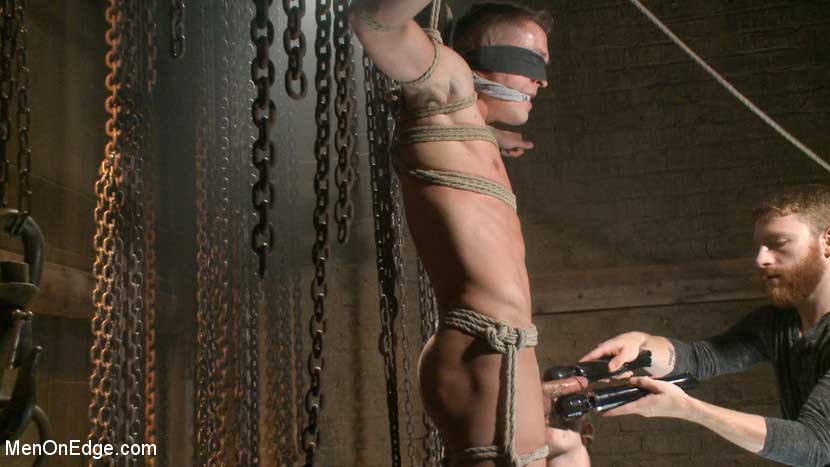 See this video here
More Metalbond posts about Tyler Rush here
The latest videos from Men On Edge here
The KinkMen main page is here