Micah Brandt has been watching Men On Edge for years and says that he gets turned on because he's never done it before. Though he's edged himself in his personal life he's never been bound and been edged by another.
They start with him tied up to the bedpost while balancing on a stack of books. Jessie Colter tears Micah's underwear off with his teeth and plays with the ripped stud's pre-cum. In no time at all Micah gets pissed off by the teasing and sensory deprivation. He fucks Jessie's mouth with clamps on his balls, but he's reduced to a whimper as Sebastian and Jesse leave him alone in the room.
Next, bound on the bed, Sebastian and Jessie suck his toes while making Micah suck their own. In a piledriver position on the bed, they fuck his ass with the vibrating dildo, making him beg again and again. With Jessie's ass smothering Micah's face, he continues to beg. After a full day of edging, he rockets his huge load all over himself and receives the post-orgasmic tickle torture.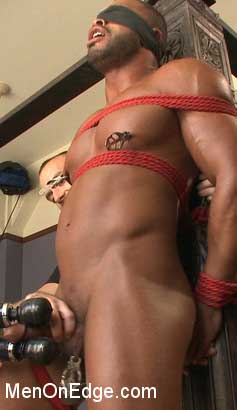 See this video here
More Metalbond posts featuring Micah Brandt here
Men On Edge latest videos here
Lots more KinkMen male BDSM videos here