Here are some pictures of @bft4evr, who is controlled in long-term chastity by his friend and keyholder @2inYVR. Both of these kinksters are on Twitter. Through some well-meaning "instigating" by his keyholder friend, as well as some various online polls, @bft4evr recently marked a full year in chastity, with no quick end in sight!
@bft4evr writes,
"I met my now good friend and keyholder @2inYVR on FetLife around 5 years ago! We are both switches into barefooting, foot torture, bondage, chastity, and so much more! Sadly, he lives in British Columbia, Canada, and I am in the sticks of Southwestern Virginia, USA. But thanks to FetLife, WhatsApp, and Twitter we have formed an incredibly close friendship and kinky way to play! A couple of years ago we were able to meet for a real-life play session. I had already started on my journey to chastity by then, getting a PA piercing. While the weather wasn't open to much outdoor play, we had a great deal of fun torturing my soles inside! Now, I have a custom made 0-gauge PA-secured chastity cage that is locked on me 24/7, for more than one year, with the keys controlled remotely via a Bluetooth MasterLock lock box He controls.
"The original 'minimum' goal was to stay locked 1 year, which happened at 3:04 p.m. EST, 12/28/22. But there is no firm release date planned! The only ways I can hope to unlock is through completing tasks solo or with others to earn @2inYVR's favor, or to find a local in-person keyholder he might transfer control to…."
You can weigh in with votes and ideas on this Twitter thread by clicking HERE.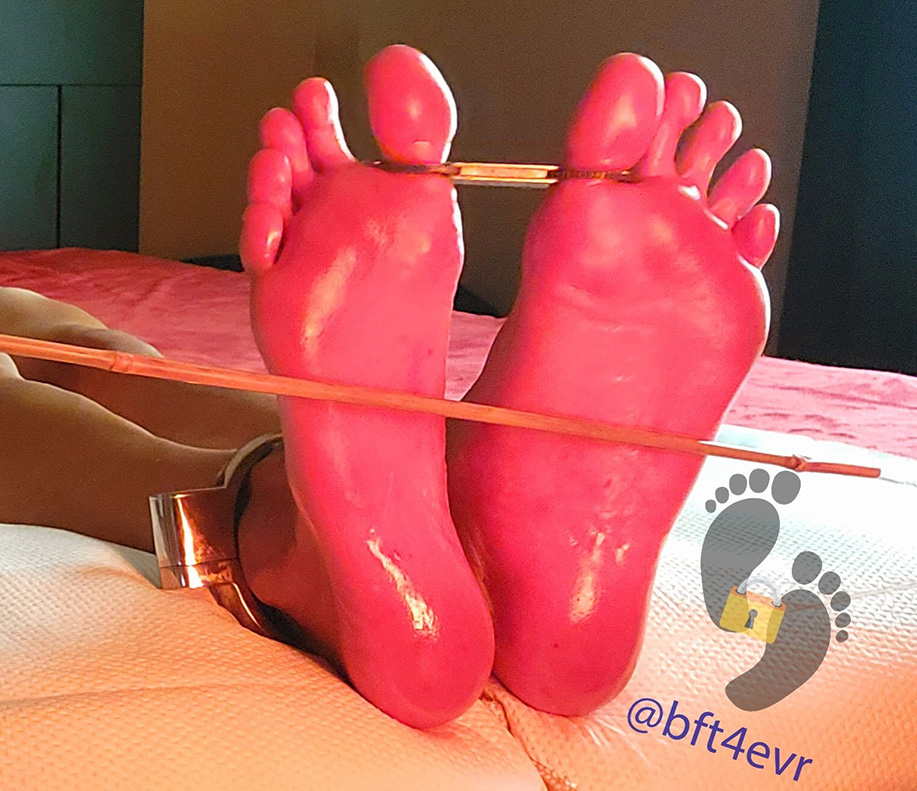 @bft4evr continues,
"So unless I find a local guy He approves of to claim my keys, the only hope I have to ever unlock is to earn that privilege from @2inYVR !
"There is a poll running now on Twitter to vote for tasks I will have to complete, or to add comments that if approved by Him, will be added, and all must be done before I can have even the chance of getting unlocked! So yes, distance play may not be perfect, but it really can work! So happy to have met @2inYVR and to be able to share our kinky fun with you all!"
Metal would like to thank @bft4evr and @2inyvr for these pictures and for the information! You can find both of these kinksters — and add to @bft4evr's ongoing torment — by going to their Twitter feeds.