One of the more prolific authors of kinky erotic fiction goes by the name of RotherhamMan, and he has been featured a few times here on the Metalbond site in the Breaking Boys series. For those who just can't get enough of this guy, he's also got dozens of other stories posted to other sites, including Archive of Our Own and Gay Spiral Stories: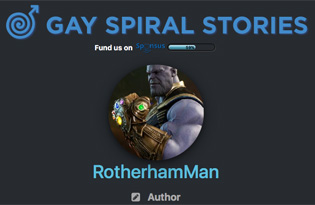 RotherhamMan even accepts commissions. One of his latest stories, which he was kind enough to let me read today, is called "Milking Men: Chief Taylor," which is about a hunky — straight — fireman who gets ensnared as a sperm donor! You can read the first part of this story at Archive of Our Own by clicking here. This is a commissioned work that RotherhamMan is sharing.
Metal would like to thank RotherhamMan for reaching out, and to encourage all kinksters who are so inclined to delve into his devilish imagination by reading his stories!