Check out the straitjacketed men in these videos at  KinkMen:
LOCKUP, CELL EXTRACTION & PRISON SEX – PART TWO
Jeremy Stevens has his ass flogged and fucked while bound in a padded cell full of horny guards
The officers of the prison line their asses up as the new prisoner Jeremy Stevens is made to eat their hairy holes. With his face shoved into one of the asses, Jeremy bites down on the officer's cheek. The guard becomes enraged and gathers the guards together to drag the prisoner off to the padded cell. Blindfolded and bound in a straight jacket, the guards push and shove the inmate around the room. They pin him against the wall and take turns sucking and edging Jeremy's exposed cock. Jeremy is bent over and made to suck cock while the officers flog his muscle ass. The guards take turns fucking both of Jeremy's holes all over the cell. Jeremy is begging mercy and no more cocks, but the officers are restless. The cops shower him with cum and leave the defeated inmate alone in the padded cell.
VIDEO of this shoot here
***
BRYAN COLE'S OBSESSION AND INFATUATION
Connor Maguire fucks his buddy Bryan Cole, bound in a straightjacket in a padded cell
Bryan Cole lets studly Connor Maguire stay at his house. Poor Bryan is obsessed with his friend. Bryan cannot resist staring at his hot hung friend as he's getting ready for bed. When Bryan falls asleep, he dreams of waking up, bound in a straightjacket, inside a padded cell. Connor picks him up and slams him to the ground before giving him a beating with the crop. Telling Bryan he's a miserable pig, Connor shoves his foot in Bryan's mouth, then his throbbing hard cock. Connor's cock is raging hard as he flogs Bryan's muscled body till it turns red. After swallowing Connor's big cock, Bryan is suspended in the air for Connor to have perfect access to fuck his hairy hole. Bryan is put in the stockades, where his ass is paddled and fucked till he receives Connor's glorious cum-covered cock in his eager mouth.
VIDEO of this shoot here
***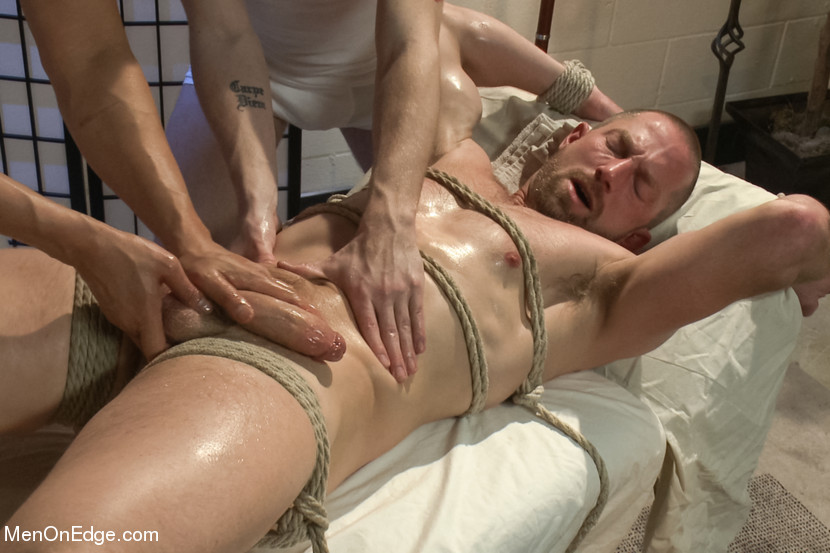 Adam Herst has his huge cock edged while bound in a straight jacket inside a padded cell with a fucking machine pounding his hole
Adam Herst goes to a massage parlor to redeem a gift voucher he received. The therapists notice it's the "Four Hand Massage Special." They tell Adam to relax and enjoy the session. As Adam's muscles are worked on, he passes out and wakes up, bound to the table. The masseurs calm him down and tell him the "Massage Special" is a massage in bondage. They strip his underwear and start working on his big fat cock. Adam starts to enjoy the experience and even gets close to cumming. But the fun has only begun for Adam. The two pervs keep edging his cock and tickling his feet till he gets pissed off and starts shouting out demands. The masseurs shut him and drag him to a padded cell. Adam wakes up bound to the wall and restrained in a straightjacket. His giant cock is edged again and again till it's about to burst. To finish him off, the masseurs insert a fucking machine into Adam's hole and the poor stud is begging and pleading to cum
VIDEO of this shoot here
To get access to ALL the above videos, subscribe to KinkMen