This is an exclusive excerpt from the new leather kink novel by ty dehner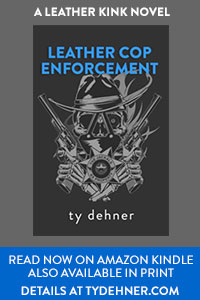 Sergeant Kieran Moore is the second in command of The Jackals, a dedicated squad of law enforcement in California's high desert that has built a dark world of leather and kink while executing their own form of legal justice. The Jackals enjoy service from the submissive men who worship their boots and conform to their powers of control and ownership.
A happenstance meeting while riding dirt bikes brings the Leather Cop in contact with Mateo Hernandez, a blue-collar laborer from the Coachella Valley. This chance meeting leads to both entering a leather power exchange relationship that both men have always wanted in their lives. Over time, both their lives change dramatically, causing them to question the reality they are facing and wonder if they truly can deal with the future they are racing towards.
Leather Cop Enforcement is the second leather kink novel by ty dehner. This epic story has intense BDSM experiences with leather, uniforms, and more. These two men end up finding out more about their emotions, their lust, and how important power dynamics are in their life as well as the need to have each other in their hearts.
Read the complete novel today with Amazon Kindle or order in print!
 ***
A few hours pass as the two have been lazy, never releasing their touch.  The shadows are getting longer as the sun is moving towards evening.  Cop Boss squeezes his boy's tits, making him moan in pain.
"We gotta get ready, boy. Tonight is an important night," the Cop whispers into Mateo's ear as he cuddles his boy's head in his gloved hands.