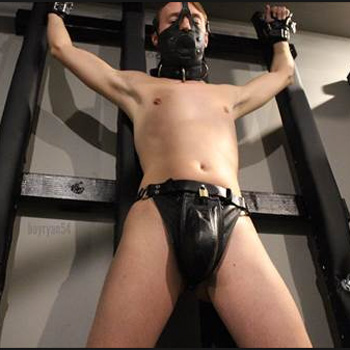 By boyryan54
Meant as fantasy.
It could feel the dampness of its tears against the leather blindfold. It was trying to catch its breath from the long whipping and flogging. It only had itself to blame for the duration. It could have stopped it sooner, but it was trying to hold out … hold out that this was just a dream.
It was supposed to be a quick Friday night session. But while locked in a cage, his now Master told it that by the end of the weekend, it would agree to be a slave. The slave thought that wouldn't be real or possible, but as the past hour had taught it, his Master was right.
It was weak and tired. It was now Sunday afternoon, but it hadn't slept or eaten anything. It needed to yield. It jumped as it felt the Master lightly touch the back of its neck. The Master chuckled.
"Time to officially make you mine, slave." It flinched at those biting words. "Ready for your tattoos and piercings?"