By rts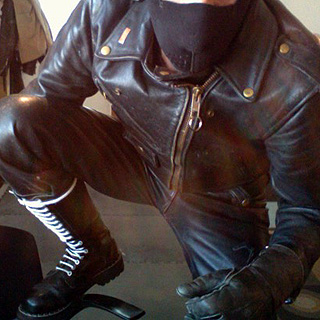 The light comes on, the cell door swings open, another day of hell begins after another miserable night in sweaty leathers with butt plug torment. A single skinhead steps in and says, "Fag prisoner #5, get your butt over the squat toilet and present your ass." Jake crawls on hands and knees, chains rattling, over the dirt floor and waits by the pit. The skinhead unlocks and removes jakes's muzzle and the crotch strap from the harness, unzips his butt access and proceeds with the enema.
Looking over at me says, "I haven't forgotten you, fag, enjoy this." He then presses a control on the remote box he carries, and my butt plug starts vibrating with a new intensity as my cock tries to respond in the painful constriction of my seed pod.
"Listen up both you faggots, my two mates and I have a plan to get you poor sorry leather fags out of this hell hole and us with you and stick it to that fucker overseer skin and some cowboys. We can get you your bikes, gas and all your personal IDs. Me and my two mates have also been trapped here for months with the same future you all have.