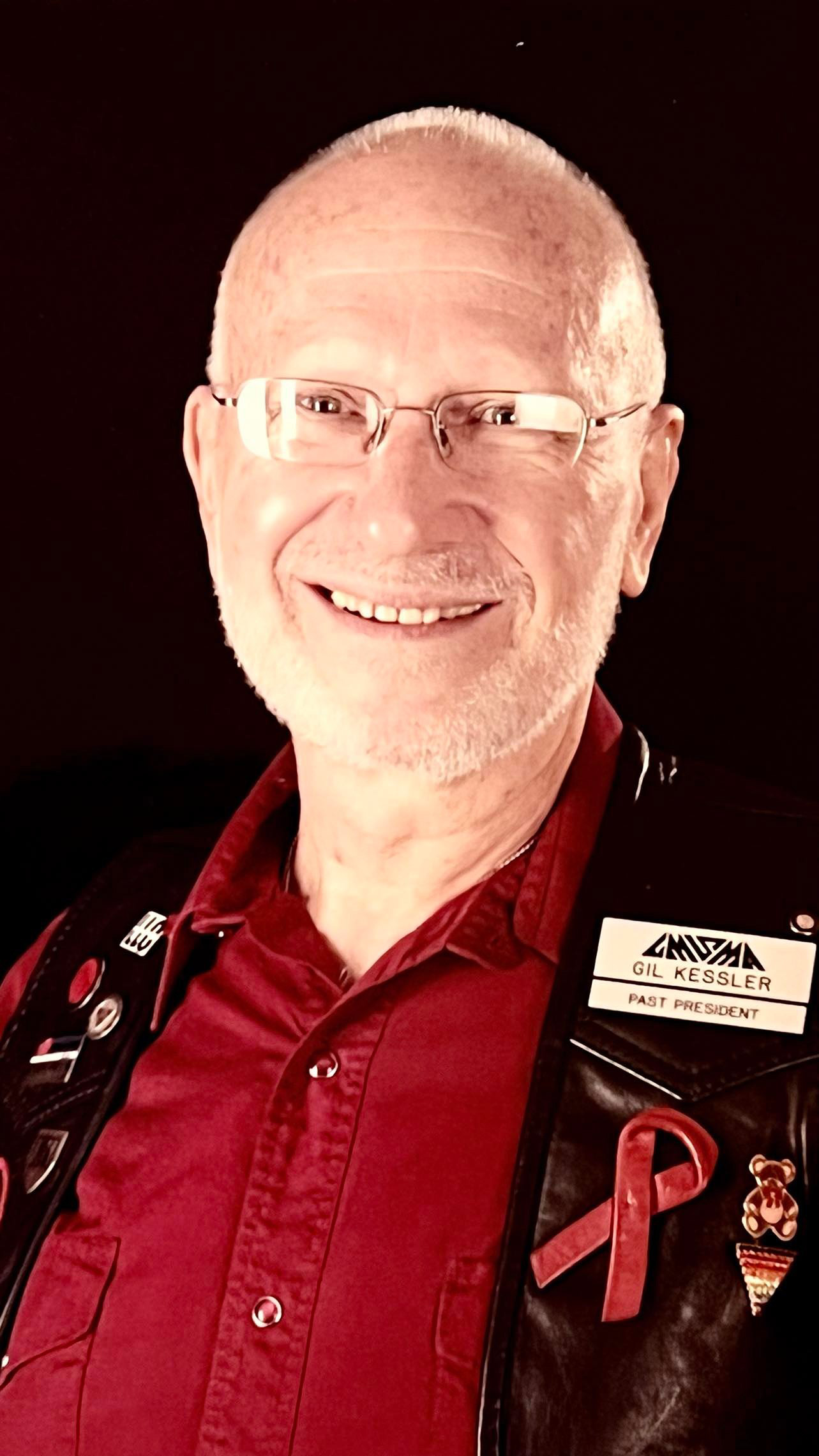 Gil Kessler, a longtime educator and a pillar of the leather community, passed away on June 5, 2022, at age 85. Gil was a kind-hearted man and a dear friend. He touched countless lives over the years.
Gil was born June 27, 1936. He was a longtime resident of the West Village of Manhattan, and he had a home in Port Jervis, N.Y. He also had lived in Brooklyn, N.Y. He worked as a math teacher in the New York City public schools, and in his retirement he co-authored a mathematics textbook. He was an avid reader of books, and he enjoyed movies, TV, theater, and the performing arts, all of which he could discuss at length and with great enthusiasm. For many years he was active in Times Squares, an LGBTQ+ square dancing club in New York City.
Gil is survived by a husband, Damani, as well as biological family members, many former students, and countless friends. He was predeceased by two life partners, Rick DiOrio, who died of AIDS in 1990, and Augie Kalin, who died of a major stroke in 2011.
As those of us who had the pleasure of knowing Gil will attest, he was an absolute joy to be with. He was friendly, charming, caring, and endearing. He was a gentle soul. He played the piano. He was known to smoke a little pot once in a while. He was also highly organized and efficient. He carried with him always a BIC 4-Color Retractable Ballpoint Pen and a small miniature notepad, which he would use to make notes to himself.
Gil, along with many others, was among the key officers and directors who served the gay male leather community via GMSMA (Gay Male S/M Activists), a trailblazing organization that disbanded in 2009. Gil was also a member of the Delta Brotherhood, the Eulenspiegel Society, and an honorary board member of the Leather Archives & Museum in Chicago. He served as a judge at IML (the International Mr. Leather contest) one year in Chicago.
It was through his work with GMSMA that Gil had the greatest impact. Among the organization's many educational endeavors were SIGs (Special Interest Groups) designed for novices to learn about s/m play in a safe and supportive environment. The SIGs taught participants all about safety, technique, and the psychological aspects of engaging in such activities as flogging, whipping, rope bondage, chains, mummification, and many other activities — all without any hint of shame or embarrassment whatsoever.
As Gil himself reported for NewsLink, the GMSMA publication, his Novices group for the 1997-98 season had 22 participants with everyone taking part as both top and bottom. The 13-session course went from November to June, meeting every other Sunday afternoon, with four-hour sessions workshopping all the basic topics, plus others such as strapping, verbal abuse, body and head harnesses, and temperature torture. By the third session, Gil said, the group was like a family, and by the last session, no one wanted it to end.
Gil led dozens of these SIGs over the years for hundreds upon hundreds of participants. It's impossible to overstate the impact of Gil's work over the years.
***
While these words are heartfelt and sincere, they are incomplete and do not do justice to Gil's memory. I am saddened that there has not been a celebration of life for Gil, or even an online memorial where people can post memories. If someone who is reading this is interested in organizing a gathering, perhaps something at the Center at some point, I do hope that they will step forward.