By Speedobound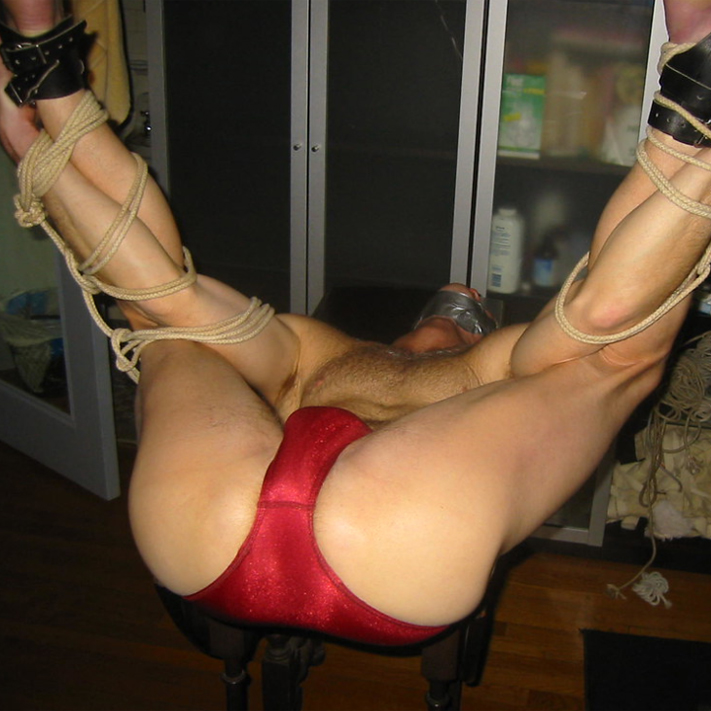 James sneered at Bob and said, "He probably wants to sniff my Speedo, preferably with me wearing it."
Later that night Bob and three of his friends snuck into the natatorium knowing James liked to train in private. They snuck up on James from behind when he was walking into the dressing room from the pool, grabbed him and quickly overcame him, tied him up and gagged him. They then wrapped him in a blanket so his thrashing about wouldn't cause him to hurt himself.
They backed a van to the door of the natatorium and quickly spirited their captive into the rear cargo unit, where Bob climbed in afterwards. He told James what was in store for him — that he was a member of a gay bikers gang and they had a clubhouse in the woods that they were taking him to, to teach him a little lesson in humility.
Once they arrived and carried him into the club they put him on the floor in the main room and removed the blanket, so James could see where he was. He immediately saw there were about 15 men all dressed in leather surrounding him, and there were chains suspended from the ceiling above him with leather cuffs on them, two sets on each side of a beam on the ceiling about 4 feet apart. Suddenly a group of the men gathered around him, lifted him and began untying the rope that had bound him. As he struggled when freed, there were hands to grab his legs and his arms, and he was immediately subdued again. They lifted his legs and clapped his ankles into the front pair of the suspended cuffs, and another group of them did the same with his wrists.
Continue reading Studly Swimmer Gets Kidnapped by Leather Bikers →